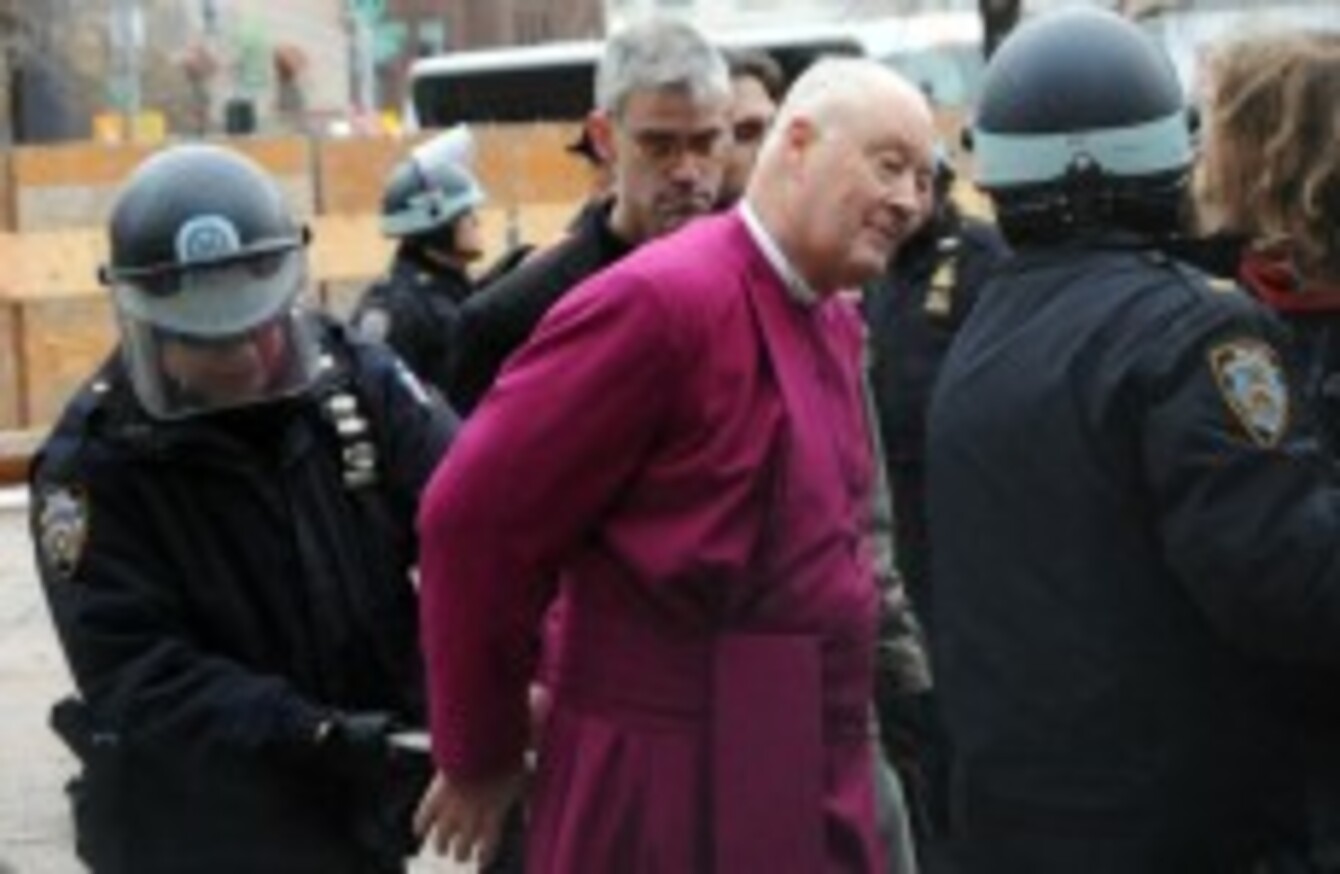 Retired Episcopal Bishop George Packard, middle, being arrested at an Occupy Wall Street demonstration in New York yesterday
Image: : Stephanie Keith/AP/Press Association Images
Retired Episcopal Bishop George Packard, middle, being arrested at an Occupy Wall Street demonstration in New York yesterday
Image: : Stephanie Keith/AP/Press Association Images
A BISHOP WAS amongst 50 Occupy demonstrators arrested in New York yesterday.
Retired Episcopal Bishop George Packard was arrested at the Occupy Wall Street demonstration in New York.
The Daily Mail reports that Bishop Packard illegally entered Juan Pablo Duaret Square in SoHo, New York, and was then arrested.
In order to gain entry to the park, he had to climb a ladder and scale a chain-link fence, says Reuters.
The square is owned by Trinity Church and the church bishop, Bishop Sisk, said that "pressure" had been applied on them to give Occupy Wall Street access to the area.
However, a number of church leaders spoke out against the site being used for an encampment or "other undefined use".
The church's rector, Rev James J Cooper, said the church is "saddened that OWS protestors chose to ignore yesterday's messages from Archbishop Tutu, from the Presiding Bishop of the Episcopal Church, Katharine Jefferts Schori, and from Bishop of New York Mark S. Sisk".
The Presiding Bishop said:
Other facilities of Trinity continue to be open to support the Occupy movement, for which I give great thanks. It is regrettable that Occupy members feel it is necessary to provoke potential legal and police action by attempting to trespass on other parish property…I would urge all concerned to stand down and seek justice in ways that do not further alienate potential allies.
Bishop Sisk said: "The movement should not be used to justify breaking the law nor is it necessary to break into property for the movement to continue."
The Rector added that OWS protestors call out for social and economic justice and Trinity has been supporting these goals for more than 300 years.
We do not, however, believe that erecting a tent city at Duarte Square enhances their mission or ours. The vacant lot has no facilities to sustain a winter encampment. In good conscience and faith, we strongly believe to do so would be wrong, unsafe, unhealthy, and potentially injurious. We will continue to provide places of refuge and the responsible use of our facilities in the Wall Street area. We are gratified by the support we have received from so many in the community.
See pictures of the demonstration and arrest below:
Occupy Wall Street

Occupy Wall Street

Occupy Wall Street

Occupy Wall Street

Occupy Wall Street

Occupy Wall Street

Occupy Wall Street