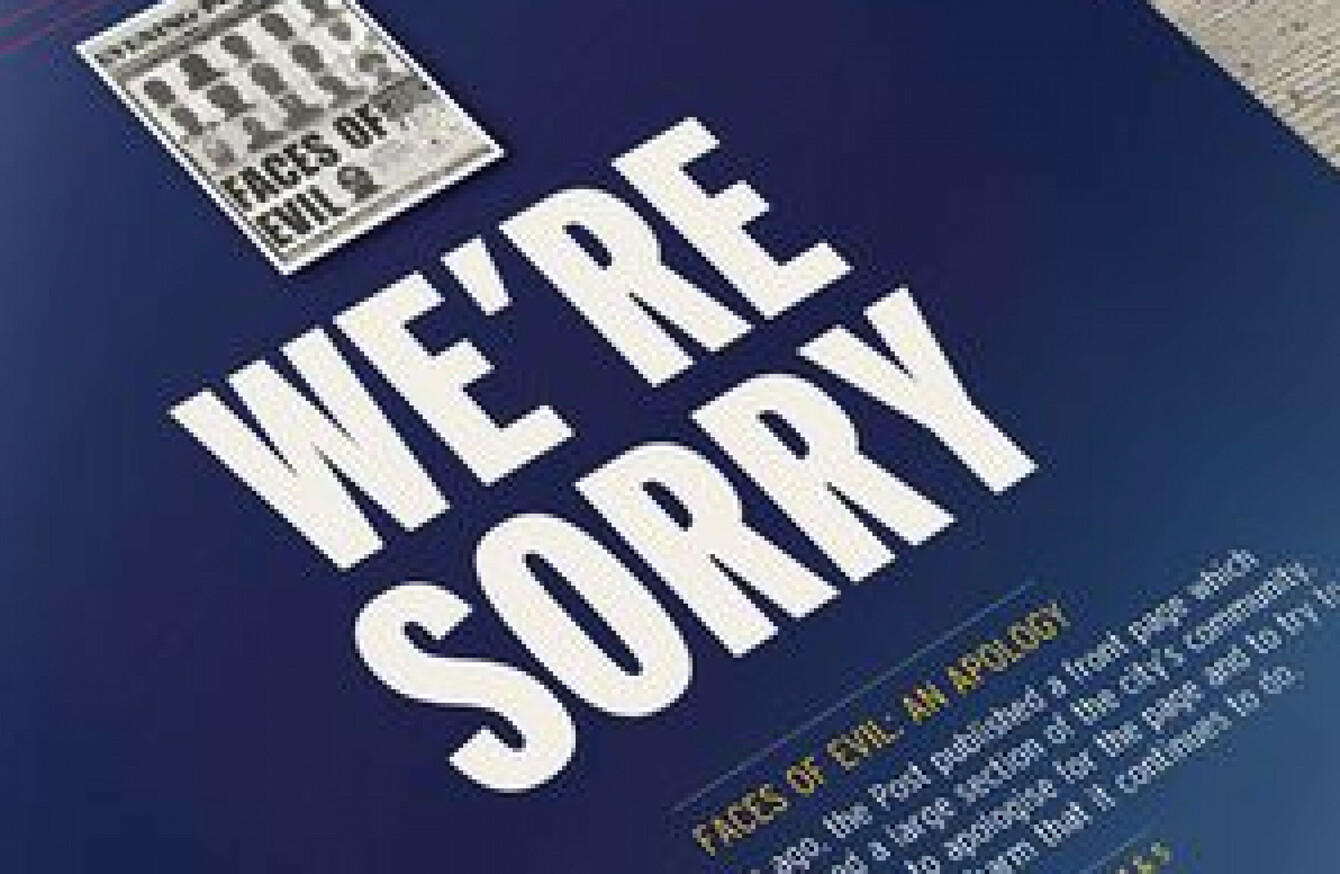 Image: The Bristol Post
Image: The Bristol Post
TODAY'S FRONT PAGE of The Bristol Post apologies for the impact a story the paper ran almost 21 years ago had on minority communities in the city.
On April 17, 1996, the paper's front page published the mugshots of 16 people jailed for dealing crack cocaine in the city, under the headline 'Faces of Evil'.
The paper's editor, Mike Norton, says this single front page caused lasting damage among the African and Afro-Caribbean community in Bristol.
"Now, I'm sure there are many people reading this who will be wondering why I'm saying sorry. Weren't these men crack dealers? Pedlars of evil?," Norton wrote in the paper today, "Yes, they were. But the problem was one of context."
The Evening Post – as it was called then – was already disconnected from the city's black communities. It was another Bristol institution that the people in those communities didn't feel was for them. They were already wary of telling the Post about their news or their successes. They already had a suspicion that the paper wrote about black people only when they committed crime.
The Faces of Evil front page, with its black faces ranged in rows like slaves held in cages, cemented that view.
Norton says it created a lasting perception that people of colour were not welcome either as employees or as readers of The Bristol Post.
He explained that this is part of a "rising tide of change" in increasing efforts to tackle division within Bristol communities, something which has occasionally reared its head in the city, ranging from a bus boycott in the 1960s  over a transport company's policy of racial segregation, to the St Paul's Riots in 1980.
Recent measures have included efforts to address the memorials to and streets or buildings named after Edward Colston, a 17th century slave trader.
Colston Hall, a music venue in the city, is set to be named, and a plaque explaining his past will be erected under a statue of the former MP.
And in 2016, the city voted in Marvin Rees as the first directly-elected city major in Europe of Afro-Caribbean descent.
#Open journalism No news is bad news Support The Journal

Your contributions will help us continue to deliver the stories that are important to you

Support us now
However, differing views on this remain, and Norton says The Bristol Post, along with others, will be making efforts to spark debate on the issue. Norton said:
There are [Black, Asian and Minority Ethnic] Bristolians who remain affected by living in a city in which many of the buildings are a constant reminder of the oppression of their ancestors. There are white Bristolians who have no sense of this injustice and cannot see the point in discussing it. These opposing sides have never heard each other speak.
He also fired a shot across the bows of the commentary on his decision, anticipating their reaction:
I await their inevitable hate. They will probably call me a snowflake – the word adopted by right-wingers when they want to belittle millennial entitlement. Or a bleeding-heart liberal who's been got at by the politically correct brigade. I am neither. If only I was a millennial – I'd be at least 20 years younger. And I am certainly not a liberal. Dealing with politics for 30 years has made me cynical of any political stance.
Bristol has previously ranked poorly in race equality studies, with one report in 2017 ranking it as the worst core city and the seventh most unequal local authority in the United Kingdom, Bristol24/7 reported.