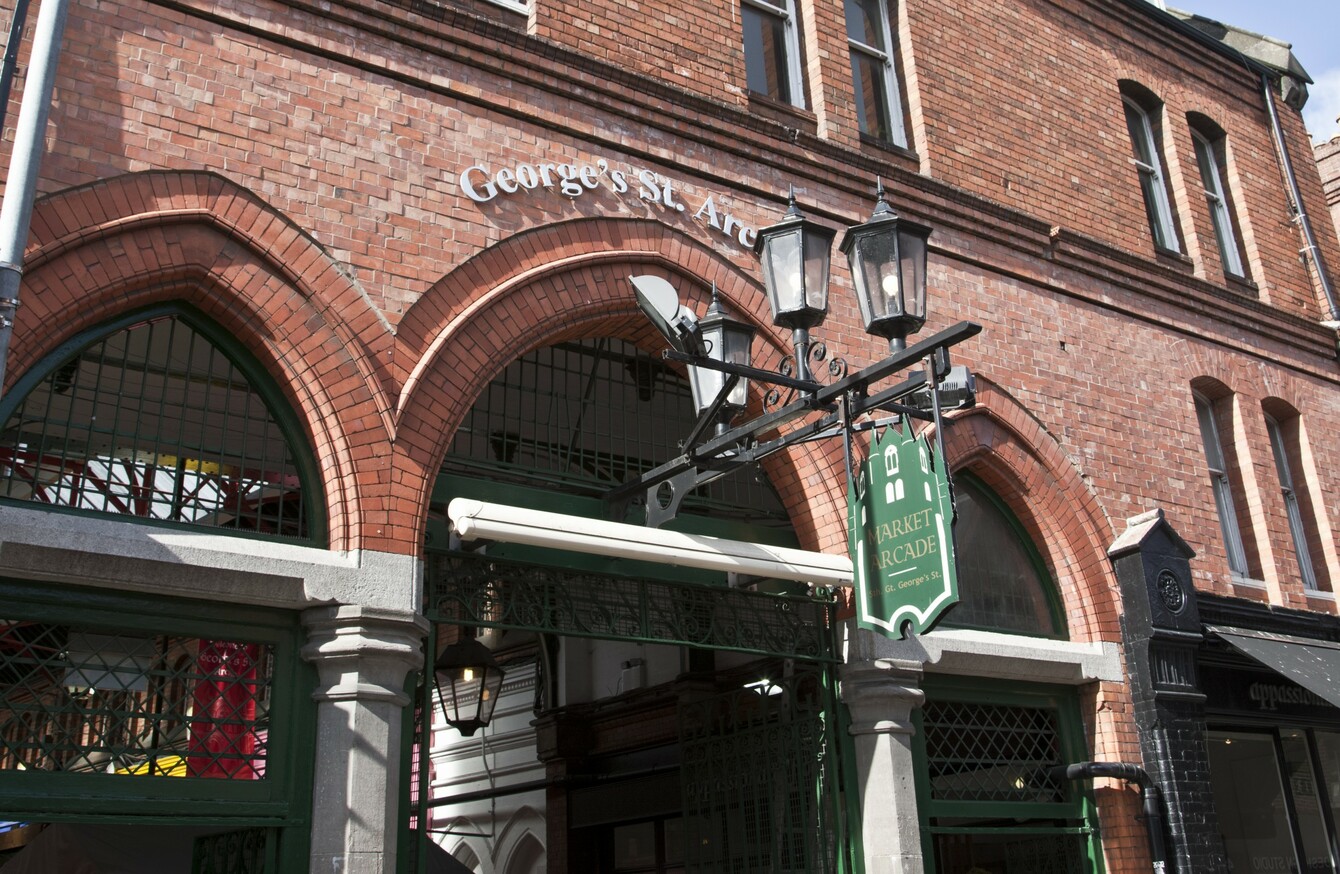 Image: Flickr/William Murphy
Image: Flickr/William Murphy
FOR THE PAST 135 years, the George's Street Arcade has been a fixture of shopping on Dublin's south side.
But in the latter part of its history, the Victorian-era shopping centre – the oldest building of its kind in Ireland – has earned a reputation as a spot where small traders and off-beat businesses can ply their trades.
From a jeweller that has been in place for 40 years to a landmark coffee shop, Fora talked to five of the arcade's fixtures about doing business in the iconic retail quarter.
Pat McGrail – Just Jewellery
Source: Fora News/YouTube
Just Jewellery has been one of the longest-serving businesses in the arcade – and its owner Pat McGrail has seen a few changes since he first moved in during the 1970s.
He says modern-day Dublin is lacking spots like George's Street Arcade, where for small sums new businesses could establish a retail footprint.
"Normally, it would cost you one old Irish pound to hire a table and you could trade on it – it didn't break the bank.
Most people now, young people who have ideas, they can't go anywhere. First of all they have to set up a business, which costs a lot of money, when in them days you could set up a business on 20 quid so long as you knew what you were doing."
Simon McWilliams – Simon's Place
Source: Fora News/YouTube
Another long-standing presence in the arcade is corner café Simon's Place – and its owner, Simon McWilliams.
He says his café may not be as flashy as latest chains and hipster haunts, but that's what suits his customers.
"Some people would say we're locked in a bit of a 1970s timewarp. That's fine if you want to look at it that way. It's certainly a bit old school, but there's obviously people out there who like that.
And I think that goes for the whole arcade. It's a bit old school, so in a city that's changing radically before our eyes on a constant basis I think a time-warp, old-school place still has a charm that does attract people."
Milo Poil – Man of Aran Fudge
Source: Fora News/YouTube
Milo Poil of Man of Aran Fudge is a relative blow-in to the arcade. He says he scouted around Dublin looking for somewhere suitable to pitch his stall in shopping centres, but none felt quite as right as the George's Street location.
"Yeah, everyone is individual businesses, but if I needed somebody to watch this for two minutes while I go get the brush or if I wanted to go get a bite to eat, we help each other.
I'm here alone six days a week, but I'm never alone because these people are here to help. There were other shopping centres and areas we looked at and everyone was so incredibly formal."
Marie Morrissey – Retro
Source: Fora News/YouTube
Some of the retailers in George's Street Arcade could probably call the spot their second home – and Marie Morrissey from vintage clothing store Retro definitely falls into that category.
She has been working in the arcade nearly all her life, first with her father as a cobbler, then making coffee in Simon's and finally settling into Retro.
"I'm a little addicted to it, I probably should have left here years ago, but I'll probably be taken out of here in a box at this stage.
"The place is full of character, odd people, normal people as well, but it's the odd people who make it up."
Philippe Benaksas – New Moon
Source: Fora News/YouTube
New Moon jewellery store owner Philippe Benaksas says the community of the arcade is something that's much harder to foster on a high street.
"If you're on the street, you know the shop either side of you and that's it, but in the market, I go and get my coffee from Simon's every morning, you say hello to 10 people every day and you know everyone's name.
"We have a Christmas party, so it's a very pleasant site to work in here. It's more human than being in a shopping centre or a big street where you don't necessarily know who your neighbours are even a little bit."
Sign up to our newsletter to receive a regular digest of Fora's top articles delivered to your inbox.
Written by Killian Woods and posted on Fora.ie