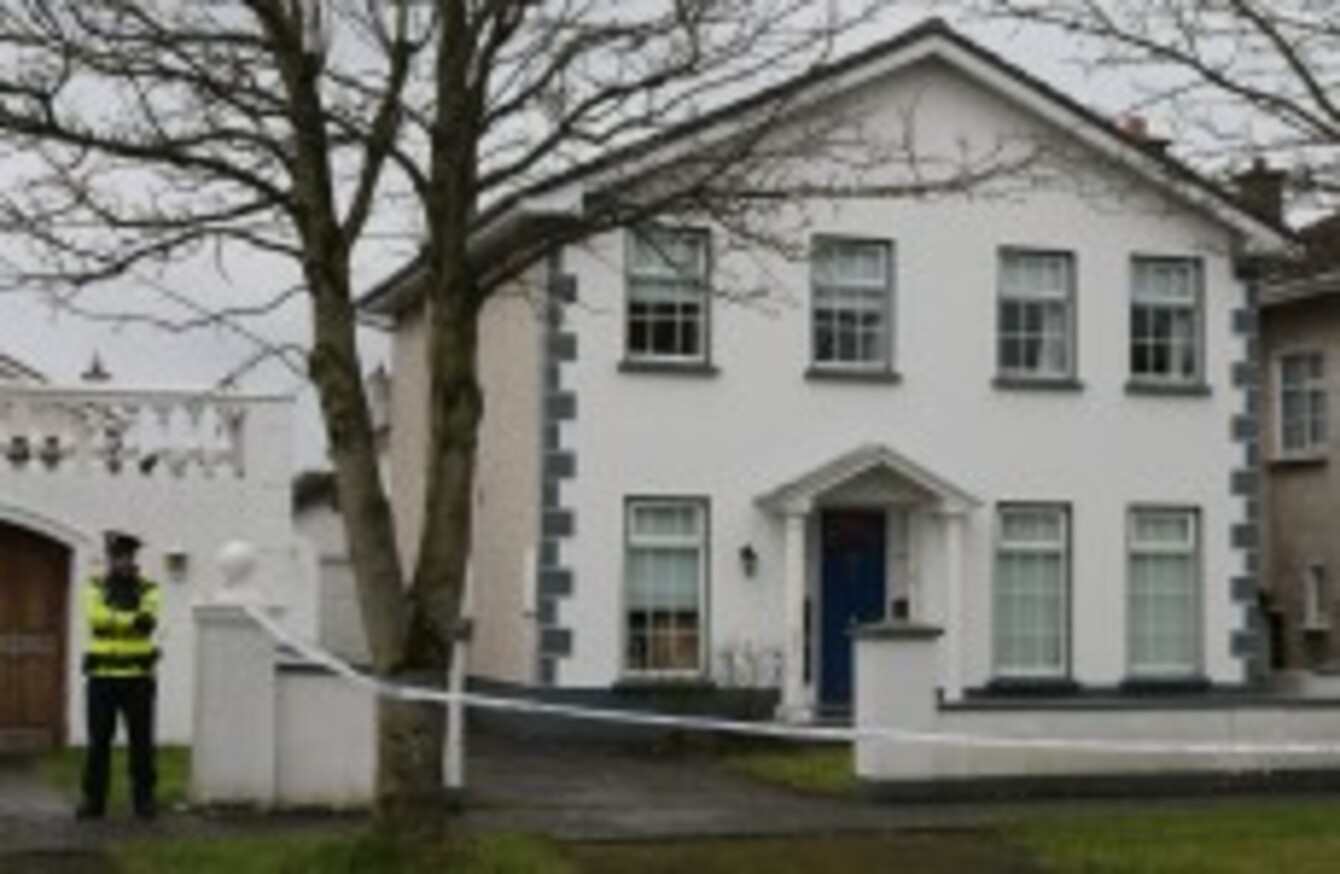 The scene at Beech Park Avenue yesterday.
Image: Niall Carson/PA
The scene at Beech Park Avenue yesterday.
Image: Niall Carson/PA
Updated 11:08
A 34-YEAR-OLD man is due in court today, charged in connection with the gruesome killing of 39-year-old Tom O'Gorman in Castleknock, Dublin, in the early hours of yesterday morning.
The incident, which is believed to have been the result of a disagreement over a chess game, occurred at Beech Park Avenue, Castleknock, just before 2am yesterday morning. Garda sources said the two men were playing chess when one of them attempted to move his king.
This led to a dispute over the movement of the piece and the victim was then bludgeoned with a dumbell before being stabbed.
It is reported in a number of newspapers that two of the man's organs were removed in the assault and that the man who has been charged was a lodger in the house.
Gardaí said this morning the 34-year-old is still in custody and will appear at a sitting of Blanchardstown District court at 10.30am.
'Shock and painful loss'
David Quinn, Director of the Iona Institute, where Tom O'Gorman was an employee, expressed his disbelief at the death of his colleague in his column for the Irish Independent today.
"I am still processing what really did happen. I am still trying to process the fact that he was killed by a lodger who had been only in his house for the last few months," he wrote.
In describing his friend and colleague he said "he did fantastic impressions of the politicians of the day and he did a note-perfect impersonation of Michael Noonan and Enda Kenny".
Quinn also wrote of the 39-year-old's interest in rugby and football:
I will miss him greatly and will feel the loss every time I remember all the conversations we might have had about last night's game, and now never will.
This morning the Pro Life Campaign Ireland also paid tribute to Tom O'Gorman who was an employee if the Iona Institute:
(Image: Pro Life Campaign Ireland/Facebook)
A statement on the group's Facebook page said the news came as "a huge shock and painful loss".
"Everyone who met him came away with an enhanced sense of their own worth born from the experience of his interest in them as a human being," it said.
In this, Tom was something of a phenomenon. He was a 'people person' par excellence and a kind man who loved meeting people and getting to know them and share their lives. As the news of his death has spread on TV and social media, the outpourings of sadness and memories of his goodness are reflections of the huge circle of people he knew whose lives he touched.
The group expressed condolences to the man's family, in particular his brother, Paul and sister, Catherine.
First published 07:40