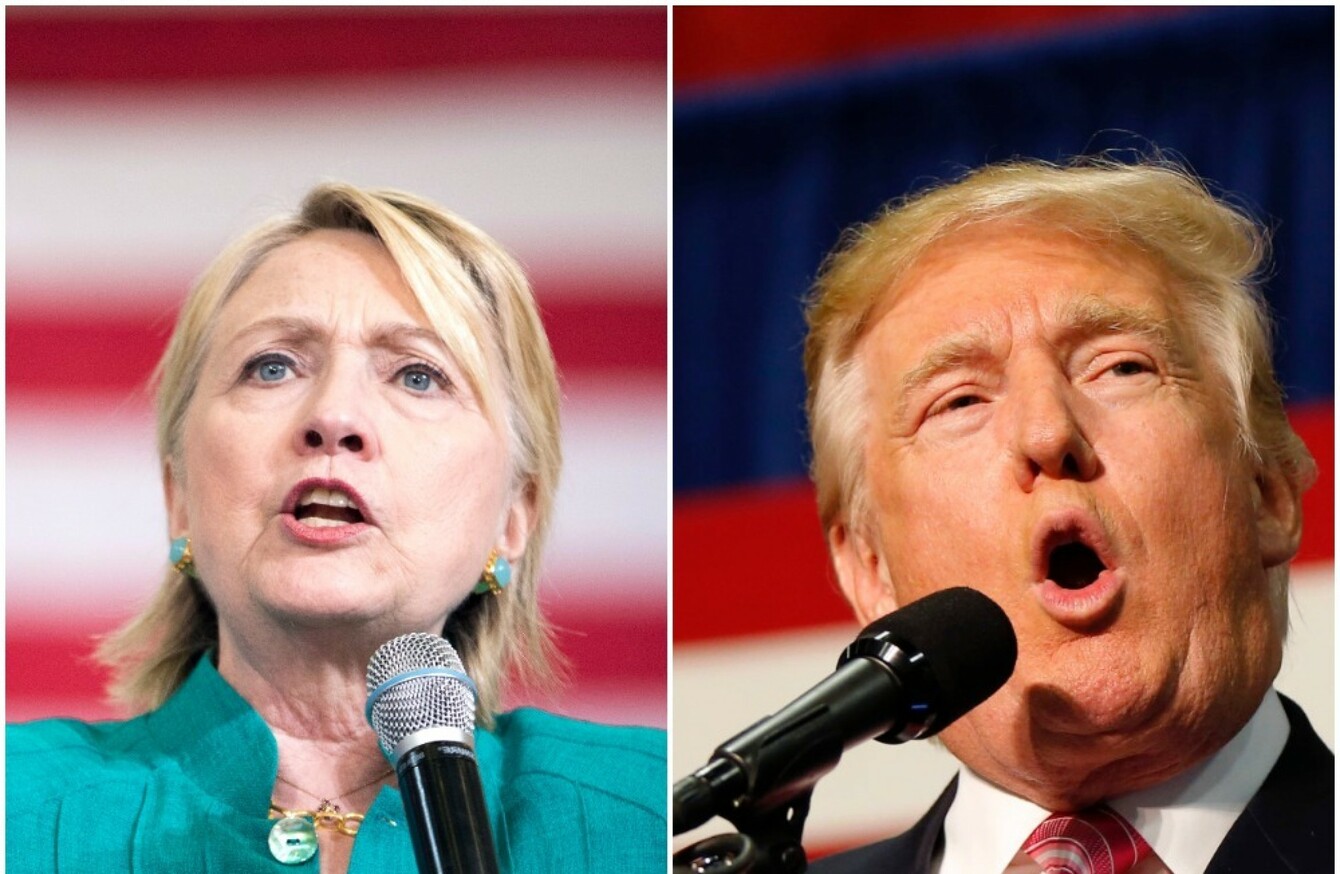 Clinton and Trump go head-to-head tonight
Image: PA
Clinton and Trump go head-to-head tonight
Image: PA
HILLARY CLINTON AND Donald Trump square off this evening in the first of three presidential debates in the run-up to November's election.
All eyes will be on the billionaire businessman as some US commentators believe he will reign in his firebrand style which has garnered the 70-year-old a lot of criticism.
As he ran for the Republican nomination, Trump would constantly berate his opponents, a tactic experts expect him to abandon.
But he will need to mix that direct aggression with diplomacy if he is to persuade middle America that he is the man for the job.
Latest polls indicate Hillary Clinton has a solid lead over her Republican rival.
As question marks hang over her health and her handling of confidential information while Secretary of State, there is every chance a strong Trump showing has the the power to topple Hillary.
However, fireworks are expected after a recent Clinton-backed advertisement painted Trump as a misogynist, using old footage of him attacking women for how they dressed and ate.
Here's what you need to know ahead of the first duel:
When and where can I watch it?
Most US networks are showing the debate, which is expected to begin at 2am Irish time.
You will also be able to watch streams on YouTube and Twitter.
Who's chairing the debate and how does it work?
Lester Holt, who anchors NBC Nightly News, will be taking charge of the first official debate between the rivals.
Hofstra University in New York State will be the venue for the battleground,
The first debate will be split into time segments of approximately 15 minutes.
Each part will have one primary focus which will be decided by the moderator.
Holt will open each segment with a question, after which each candidate will have two minutes to respond.
Trump and Clinton will then have the chance to respond to each other's answers.
How important are the debates?
Many political analysts in the US believe the three debates have the power to make or break a candidate.
Gaffe-prone presidential hopefuls can find their ratings have plummeted in the wake of a disastrous debate.
For example, during the 1992 debate between George Bush Snr and Bill Clinton, Bush was seen staring down at his watch as a member of the public asked the candidates how an economic downturn would affect them. Bush was seen to be arrogant and uncaring of the man's question.
When are the next two debates and when does the election happen?
The final two debates take place on 9 October and 19 October.
The election takes place on 8 November.
Tonight from 11.30pm: It's debate night in America, with Clinton and Trump going head to head in the first debate of the presidential campaign. Who'll win? Who'll lose? We'll be liveblogging the whole thing. Join us.