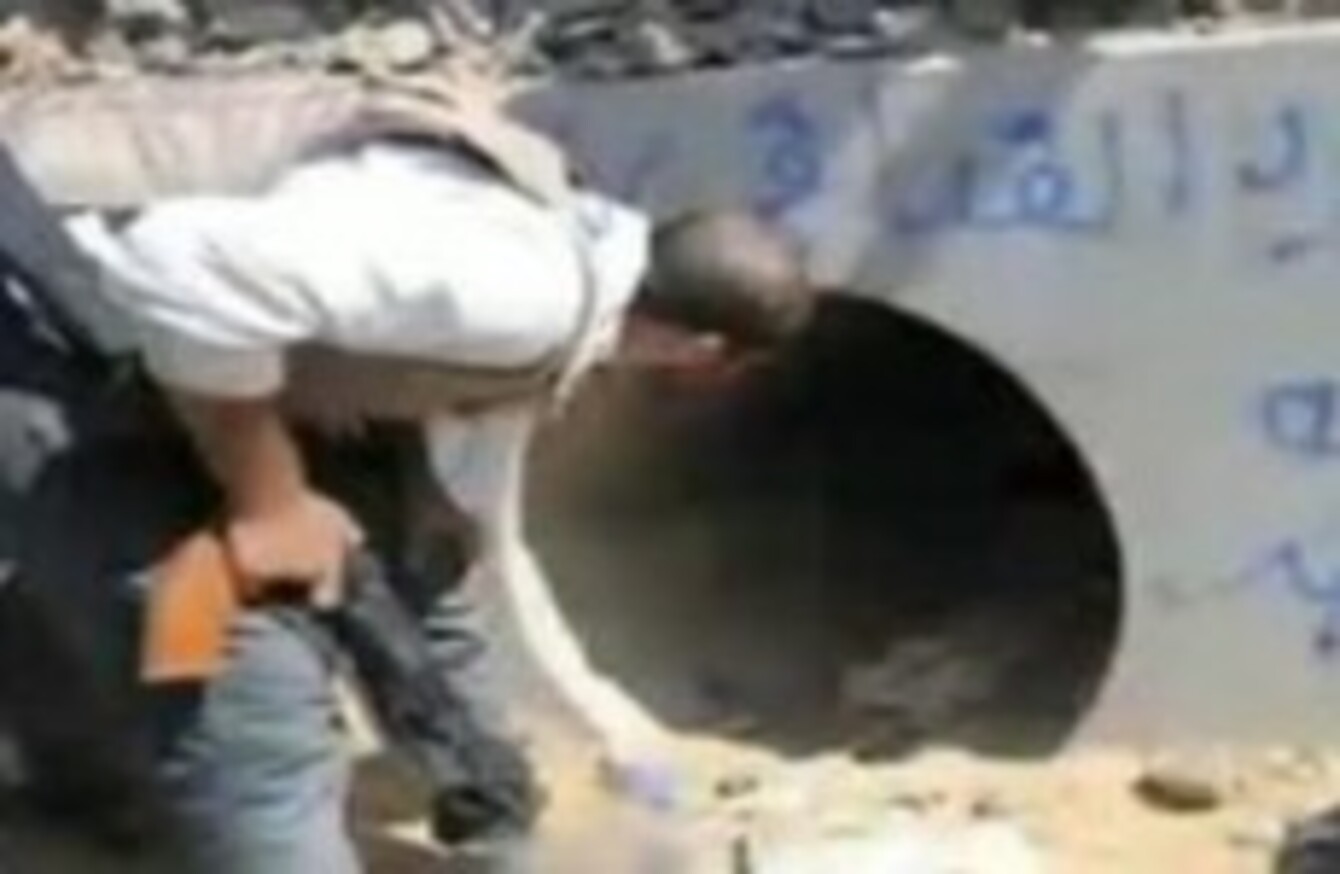 The hole where Gaddafi was reportedly captured by NTC forces in Sirte today.
Image: Libyan TV
The hole where Gaddafi was reportedly captured by NTC forces in Sirte today.
Image: Libyan TV
Updated, 7.31pm
LIBYA'S NEW GOVERNMENT has officially confirmed that Colonel Muammar Gaddafi has been killed.
In a statement moments ago, National Transitional Council spokesman Abdel Ghogha said: "We announce to the world that Muammar Gaddafi has been killed at the hands of the revolutionaries.
"Gaddafi's tyranny and dictatorship has been finally ended. His chapter has been closed."
The statement came minutes after the NTC's acting prime minister also confirmed the news that Gaddafi was captured by National Transitional Council (NTC) forces and died of his wounds, according to the Associated Press.
The vice-chairman of the NTC, Abdul Hafiz Ghogha, speaking in Benghazi to Al Jazeera news, also said in the past hour that he expected the NTC to "announce the liberation of Libya within hours, maybe sooner".
Libya's information minister has confirmed that one of Gaddafi's sons, Mo'Tassim has been killed by government fighters. He was allegedly hiding with his father when he was captured, according to Reuters. Seemingly, there are close-up images of Mo'Tassim's body being shown on Libyan government television.
There are mixed reports about his other son, Saif al-Islam. Some earlier reports indicated that he had been captured by NTC forces as he tried to flee Sirte. Later reports suggest that he has been injured, possibly in the leg. The country's interim Justice Minister has said that he is currently in hospital but these reports are unconfirmed.
Arab TV has a video of Gaddafi moments after his arrest, still apparently alive as he is man-handled by NTC forces.
(Viewer discretion advised)

In a short speech given outside the White House today, US President Barack Obama said that NATO's misison in Libya will soon come to an end.
He did not independently confirm Gaddafi's death but cited Libyan officials announcing his killing.
"The rule of an iron fist inevitably comes to an end," he said on Gaddafi's regime.
The Libyan people now have the opportunity to determine their own destiny in a new and democratic Libya, he added.
UN Secretary-General Ban Ki-Moon has said that today, the day of Gaddafi's death, marks a "historic transition for Libya".
Earlier, the Libyan ambassador to England had told Sky News at 2.40pm today that Gaddafi had been captured by government forces in Libya, and that he had died from his wounds. Mahmud Nacua said that Gaddafi was killed by NTC forces and not by Nato. Nacua said, however, that he could not confirm that one of Gaddafi's sons had also been killed.
Several officials of Libya's ruling National Transitional Council had already said that the dictator had been killed, with one telling Reuters that his body is being taken to a secret location for security reasons. The Guardian has a picture which claims to show the moment of Gaddafi's capture. (Warning: extremely graphic content).
Meanwhile, the AP has released this video (Warning: some of the images are graphic), purporting to show images of Gaddafi's body.
Al Jazeera is publishing this image, purporting to be be of Gaddafi after he was wounded:
A hospital in Misrata is in readiness to receive the former dictator's body, according to Sky News reporter Sarah Hewson. Minutes ago, Reuters cited an Al-Arabiya report that the body has arrived in Misrata and would soon be filmed.
However, the picture around the dictator's alleged capture remains extremely confused. Sky News has broadcast an interview with fighters who claim to have captured and shot Gaddafi in a narrow space in the early hours of this morning. They said that the weapon used was a 9mm firearm and they also hit the dictator with their shoes – a sign of disrespect in the Middle East.
This picture being broadcast from Sirte purports to show a gold gun which Gaddafi had on him earlier today:
There has also been speculation that Gaddafi could have been killed while trying to flee Sirte. Nato has confirmed that it hit a convoy of Gaddafi loyalists as they left the town ahead of advancing revolutionary forces this morning.
AFP has released pictures of a hollow pipe where they say Gaddafi was hiding.
Reports
However, the capture and death are yet to be officially confirmed. Libya's information minister has told the Associated Press that "our people" have seen the dictator's body and NTC leader Mustafa Abdul Jalil will confirm it shortly.
Earlier, the spokesman for Libya's transitional government, Jalal al-Gallal, and its military spokesman Abdul-Rahman Busin said the reports have not been confirmed. A NATO official also said the alliance could not independently confirm.
There have been widespread scenes of jubilant celebration in both Sirte and the Libyan capital Tripoli as rumours of Gaddafi's capture spread, with fighters firing guns into the air and drivers honking their horns.
NTC fighters took control of Sirte, Gaddafi's hometown, only this morning.  A National Transitional Council leader is to speak on Libyan state TV shortly.
More as we get it….
- Additional reporting from AP
- Additional reporting by Susan Daly, Sinéad O'Carroll and Hugh O'Connell