Liveblog
IT'S THURSDAY: get through today and the weekend will be within touching distance.
We'll be with you until 9am this morning, bringing you all the latest traffic, transport and weather news.
Morning!
Catherine Healy here on TheJournal.ie's commuting liveblog, helping you get to where you need to go.
Spotted something we should know about? Email catherine@thejournal.ie, tips@thejournal.ie or tweet me @Chealy_.
Not while driving, of course.
Let's take a look at the weather forecast.
Met Éireann says frost, fog and ice will clear this morning to give way to a mix of sunny spells and passing heavy showers.
Most of the showers will affect the western half of the country, some of which will be wintry, especially during the morning.
Highest temperatures will be between five to eight degrees.
It's a frosty start to the day in most parts of the day, with a status yellow snow-ice warning in effect for Connacht, Donegal, Clare, Cork, Kerry and Limerick until 11am.
There are reports of particularly icy conditions on roads around Cavan Town, Letterkenny, Castlebar, Kilkenny City and Mullingar.
There'll be no Luas services today as the first day of another 48-hour work stoppage gets underway.
Remember that:
Buses, Darts and train services will all run as normal, but will almost certainly be busier – so plan accordingly.
Luas tickets will NOT be valid on other forms of transport.
Luas will NOT be providing an alternative transport service, so there will be no extra bus services in place to transport people from Luas stations.
Holders of seven-day, 30-day, monthly and annual Luas tickets are entitled to a refund for the strike days in question.
Tranportforireland.com is providing up-to-date real time travel information for anyone who needs an alternative route to work, with major routes across Dublin expected to be very busy over the next two days.
Taking the N4 through Westmeath?
In Dublin, traffic lights are out of action at the junction of Clontarf Road and Mount Prospect Avenue.
The latest Dublin traffic updates, via AA Roadwatch:
It's slow travelling into the city on the Swords Road from the Whitehall flyover to the Dorset Street/NCR junction
Traffic is already very busy eastbound along the Grand Canal from Harold's Cross right through to Leeson Street bridge
Navan Road is busy from before the railway bridge to the Ashtown roundabout
On the N4 Lucan Rd, there are delays inbound from before the M50 interchange to Palmertown
Traffic is busy on the North Quays from Inns Quay to Bachelors Walk
Guild Street is slow southbound from Seville Place to the Samuel Beckett bridge
It's very busy on the M50 southbound from J9 Red Cow to J11 Tallaght
In Cork, black ice has been reported on the bridge in Bweeng, so take care on approach.
Not too far way, the N71 Cork/Skibbereen Road is particularly icy, especially between Clonakilty and Cork city at Pedlar's Cross.
In Kilkenny, the Bleech Road in the city is closed due to flooding.
Traffic's continuing to build across Dublin:
The Stillorgan Road inbound is busy from Kilmacud Road Lower to Fosters Avenue
The Rock Road is slow from Booterstown Avenue junction to the Merrion Gates
On the Drundrum Bypass, traffic's heavy from the junction with Wyckham Way to the St Columbanus Road junction
The Phibsborough Road is busy inbound from Hart's Corner to Doyle's Corner.
It's slow through Rathmines onto South Richmond Street
And here's how things are looking in the city centre: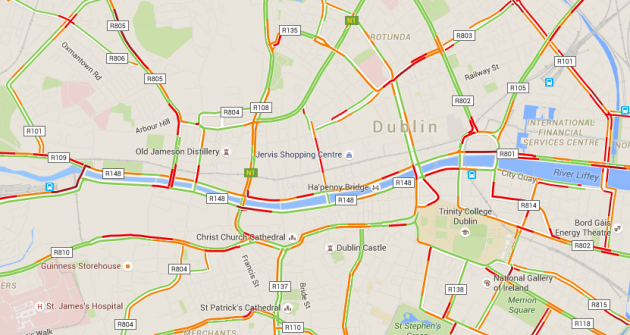 There's just been a collision in the left lane of the M50 southbound at J9 Red Cow, so expect delays there too.
Northbound, a vehicle has broken down on the on-ramp at J7.
Looking to catch up on this morning's top stories? Read our 8 at 8 here.
Expect traffic to remain heavy around Clonskeagh/Ranelagh, the N11/Beaver Row/Merrion Road and North Quays during rush hours today due to the Luas strike.
If you're heading into Dublin city from the northside, the good news is that you probably won't be as badly hit as commuters coming from the south and west of the city.
There's been a breakdown in the hard shoulder of the on-ramp from the N4 inbound to the M50 northbound.
The latest Galway traffic updates, via AA Roadwatch:
It's busy inbound on the N84 Headford Road from after Ballinfoyle to the Sean Mulvoy Road junction
There are some westbound delays on Bóthar na dTreabh from before the Coolagh roundabout to the Briarhill junction
There are also inbound delays on the Monivea Road approaching the same junction
It's busy as usual on Ballybrit Crescent heading into Galway Technology Park
Meanwhile, in Cork:
It's slower than usual coming into the city on the N71 Bandon Road at the viaduct
Traffic is heavy now both ways on the N28 Ringaskiddy Road by Carrs Hill
Further south on the same route, it's busy travelling into Ringaskiddy from Shannonpark roundabout to Shanbally Cross
There are standard delays on all the major approaches to the Dunkettle interchange, especially from J10 Mahon on the N40 South Ring Road eastbound and from the N8 Dublin Road inbound
Our reporter Nicky Ryan has made it into work after a stressful bus journey.
In Dublin, Parkgate Street is busy onto the North Quays, which are heavy right through to Bachelors Walk.
There are also delays on the N7 Naas Road inbound from J2 Kingswood to the M50 interchange.
Drummartin Link Road is slow inbound onto Goatstown and through to Ranelagh Road.
The collision on the N4 in Westmeath has now been cleared.
Here's how the M50 looks at Tallaght:
And Greenhills Park: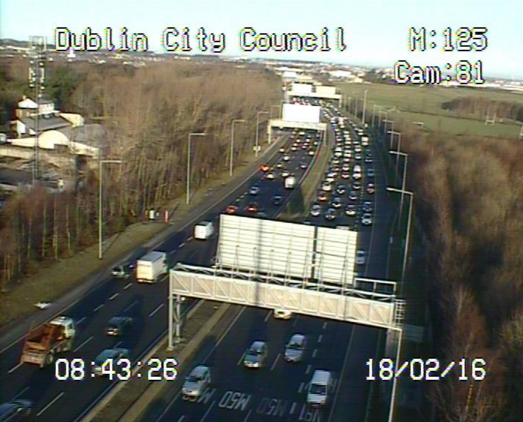 And Ballinteer:
And Ballymount:
A breakdown on the M50 southbound before J7 is now blocking the right lane.
Further south, traffic slow from J11 Tallaght to J12 Firhouse.
Time to wrap up today's liveblog! We'll be back with updates tomorrow morning at 7am.
Contribute to this story: