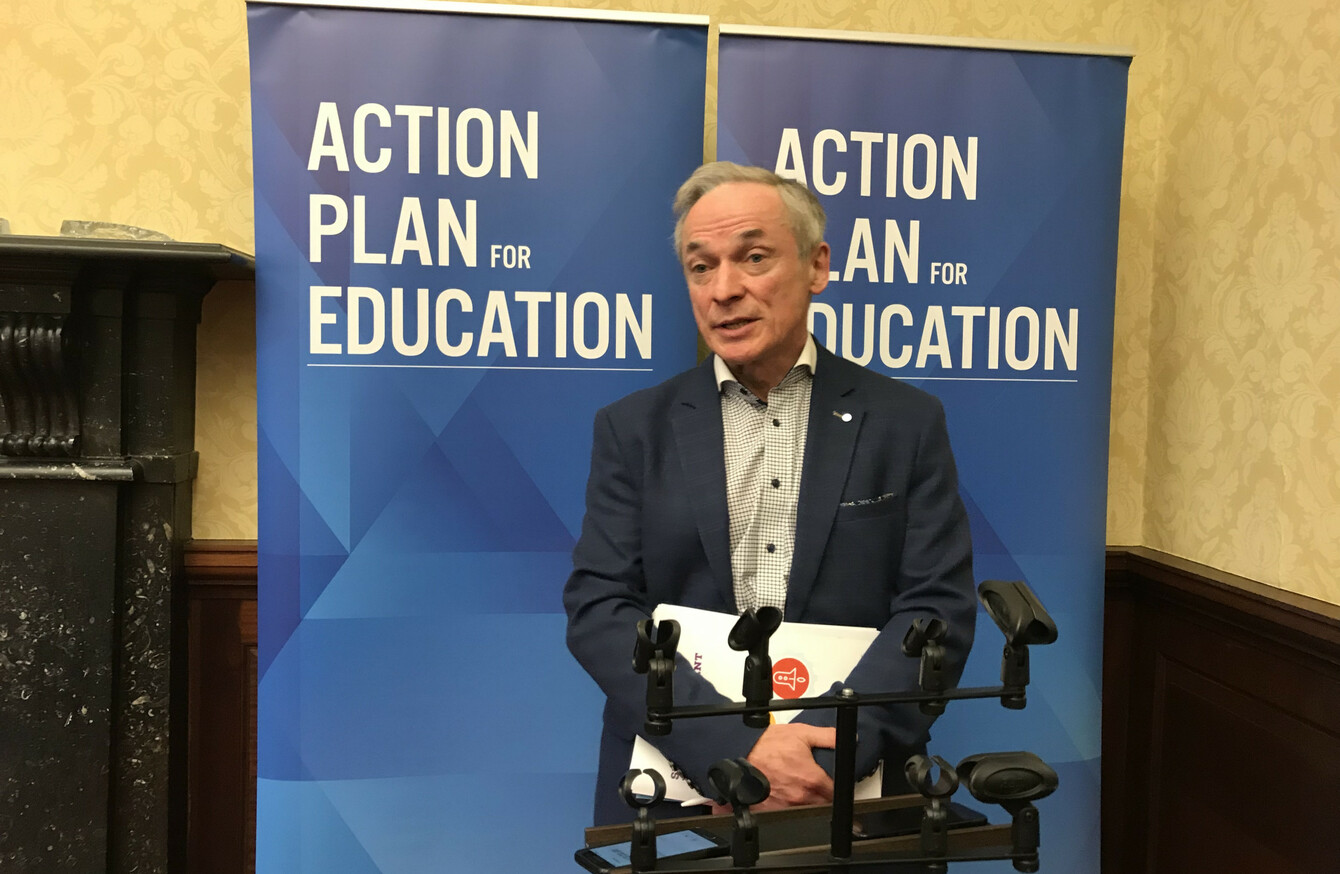 Minister for Education Richard Bruton
Image: TheJournal.ie
Minister for Education Richard Bruton
Image: TheJournal.ie
STUDENTS AT 40 schools will begin studying Computer Science for the Leaving Cert from next September.
Minister for Education Richard Bruton announced today that students will the first Leaving Cert exam in the subject in 2020.
This will be the first Leaving Cert exam to take place through online assessment.
The students participating in the first-phase of the roll-out will complete 70% of the subject through the June examination, which will be done online.
The other 30% of marks will be available for a practical project. This will be done over a six-week period in schools and submitted online.
The subject will focus on how computer programming and computational thinking can be applied to the solution of problems, and how computing technology impacts the world.
Students taking the subject will learn:
Computational thinking
How to analyse problems in computational terms
Programming languages and how to read, write, test and modify computer programs
Creative design
Design computation artefacts such as web pages, digital animations, simulations, games, apps and robotic systems
The ethical, historical, environmental and technological aspects of Computer Science
Announcing the subject today, Bruton said that it is the Department of Education's intention that Computer Science will be available to all schools in Ireland who are considering taking it on by 2020.
The Department of Education has yet to decide if it will make the subject available for another cohort of students in 2019.
"There is a digital revolution taking place which is having a transformative effect on our economy, workplace, and lifestyle," Bruton said.
"The introduction of this new subject will teach our young people flexible, solution-oriented thinking."
Speaking to reporters, Bruton said that he is confident there will be enough teacher supply to sustain the subjects in schools across Ireland.
"There was some very considerable interest in the take up of this. We will work with other schools over the coming period to make sure, as we enter the next phase, that they can deliver those programmes successfully if that's what they decide to do," Bruton said.
On the back of this, Bruton said that the Department will work with all schools who wish to introduce the subject to ensure that staff training and technology is up to standard.
"Over time, we will have to ensure that schools or want to [introduce Computer Science], or maybe who aren't in a position to… that we can develop their capacity, whether it be on teacher supply and building up the expertise, or whether it's in the classroom or school itself," he said.