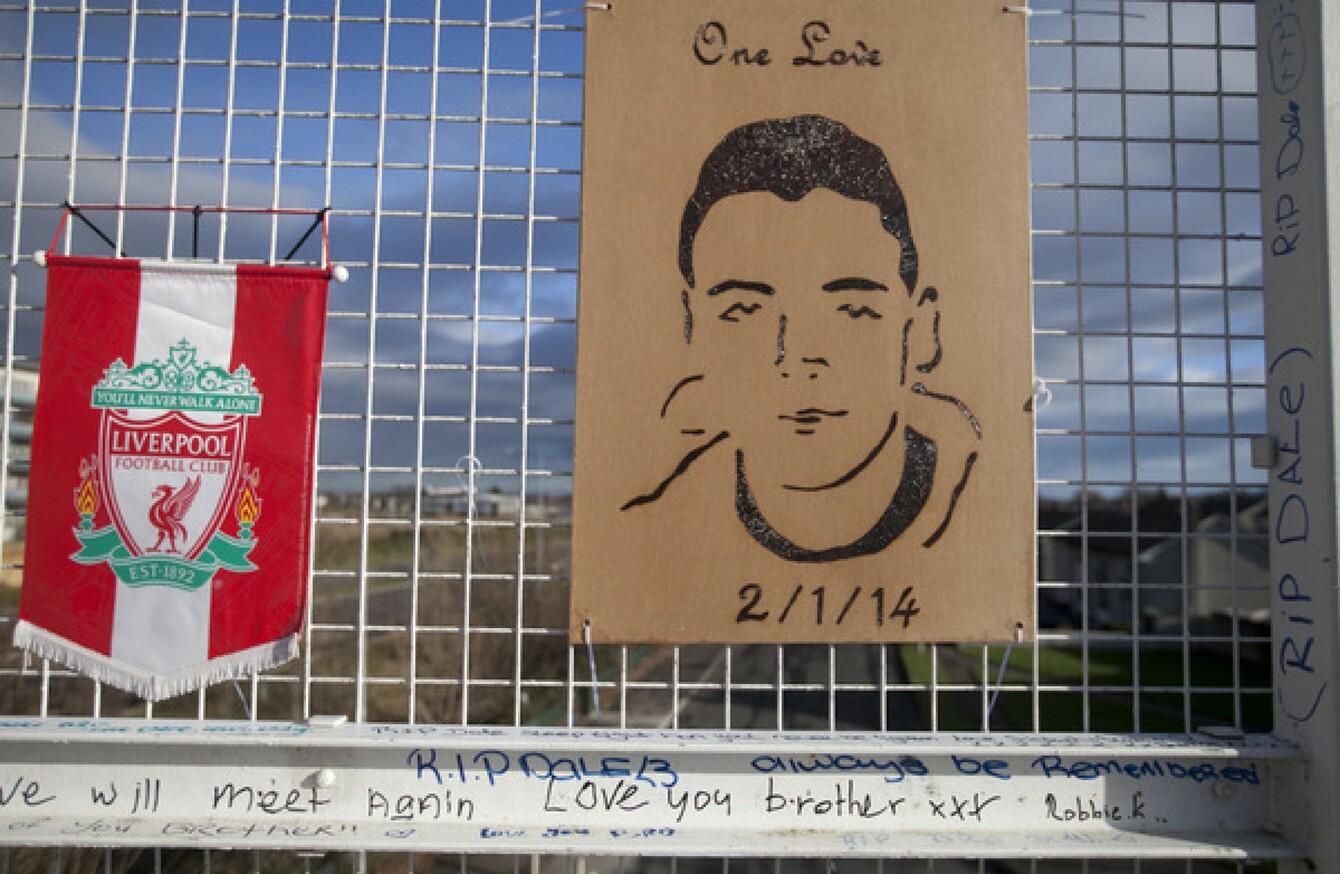 A memorial for Dale Creighton at the pedestrian footbridge across the Tallaght Dual Carriage where he was seriously assaulted on New Year's Day
A memorial for Dale Creighton at the pedestrian footbridge across the Tallaght Dual Carriage where he was seriously assaulted on New Year's Day
THE FAMILY OF Dale Creighton told of their anger this afternoon as sentences were handed down to seven people charged in relation to the fatal assault.
It was standing room only in Court 13 in the CCJ this afternoon as family and friends of Creighton arrived to support his grieving mother and father.
Dale Creighton was assaulted at the footbridge over the Tallaght bypass between Saint Dominic's Road and Greenhills Road four hours after he had rung in 2014. He died in hospital the following day. The cause of his death was blunt force injury to his head and face.
Six men and one woman were originally charged with murder and went on trial at the Central Criminal Court in October after pleading not guilty. However, those charges were dropped on the 15th day of the trial, after they pleaded guilty to lesser charges and had their new pleas accepted.
As she handed down sentence, Justice Deirdre Murphy said they were not evil or even bad people but described the fatal assault as prolonged and vicious. She noted that, following an allegation that he had stolen Aisling Burke's phone, Creighton was 'marched up the steps onto the footbridge and mercilessly kicked and beaten'.
This afternoon, Justice Murphy handed down the following sentences:
Graham Palmer (26) 10 years with five suspended (manslaughter)
Ross Callery (23), 10 years with four suspended (manslaughter)
Gerard Stevens (27) 10 years with seven suspended (manslaughter)
Jason Beresford (23) 10 years with four suspended (manslaughter)
David Burke (28) 10 years with two-and-a-half suspended (manslaughter)
Aisling Burke (23) 5 years with 4 suspended (violent disorder)
James Reid (26) 2 years suspended in full (possession of a knife)
Reid did not attack Creighton during the assault.
Speaking outside the court today, Creighton family spokeswoman Helena D'Arcy said the sentences were too lenient and told of the family's devastation at losing Dale so young.
She said: "Our lives changed dramatically in 2014. Needless to say, the years have been traumatic for our family as we waited for this day. Dale was then, and still is, the centre of our world. We can no longer enjoy Dale's presence. It was only through our unending and deep love we have for him that we can move forward."
Dale was described as a shy young man who loved his family unconditionally. D'Arcy added that he had his whole life ahead of him. She said that Justice Murphy had a very difficult job to do but said the Creighton family had hoped for harsher punishments.
Because of their vicious actions, we have an everlasting pain in our hearts. We appreciate the difficulty Judge Murphy had in sentencing. But we, as a family, consider them to be too lenient, especially the one year sentence of Aisling Burke and the suspended sentence of James Reid.
Detective Superintendent Brian Sutton offered the Creighton family his condolences and said the thoughts of the force are with them. He said he hoped the result today may bring some closure and solace. He also thanked the people of Tallaght for assisting them with their investigations.
With reporting by Natasha Reid