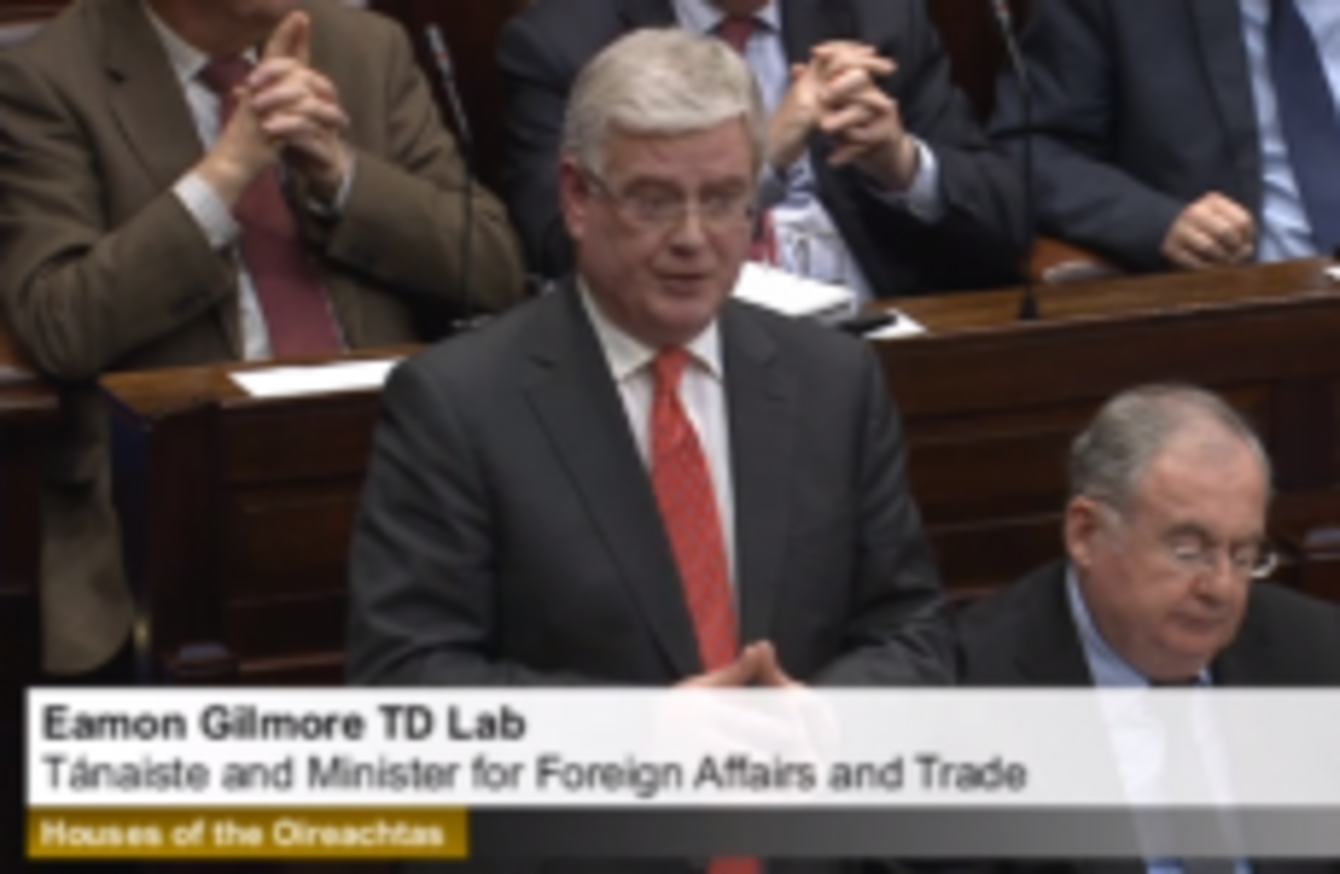 Eamon Gilmore in the Dáil this afternoon
Image: Screengrab via Oireachtas TV
Eamon Gilmore in the Dáil this afternoon
Image: Screengrab via Oireachtas TV
TÁNAISTE EAMON GILMORE has said that legislators should deal with the issue of assisted suicide and has suggested that committee hearings be held when a case currently before the court concludes.
Gilmore was speaking at Leaders' Questions this morning when he was asked about the issue of assisted suicide in the wake of a woman being charged with assisting the suicide of another woman in Dublin in what is believed to be the first case of its kind in the State.
Indpendent TD Stephen Donnelly raised the case of Marie Fleming, an MS sufferer, who unsuccessfully challenged the country's laws on assisted suicide earlier this year.
Donnelly told the Dáil that Fleming's condition has deteriorated to the point where she may now starve to death and asked Gilmore if her husband Tom should face the threat of 14 years in prison if he helps his wife to die.
Gilmore said that it was best that the case before the courts concludes before TDs discuss the issue of assisted suicide, but he added:
"I met with Tom Curran after the Marie Fleming case… It is my view that as legislators we should address this issue here in this house."
Stephen Donnelly in the Dáil this morning
"I think it's a difficult issue, I have enormous sympathy for the situation that Tom and Marie find themselves in, but there is no simple answer to this," he said.
The Tánaiste said that the topic raised "ethical and legal" issues but said it was one that should be addressed.
"I think that this is a topic that I think we should address as legislators collectively," he said. "I don't think this should be a kind of government [versus] opposition type of issue."
He said it is a "a topic we should address as human beings, as legislators" and said that when the court case is over there may be an opportunity to hold committee hearings.
Gilmore added: "The straight answer is 'yes'. I do think we should deal with this as legislators."
Donnelly said that the court case should not prevent TDs from discussing the issue and called for an expert report could be carried out. Gilmore said this was a positive suggestion which he would discuss with his government colleagues.
Donnelly also called for the Director of Public Prosecutions to issue guidelines on when penalties for assisted suicide may not apply as has happened in the UK.