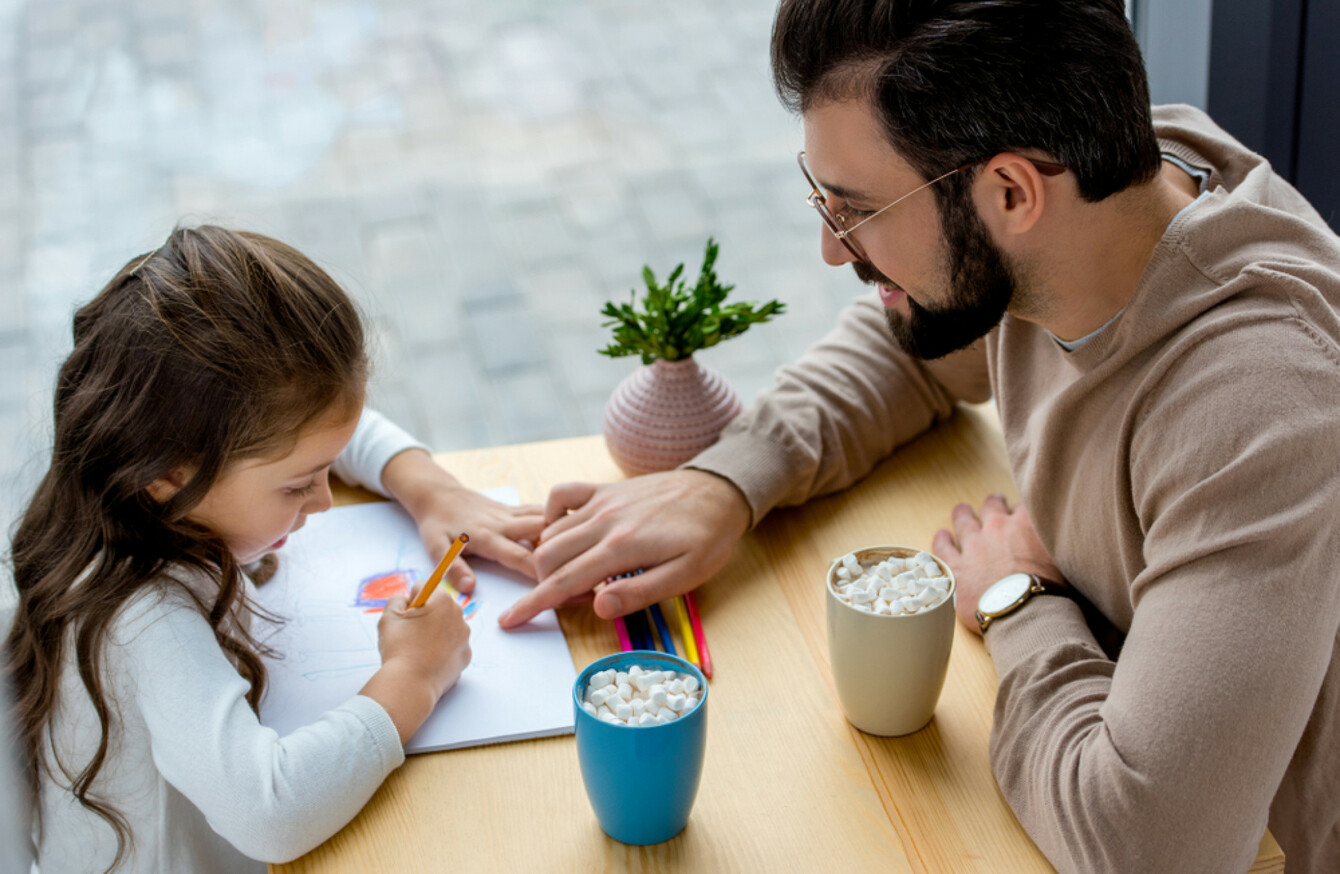 Image: LightField Studios via Shutterstock
Image: LightField Studios via Shutterstock
IN A NUMBER of months, citizens of Ireland will be asked to vote in a referendum on whether they wish to repeal the Eighth Amendment.
A referendum date and wording of the question are expected to be announced over the coming month. The government last week decided the wording of what will replace the Eighth Amendment in the event that a vote to repeal it is passed.
Last week, thousands took to the streets of Dublin for both the March for Repeal and the Rally for Life.
Over the next few months, more marches will be held, posters will be erected across the country and mentions of the Eighth Amendment will be abundant on television and radio – children may begin to take notice.
For many parents, they may be unsure of whether to approach the topic with their child or unsure what to do if the child asks questions.
A number of counsellors and child psychologists have spoken to TheJournal.ie advising parents of children of all ages on how to deal with the topic over the next few months.
Each expert that TheJournal.ie spoke to displayed certain nuances in their advice but there were a number of points that each agreed on:
It is important not to shut down the child if they ask questions about the Eighth Amendment or abortion. Engage in a conversation with them about it.
If a child begins asking questions, reflect the question back to the child and find out what they think the topic is about. From there, stick to specifically discussing what the child has asked.
If the child is of an appropriate age (as decided by the parent), the Eighth Amendment campaign can be used as an opportunity to raise the topic of sex education and the life cycle.
As the Eighth Amendment will be a major topic of conversation in the news over the coming months, many parents may be wary of allowing their child to watch television or listen to the radio. However, the experts have said that there is only so much a child can be shielded from and parents should base whether the child is allowed to consume news on their age.
Expert advice
The Eighth Amendment is a sensitive and delicate issue for everyone, especially parents who are concerned about their child's wellbeing.
Expanding on the above points, TheJournal.ie asked the professionals a number of questions in order to offer some help to parents over the coming months.
What should parents or guardians do if a child asks a question about what the Eighth Amendment or abortion is?
Play therapist Myriam Clancy from Cork said that the most useful thing to do, no matter what age the child is, is to reflect back to them to ask what they think the topic is about.
"If the child says 'I heard this in school and what does it mean', tell them to tell you about what they think it means. Try to keep your answers as concrete as possible," Clancy said.
Counselling psychologist Dr Sean O'Connell said a parent's answer will always vary depending on their own belief system and the age of the child.
"The parent will know what's best to say. In terms of information, it goes back to how old they are," O'Connell said.
It is important the topic doesn't get shut down and a key thing for parents is that they monitor the child's mood if they are asking about it as well.
Should you bring the topic up if the child doesn't ask about it? 
Whether a child asks about the Eighth Amendment or abortion over the coming months or not, it doesn't mean they are not taking notice and questioning what it means in their own mind.
O'Connell said, again, that parents will know best when it comes to raising the topic.
However, he did say that if a parent wants to discuss the issue "they might say 'Ok, you might have seen that there are people protesting for either side of this' and explain it in an understandable way".
In terms of when a child sees abortion-related posters in public, O'Connell compared it to the watershed within broadcasting. Because of this, he said that it is important to try to safeguard your child from seeing these posters in public.
"The posters can be quite inappropriate for children of certain ages. You could compare that to the watershed, sexual content, violence, distressing imagery, offensive language, things like that," O'Connell said.
Clancy also agreed that it is important to address the posters as it can be a traumatising experience.
If a child and a parent are walking through the city and they see distressing billboards, I think that a parent should bring it up if they think a child has seen it. Just say that what they saw was very scary and maybe we should talk about it because it's scary to see things like that.
Occupational therapist Sarah Sproule said: "What happens if we don't speak about it as parents is we send a message to our kids that we can't talk about this sort of thing. Kids pick up on a lot of unspoken information. By keeping silent, what we're saying to them is we don't want to talk about this in our house.
"Even kids who don't ask questions, particularly kids who don't ask questions, are going to be taking in information. If they're going to be at the point where they can read, they're going to be seeing those posters. If a parent wants to have any sort of say, then unfortunately conversations just have to happen."
Finally, O'Connell suggested that the Eighth Amendment campaign could be a good opportunity to get a child to discuss the life cycle and sex education with their child.
"There is an opportunity to teach children about the life cycle, teach them about health, teach them about family formation and development. There would be a whole range of things the parent can discuss," he said.
What is the best age to begin discussing the Eighth Amendment with a child?
O'Connell said that there is no specific age that he can recommend for parents to begin discussing these issues with children.
"It depends on what the family's perspective is. There are families who can talk about it from early on if a child brings it up," he said.
Meanwhile, Clancy didn't specify an age either but she did note that if certain situations have arisen in households previously, such as miscarriages, then all children should be brought into the conversation.
"It could be quite distressing for children hearing the information if there has been a miscarriage in the family, if a child has lost a sibling. In those kinds of cases, the child might not be very open to bringing it up for fear that it would upset the parent," she said.
The times it has the biggest impact is if they are feeling quite protective of their parents, particularly if there has been a loss, if there has been a miscarriage. That's when it becomes distressing because they're thinking about all the upsetting things they have seen or heard.
TheJournal.ie contacted the Department of Education to ask the guidelines it issues schools in relation to what age sex education should be introduced into schools.
In a statement, the department said: "Social, personal and health education (SPHE) is a mandatory curriculum subject in all primary schools. Relationship and sexual education (RSE) is a component of SPHE and is mandatory from junior infants to sixth class.
"The purpose of SPHE is to foster the personal development, health and wellbeing of the individual child, to help him or her create and maintain supportive relationships and to enable children to make safe and healthy decisions now and in the future.
Every school is required to have an RSE policy which sets out the rationale and aims for RSE and details of how the programme will be delivered. Topics in SPHE and RSE are dealt with and addressed in age-appropriate manner at all levels.
Should children be allowed to watch the news?
As noted above, some parents may be wary of allowing their child to watch television or listen to the radio in the lead up to the referendum in case they hear inappropriate content.
So, Clancy and O'Connell have made some suggestions.
"It goes back to the whole watershed idea. There is only a certain amount you can protect them from but if they are exposed to some of the news then maybe the golden word is opportunity," O'Connell said.
"It's an opportunity for them to talk about it, to explore it if they have worries about it. By discussing it you're providing information for them, you're helping them understand what's going on around them."
Sarah Sproule said it is better to prepare your child for what they may see or hear over the next few months instead of trying to protect them from it.
It's preparation before protection. Preparation is the thing that is going to give the kids the information they need to make good decisions later on, but also to be able to look after their own emotional wellbeing if and when they do seethings.
So, what exactly should you tell a child? 
In terms of how exactly to explain the Eighth Amendment to a child, O'Connell said:
"Children learn and they understand words through stories, through narratives, through sequencing certain events," he said.
You really need to look at it through the child's eyes, try to do that as much as possible. As adults, we see the world very differently than children. It's trying to get further perspective on seeing what they see.
"It's an opportunity to talk about health, development and it all depends on what's appropriate based on their age."