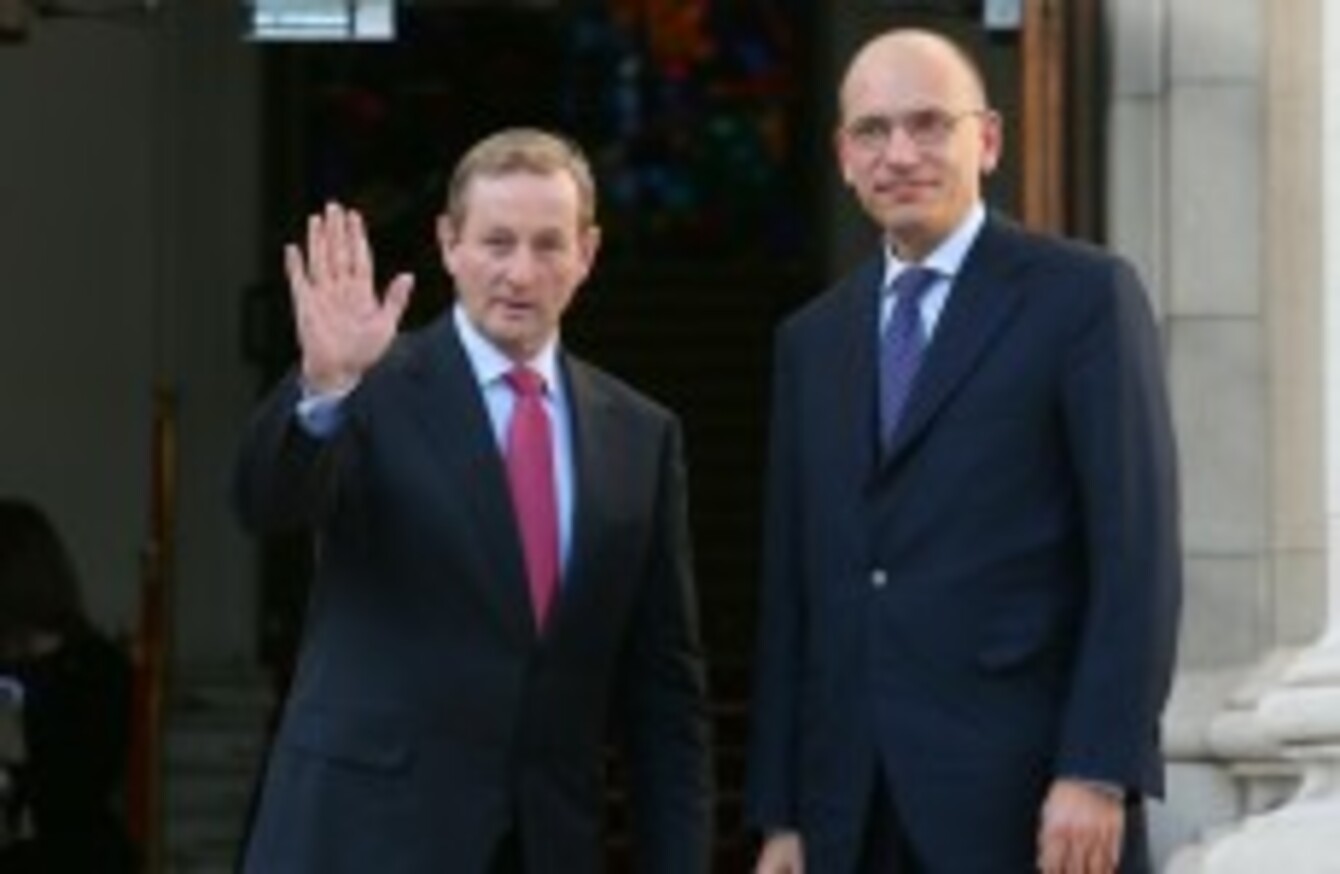 Enda Kenny with Enrico Letta at Government Buildings earlier today
Image: Laura Hutton/Photocall Ireland
Enda Kenny with Enrico Letta at Government Buildings earlier today
Image: Laura Hutton/Photocall Ireland
TAOISEACH ENDA KENNY has said that the credit for Ireland's planned exit from its bailout programme next month must go to the people as he claimed that the government has "measured up" to all the conditions laid down by the EU and IMF.
Kenny was speaking on the day that Troika completed its 12th and final assessment of Ireland's bailout programme ahead of the State's planned departure from the programme on 15 December.
"The fact this has been the final visit of the Troika in a formal sense speaks for itself," Kenny said today.
"This country has measured up, in all respects, to all of the conditions that were laid down. Credit for that goes to the people."
With a decision still to be made over whether to avail of a precautionary credit facility, Kenny insisted again today that this will be a matter solely for the Irish government.
He was speaking at a joint press conference with the Italian leader Enrico Letta at Government Buildings this afternoon with the prime minister praising Ireland for "the important success and result in the bailout activity".
"I think the 15th of December will be a new era here in Dublin and will be very important to demonstrate that a country like Ireland is able to reach this kind of result," Letta said in a perfect English.
Kenny said that the government wants to exit the programme with a decision on the credit backstop "that will leave us where we can put the shutters up behind us and not go back to that culture that caused this problem".
The Taoiseach said that the government wants to send out a message to the people that "we're moving to a new place" and a message to the markets and investors that Ireland will be "an increasingly attractive location for investment".
He added: "Today is historic in the sense that we've come through a very difficult period."