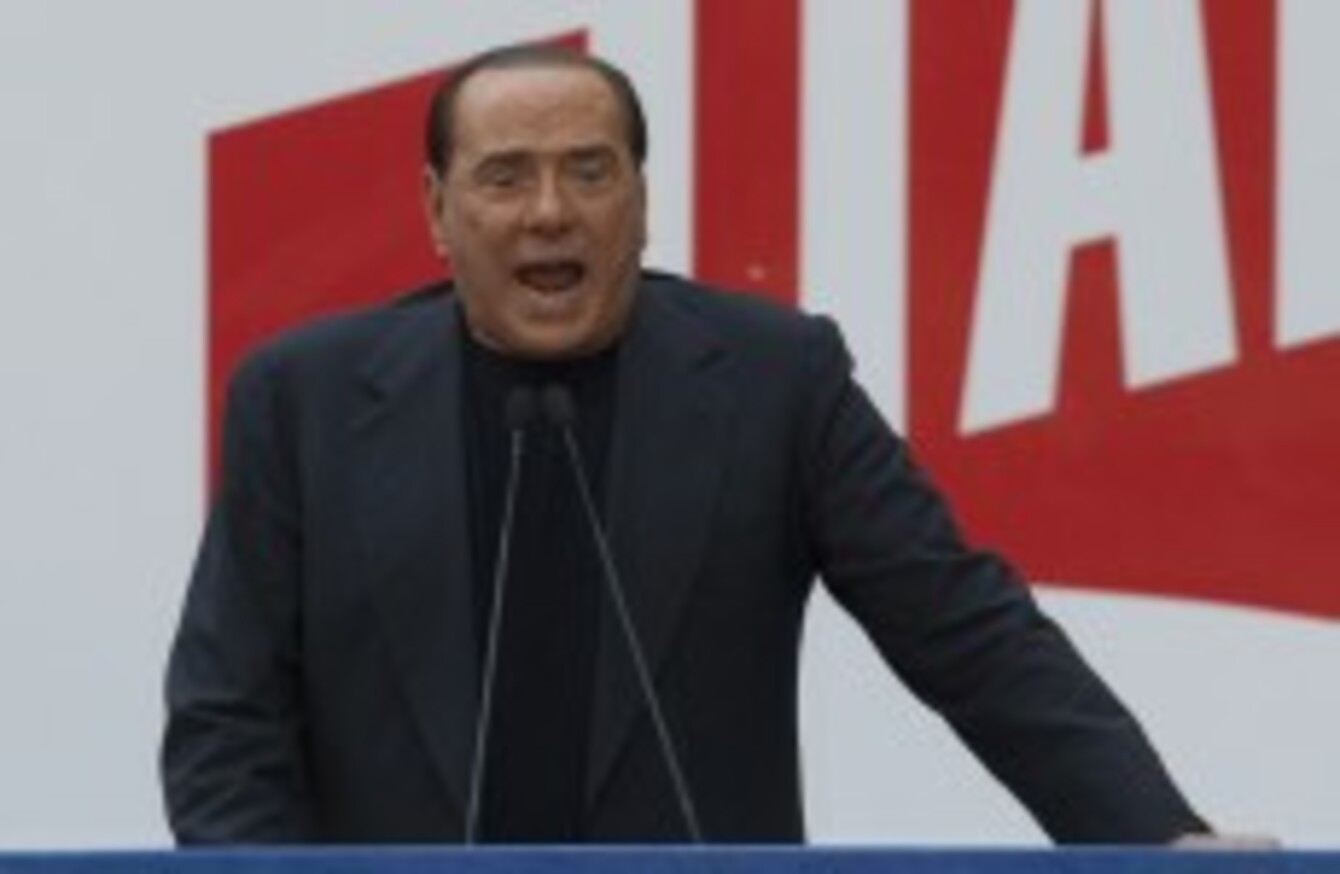 Silvio Berlusconi
Image: Andrew Medichini/AP/Press Association Images
Silvio Berlusconi
Image: Andrew Medichini/AP/Press Association Images
ITALIAN PRIME MINISTER Enrico Letta called a parliamentary vote of confidence in his teetering left-right government on Wednesday amid a tug-of-war over Silvio Berlusconi's legal woes.
"We evaluated a very complicated and complex situation and decided to go before parliament as soon as possible," Letta told Italian television shortly after meeting Sunday with President Giorgio Napolitano.
The crisis was sparked when Berlusconi's centre-right People of Freedom (PDL) party pulled its ministers out of the barely five-month-old coalition government.
The shock move "created an obvious climate of uncertainty," Napolitano said in a statement after meeting with Letta for an hour and a half, adding that the two agreed to seek "clarification" before parliament.
"We face a dramatic moment and a turning point," said Letta, of the centre-left Democratic Party (PD). "I will ask for the confidence of both the Senate and the Chamber of Deputies…not for three days only to start over again, but to go ahead and pursue our agenda."
The centre-left premier added: "If I do not get it, I will draw my conclusions… I don't intend to govern at all costs."
Berlusconi, facing removal from the Senate because of a conviction for tax fraud, spurred all five PDL ministers to resign on Saturday.
The move was ostensibly sparked by Letta's refusal to discuss delaying an increase in the value-added tax while tensions were at a fever pitch over Berlusconi's legal woes.
But the Italian press put the blame for the new government crisis squarely on the billionaire media magnate, who turned 77 on Sunday.
"The convict has made Italy fail," read the headline in the leftist daily Il Fatto Quotidiano, alluding to the tax fraud conviction.
'We will win' snap polls: Berlusconi
Letta speaks during a video appearance at the Italian State RAI TV program "Che Tempo che Fa", in Milan yesterday. Pic: AP Photo/Antonio Calanni
Going forward, few scenarios seem likely short of fresh elections. But Napolitano, 88, has said he would dissolve parliament, triggering new elections, only "if there are no other solutions".
The former communist, who has become an old hand at refereeing such crises since taking office in 2006, has long said the electoral law should be reformed before any fresh elections.
And Letta said elections would only produce another broad coalition, adding: "We should avoid that."
Letta could instead try to form another government, counting on various defections and the support of left-wing groups, but a new primarily left-wing government may have little room for manoeuvre.
Berlusconi has expressed his support for quickly holding new elections because he claimed opinion polls showed that "we will win them".
Former comedian Beppe Grillo, head of the anti-establishment Five Star Movement, is also in favour of new polls.
Letta's government was cobbled together following a two-month stand-off after an inconclusive general election in February. The premier had won the confidence of financial markets by managing the improbable right-left coalition.
Italian media speculated yesterday that the crisis could undo that work, making it harder for Italy to deal with its economic difficulties and enact needed reforms.
Berlusconi's backers first threatened to resign over the former leader's legal problems last Thursday.
A Senate committee was preparing to vote on whether to eject Berlusconi from the chamber after he was sentenced to a year of community service or house arrest for tax fraud, a ruling that was upheld by Italy's top court in August.
The flamboyant media mogul who has dominated Italian politics for most of the last two decades also faces a further humiliation of losing his parliamentary immunity as other legal woes dog him.
Notably, he is appealing a conviction in the "Rubygate" scandal on charges of paying for sex with a then 17-year-old girl and abusing the powers of his office to hide the alleged crime.