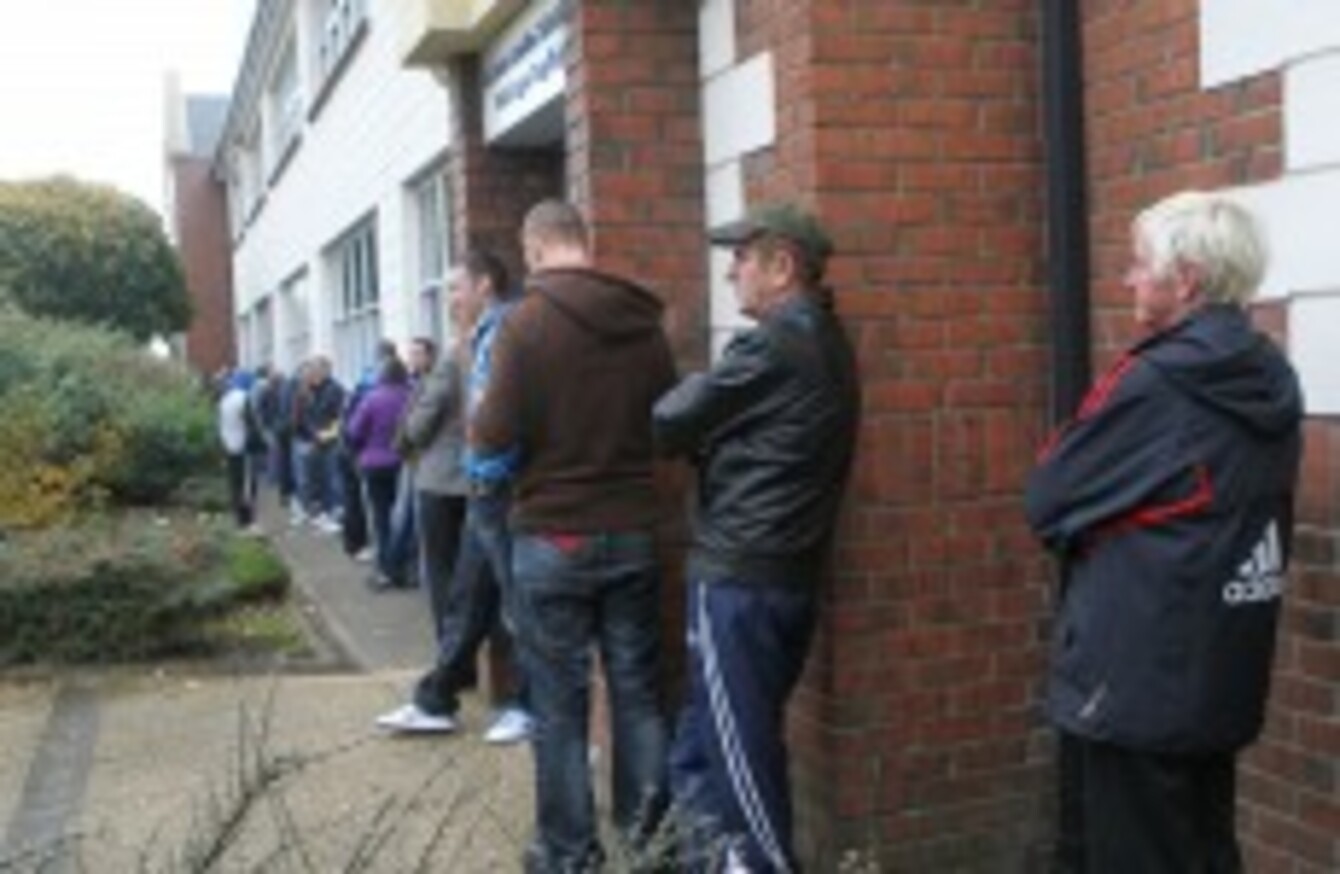 A dole queue at a social welfare centre in Finglas, Dublin (File photo)
Image: Leon Farrell/Photocall Ireland
A dole queue at a social welfare centre in Finglas, Dublin (File photo)
Image: Leon Farrell/Photocall Ireland
OVER 16 MILLION people in the 17 eurozone nations are unemployed as new figures show that unemployment is at its highest since the single currency was introduced in 1999.
Figures from the EU's statistics office, Eurostat, have revealed that the seasonally-adjusted unemployment rate in the eurozone was 10.4 per cent in December, unchanged with November, but up 0.4 percentage points on December 2010.
The agency said just under 16.5 million people were unemployed in the eurozone, up 751,000 on the year before.
The unemployment rate in the wider 27 member state European Union was at 9.9 per cent in December, unchanged from November and also up four percentage points from December 2010.
Ireland has the fifth-highest rate of unemployment in the entire EU with an estimated 14.5 per cent of people unemployed when the figures are seasonally adjusted. The level is unchanged when compared with a year ago.
The Central Statistics Office in Ireland recorded over 434,000 people signing on the Live Register in December – a standardised unemployment rate of 14.3 per cent.
Only Latvia (14.8 per cent), Lithuania (15.3 per cent), Greece (19.2 per cent) and Spain (22.9 per cent) have higher rates of unemployment according to Eurostat. Though some of those figures are from October 2011 and the third quarter of 2011.
The largest falls in unemployment were observed in Estonia (16.1 per cent to 11 per cent between the Q3 of 2010 and 2011), Latvia (18.2 per cent to 14.8 per cent between Q3 of 2010 and 2011) and Lithuania (18.3 per cent to 15.3 per cent between the third quarters of 2010 and 2011).
The highest increases were registered in Greece (13.9 per cent to 19.2 per cent between October 2010 and October 2011), Cyprus (6.1 per cent to 9.3 per cent) and Spain (20.4 per cent to 22.9 per cent).
This graph shows the current rates of unemployment in EU member states:
This graph shows how unemployment has changed in both the eurozone and the EU over the past 11 years: