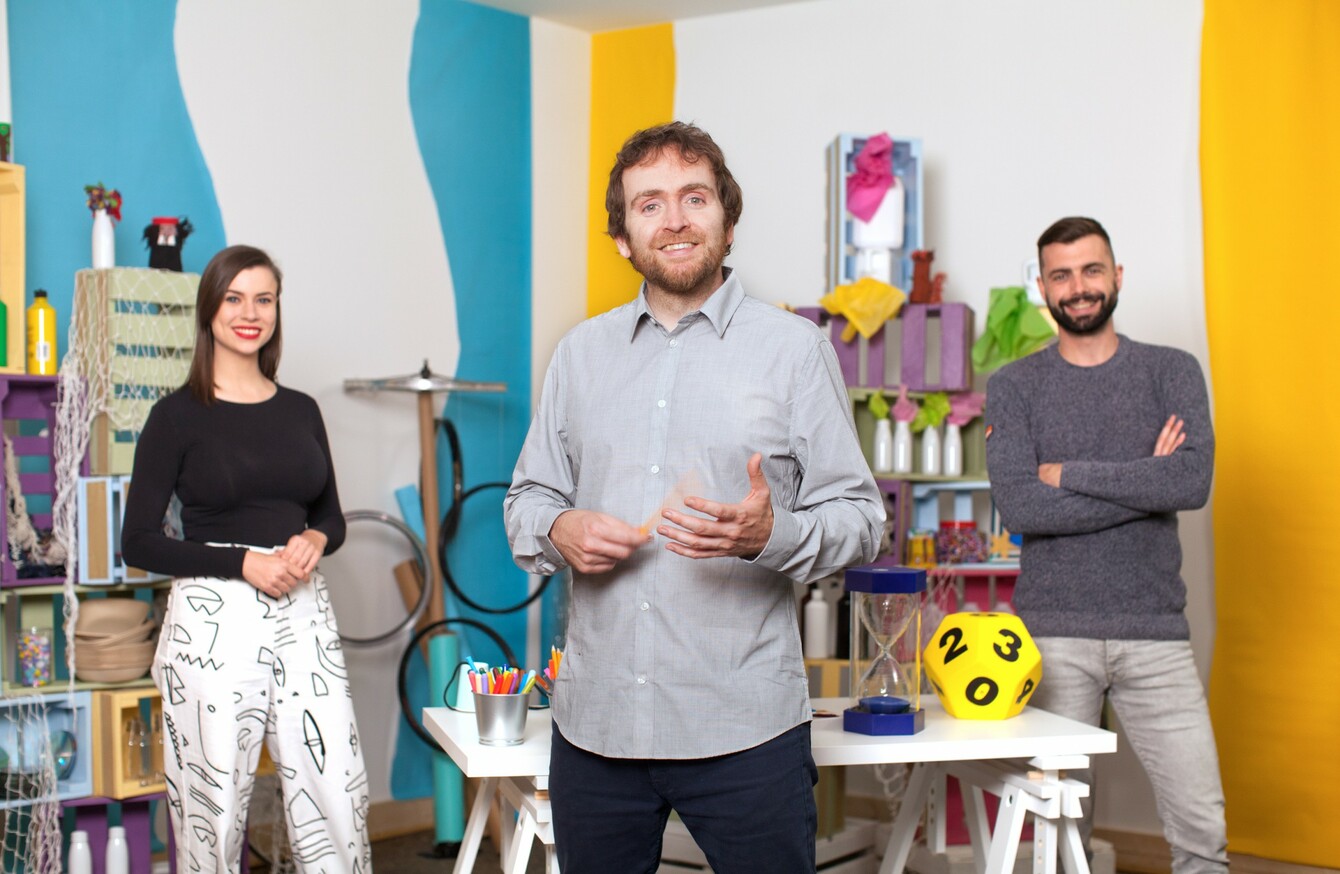 Múinteoirí Clíona, Ray and John, hosts of RTÉ2's Home School Hub.
Image: RTÉ
Múinteoirí Clíona, Ray and John, hosts of RTÉ2's Home School Hub.
Image: RTÉ
ANYTHING GOOD ON the telly? Finding a TV show to please all the family can be a mammoth ask, so we've asked entertainment journalist Andrea Kissane to weigh in with a handpicked guide to the best crowd-pleasing picks on the box for the week of Monday January 18.
Whether you're looking for programmes to help young minds learn during lockdown or family-friendly entertainment shows for a cosy night-in, here's what you'll find on some of Vodafone TV's 80+ channels. Now to claim the cosiest spot on the couch before anyone else…
1. Crowd-pleasing entertainment 
Junior Bake Off, Fri Jan 22, 5pm – 6pm, Channel 4 
If cooking shows are your jam (and clotted cream), then be sure not to miss this batch of mini bakers compete in the second heat for their last chance to nab their spot in Finals Week. It's Pastry Day and Ravneet's Technical Challenge has a Spanish theme, with a classic snack undergoing a Junior Bake Off twist. Today's Showstopper is a celebration savoury pie but who will be awarded star baker and who must leave the tent?
Ireland's Fittest Family, Sun Jan 24, 6.30pm – 8.30pm, RTÉ One
This year's series of the popular competition sees more families take on some seriously gruelling challenges. Filmed on location at Hell & Back in Kilruddery, Co Wicklow, watch this week's contenders being put through their panting paces as you work your core reaching for that last chocolate digestive.
2. Wildlife and nature
Winterwatch, Tuesday Jan 19 and all week, 8pm – 9pm, BBC Two 
Winterwatch is back for another series and this time round show us what British wildlife gets up to during the coldest months of the year. Starting tonight, Chris Packham, Michaela Strachan, Gillian Burke and Iolo Williams return for a week of live programmes from the Cairngorms in highlands of Scotland, showing the secret lives of our neighbours in the animal kingdom. Expect lots of cuteness, thermal cameras and insights into the magical world that often exists right outside our back door.
Nature's Strangest Mysteries: Solved, Thurs Jan 21, 9pm – 9.30pm, Discovery Animal Planet
Unicorns may be hot property right now amongst the under 12s but did you know that the narwhal is dubbed 'the unicorn of the sea' because of their extraordinary tusks? This show investigates what makes this whale a very special inhabitant of the ocean with a unique story to tell. It also delves into the story of the animals that have transformed Yellowstone National Park and experts explain the impact that they have had on the landscape. 
Source: Discovery UK/YouTube
3. Educational picks for students stuck at home
Home School Hub, weekdays, 10am – 12pm, RTÉ2
Airing for two hours, Home School Hub covers a range of subjects from maths to history and from art to geography. To help teachers, parents and pupils plan for the week ahead, check the RTÉ website to see the lessons scheduled in advance. You can also access the activity and resources that go with each lesson both in English and as Gaeilge.
Bernard Dunne's Mythical Heroes, Mon Jan 18, 2.50pm – 3.15pm, RTÉ2 
Former World Boxing champion Bernard Dunne turns his talented hand to storytelling as legendary characters from Irish history and folklore come to life.  This week we meet Oisín, son of Fionn MacCumhaill, who is now an old man and tells us of his adventures in Tír na nÓg.
GAA Cúl Camps, Friday Jan 22, 4pm – 4.30pm, TG4
The repeat of this 15 part series from summer 2020 will have your little ones in their PE kits faster than you can say 'MIND. MY. WINDOWS.' With warm-ups, drills and skills to practice, the show also meets families around the country as they participate from the safety of their own homes. 
*All listings are correct at time of publication 
Want entertainment for all the family from just €45 per month? With Vodafone TV, you'll get 80+ channels including 26 in stunning HD. Rewind live TV and never miss a show with 7-Day Catch Up. Check out Vodafone TV and Broadband packages here.