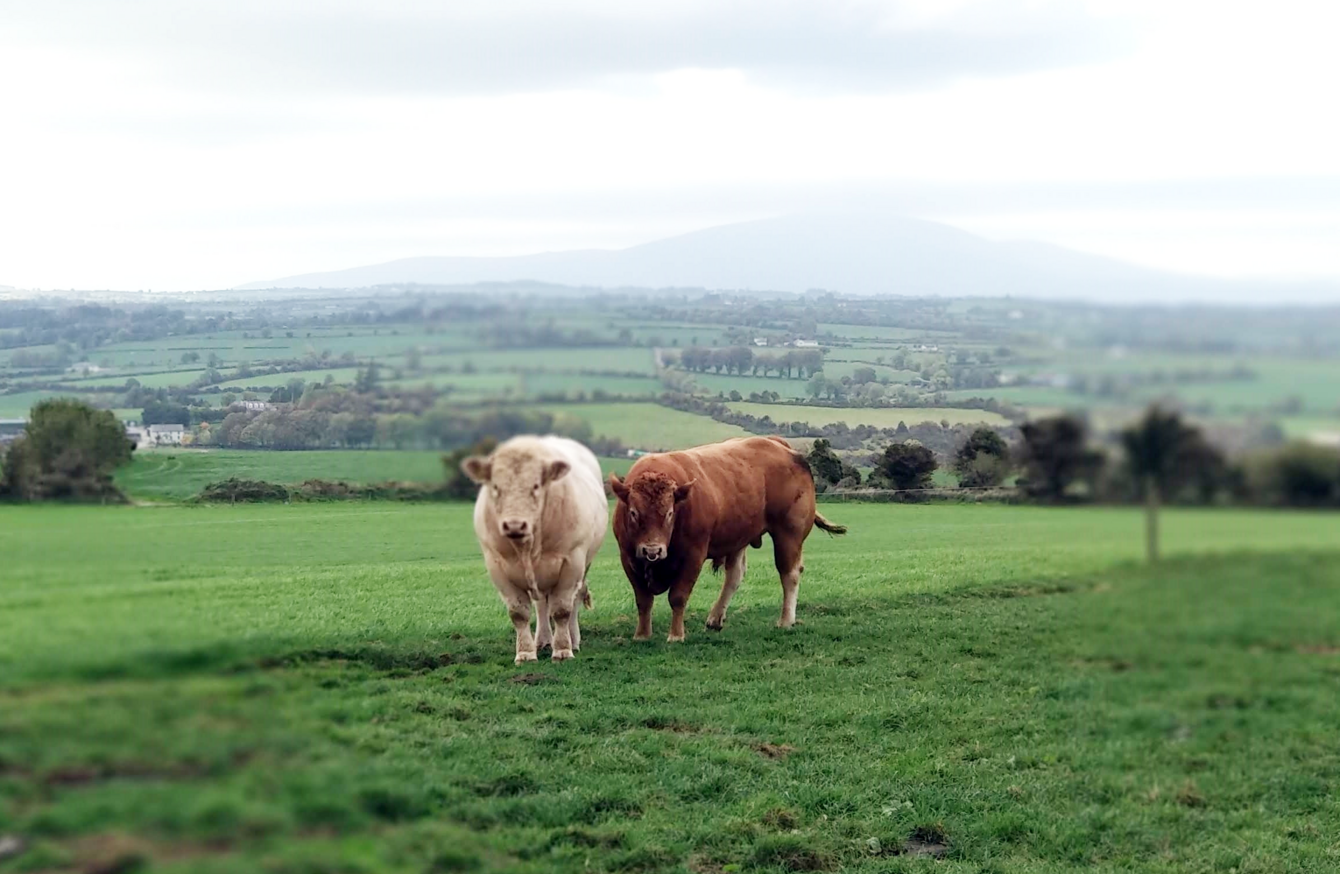 Two of John Power's cattle graze at his farm in Waterford
Image: John Powers
Two of John Power's cattle graze at his farm in Waterford
Image: John Powers
EACH MORNING, JOHN Power is up early to check on his 600 cattle on his farm in Waterford. Power comes from a very long line of farmers – he's the sixth generation and is helped by his son who will eventually become the seventh generation to run the farm.
Though his grandparents were originally dairy farmers, about 30 years ago the family decided to turn their hand to producing beef. Nowadays, he's one of 900 farmers around the country who uses that beef to supply the 91 McDonald's outlets nationwide with 100% Irish beef.
"I feel so passionate about it when I'm going out in the morning and seeing how much we care for them," shares Power. All of his cattle sleep on mats or straw bedding. Each animal's health is checked every morning – the whole process takes about two hours.
It's all part of maintaining high quality guidelines expected by both Bord Bia and McDonald's. The result? "I can't emphasise how much of a pristine product we produce in Ireland." As Irish farmers export around 90% of their beef Power says that it's essential to maintain high standards at every point in the supply chain.
Securing sustainability
And a big part of these regulations involves sustainability. The rest of the day is used to do things like rotate the grazing system between March and November, and monitor soil quality to ensure it's not being harmed by having them there in the first place. Animal waste is collected and used as fertiliser for the land – nothing goes to waste at the farm.
It's this efficiency that Power believes makes Irish beef one of the most sought-after in the world – we're the largest exporter in Europe and fifth largest in the world. And a key part of this for both cattle farmers and McDonald's is sustainability:
We constantly have inspections for what our carbon footprint is and we're always looking for ways to lower it. We have an area on the farm that we've railed off for wildlife and we've planted a wooded area. 
To ensure they are able to get their emissions down, Irish farmers like Power work with tools like Bord Bia's Carbon Navigator and organisations like Origin Green and McDonald's, who provide a template for them to work with.
Nature nurture
Our approach to farming here is key to our image abroad: "Our cows are out and about for most of the year – Irish farmers provide as natural farming as you could get, and as a result – the product is as natural as you could get."
Every 18 months, Power, along with most Irish farmers, is subject to compliance with the Bord Bia Quality Assurance scheme. Power laughs that last time he had an inspection they asked him 148 questions, including did he have the prescription to prove he had had his dog wormed – their guidelines are strictly adhered to.
There's also a detailed check of their 'cattle passport' – to ensure traceability, each farmer must document on this (and the Department of Agriculture website), everytime that they buy or sell an animal.
Community care
Within the farming community, sharing knowledge around sustainability is huge. In Athenry, Co Galway Newford Farm has been set up as a 'shop window' to show farmers best practice when it comes to creating a sustainable beef farm, set up by Dawn Meats, state agency Teagasc, McDonald's and Irish Farmers Journal. 
McDonald's have also set up the Progressive Young Farmer programme, which involves a student spending a year working directly in the supply chain – first on a farm, then in processing and finally a week working in one of the restaurants, to fully understand the journey beef makes.
Similarly,  farmers who work with the Bord Bia Quality Assurance scheme must meet once a month in 'knowledge transfer groups'. Here they discuss changes in the industry and how to reduce their carbon footprint.
Destination dinner
Once the cows leave Power' farm, the supply chain is a lot shorter than you'd think for a brand so big, considering they supply two and a half thousand tonnes of beef to their 91 restaurants. Supply Chain Manager Pete Garbutt explains what it looks like:
The cattle go from their farms to the abattoir and whole cuts of forequarter and flank are sent to the burger plant in Waterford to be made into 100% beef burgers, onto our distribution centre in Dublin and then out to all our restaurants.
So, what should you order when you're next under the golden arches if you're looking to support Irish? Garbutt shares that their beef is 100% Irish, their milk comes through Lee Strand Dairy in Tralee, Co Kerry, their eggs from Greenfield Foods in Monaghan and their cheese from Kerry Group, also in Tralee.
And what does the future look like for John Power?
I plan to hand my farm onto my son who has an agricultural science degree, so he has more of a scientific background. I'm hoping he'll get it in as equally good, if not better conditions than I got it in.
One in five burgers sold in McDonald's across Europe is of Irish origin. Closer to home, around 900 farmers supply the 91 restaurants across Ireland, buying 2,500 tonnes of beef a year. Taste it for yourself by finding your local McDonald's here.