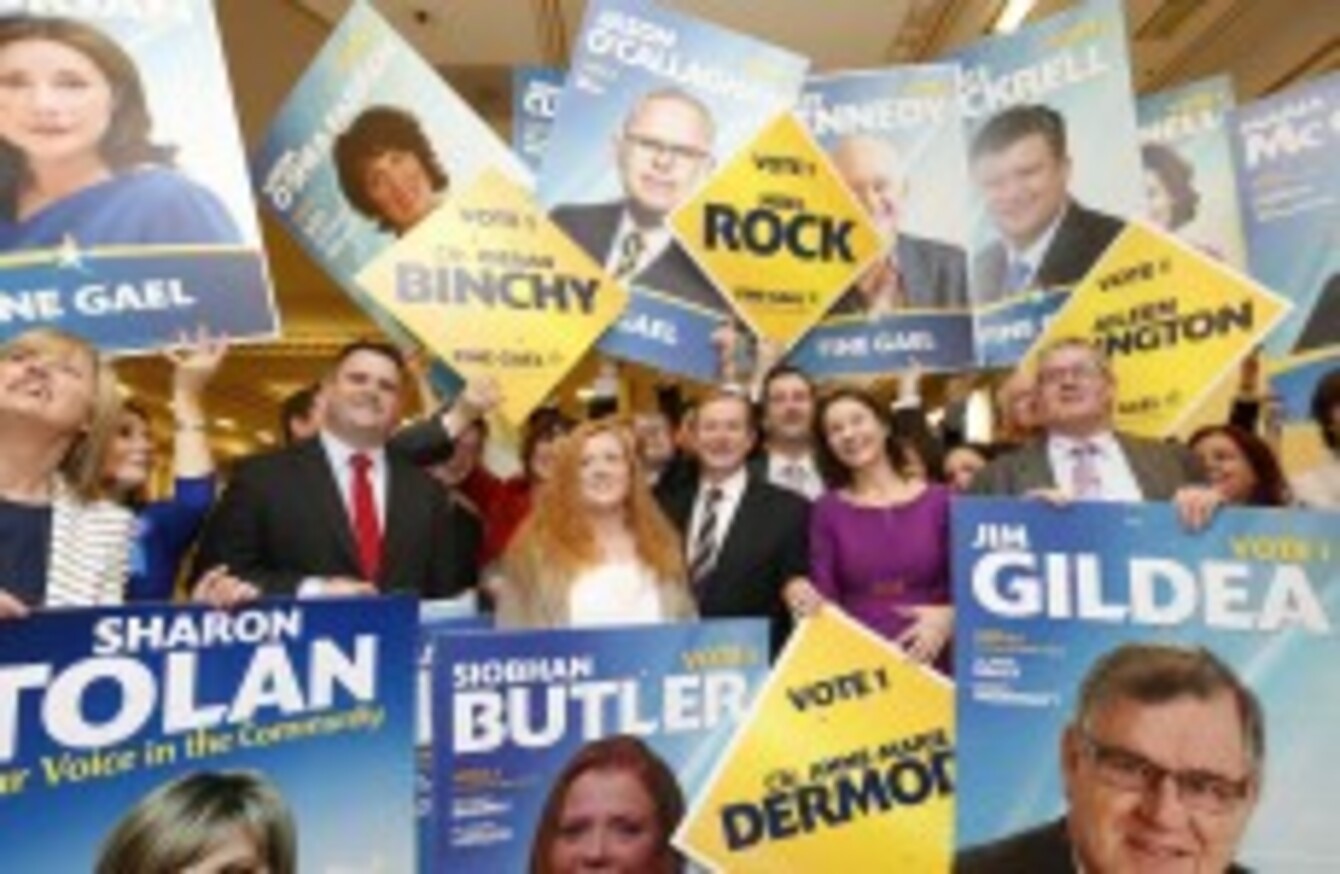 Lots of Fine Gael candidates ahead of the local elections last year
Image: Photocall Ireland
Lots of Fine Gael candidates ahead of the local elections last year
Image: Photocall Ireland
FINE GAEL IS running a second councillor training course in the wake of some internal unhappiness after it emerged that a secret group of potential general election candidates are receiving training from the party.
Two training sessions have taken place within the last two months with councillors from across the country taking part, in addition to one potential general election candidate in Dublin North West.
Last December it emerged that a group of 24 potential general election candidates, dubbed 'Enda Kenny's secret list of women', were receiving training and advice with a view to them being selected as general election candidates.
The emergence of the group's existence caused considerable unease within Fine Gael circles. It's understood that this second training course was made available to all councillors with around two dozen taking part.
It's unclear how the second group of councillors was chosen. Many are unlikely to be considered as candidates for the next general election, unlike the first group.
Two training sessions have taken place within the last two months. The first was held at the Red Cow Hotel and the second at the Hilton Hotel in Kilmainham.
A source described the group as 'The B Team', saying it was obvious that those on the first training course had been prioritised.
The group has received training from Terry Prone's Communications Clinic and been given information on how to best promote themselves as well as advice on strategy for interviews and campaigning.
At its most recent meeting last month, the group spent considerable time discussing and dissecting Renua Ireland TD Terence Flanagan's nightmare Drivetime interview. It was, unsurprisingly, used as an example of how not to go about interviews.
All of those taking part are councillors except for Aoibhinn Tormey, the daughter of former Dublin city councillor Dr Bill Tormey. She attended the most recent meeting in the Hilton.
She was recently elected to the Young Fine Gael national executive and is being tipped in some quarters to run for the party in Dublin North West at the next election as the party looks to bolster its number of female candidates.
While the first group is primarily made up of women there is a sizeable number of both men and women, mainly from rural Ireland, involved in the second group.
Fine Gael councillors involved include Fingal's Anthony Lavin, JP Browne and Ted Leddy; Kildare's Joe Neville; Mayo's Neil Cruise; Wicklow's Irene Winters; Tipperary's Marie Murphy; and Limerick city's Marian Hurley.