Libyan rebels prepare ammunition between Tarhouna and Bani Walid yesterday.
Image: AP Photo/Alexandre Meneghini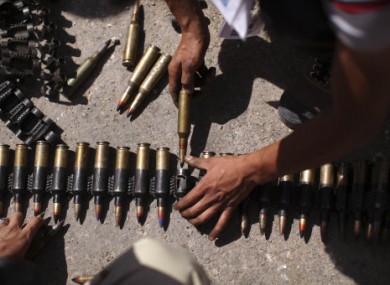 Libyan rebels prepare ammunition between Tarhouna and Bani Walid yesterday.
Image: AP Photo/Alexandre Meneghini
FROM HIDING, Muammar Gaddafi denied rumours that he fled Libya, vowed "never to leave the land of his ancestors" and rallied followers to the fight in a new audio message broadcast today on a loyalist TV channel.
The broadcast came amid conflicting statements about the fugitive Libyan dictator's whereabouts. Gaddafi, who ruled Libya for nearly 42 years, hasn't been seen in public for months, and has released only audio messages trying to rally his supporters and lash out at opponents.
In the five-minute-long audio, aired on Syrian-based Al-Rai TV, a voice purportedly of Gaddafi denounced reports that he had fled to neighbouring Niger and claimed he is still in Libya. He also blasted former rebels who ousted him from power as "a bunch of mercenaries, thugs and traitors" and urged his follower to take up arms.
'Ready to rise'
"We are ready to start the fight in Tripoli and everywhere else, and rise against them," Gaddafi said. "All of these germs, rats and scumbags, they are not Libyans, ask anyone. they have cooperated with NATO … Gaddafi won't leave the land of his ancestors."
Gaddafi went into hiding after opposition fighters swept into Tripoli on 21 August. The former rebels are still battling regime loyalists in three Gaddafi strongholds — Bani Walid, Sabha and Sirte.
Fresh clashes broke out overnight and early today near the town of Bani Walid, some 140 kilometres south-east of Tripoli. Shootings and loud explosions lasted for several hours, coming from about 18 miles outside the town, but subsided by daybreak.
Thousands of fighters have converged on areas outside Bani Walid and have threatened to attack if residents don't surrender by Saturday. Officials have said the town emerged as a focus because of the number of prominent regime loyalists believed to be inside.
A commander of the Libyan fighters, Daw Saleheen, said Gaddafi's loyalists from inside Bani Walid tried to ambush one of the Libyan fighters' positions around the town early Thursday and the fighters clashed with them.
"They took advantage of our deadline and ongoing negotiations but they lost the chance when they tried to attack us," Saleheen said. He said one Gaddafi follower was killed in the clashes and that one Libyan fighter was wounded.
Convoys of former regime loyalists, including Gaddafi's security chief, fled across the Sahara into Niger this week in a move that Libya's former rebels hoped could help lead to the surrender of the last bastions of his support.
Yesterday, more truckloads of former rebels arrived outside Bani Walid, a dusty city of 100,000 strung along the low ridges overlooking a dried up desert river valley on the road connecting Gaddafi's hometown of Sirte and Sabha to the south.
Bani Walid is the homeland of Libya's largest tribe, the Warfala. In 1993, some Warfala attempted a coup against Gaddafi but were brutally crushed. The masterminds were executed, their homes demolished and their clans shunned while Gaddafi brought other members of the tribe to dominance, giving them powerful government jobs and lucrative posts
In hiding
Abdullah Kenshil, the chief negotiator for the former rebels around Bani Walid, told reporters on Wednesday outside a field clinic that Gaddafi's son and one-time heir apparent Seif al-Islam appears to be one of those hiding in the area.
Also Wednesday, a Tripoli military official said Gaddafi was cornered and the days before he is captured or killed are numbered, but another senior defense official contended that Libya's new rulers have no idea where the fugitive former leader is.
Hunting down Gaddafi would help seal the new rulers' hold on the country, and likely trigger the collapse of the remaining regime loyalists still fighting the former rebels.