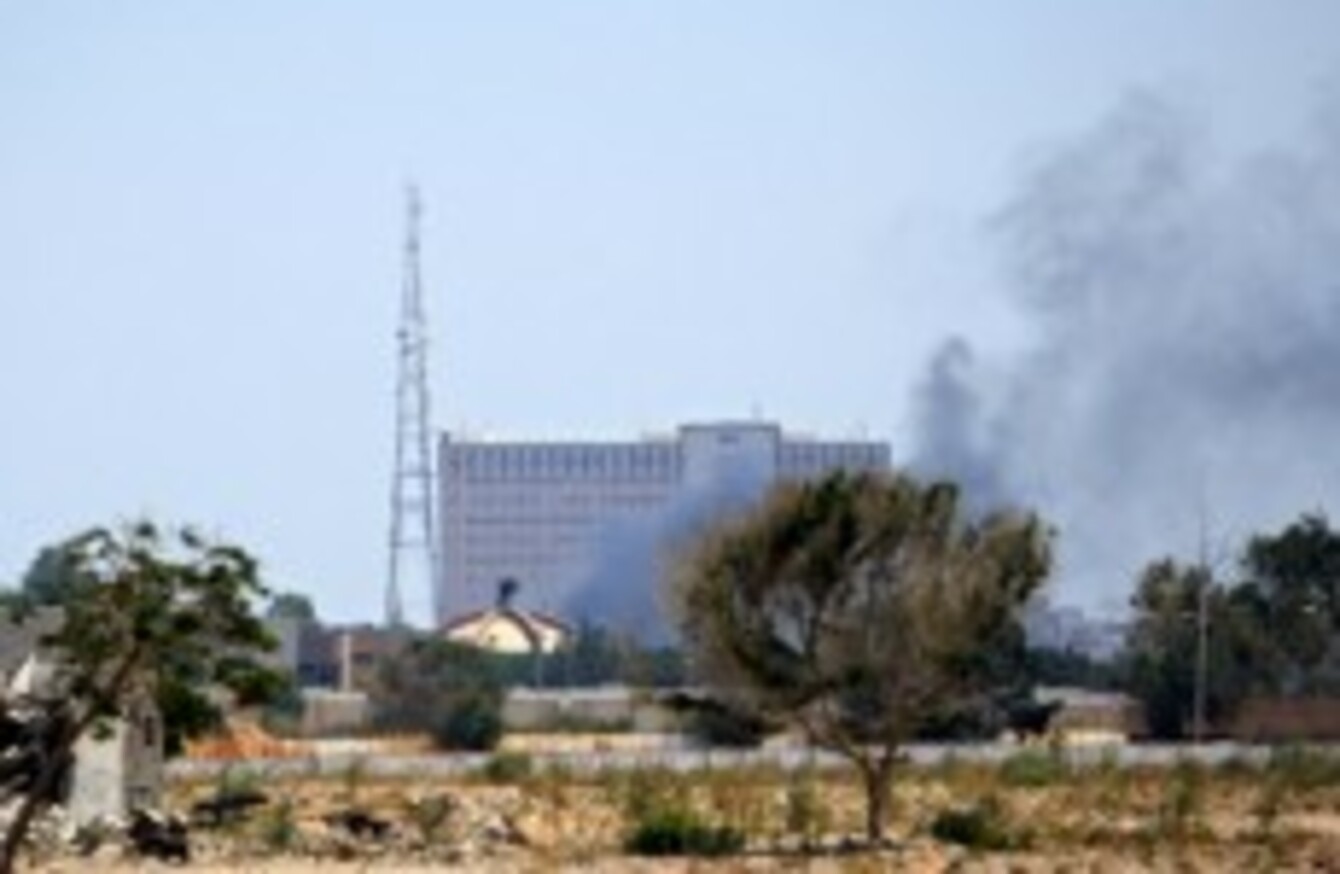 Smoke billows over Muammar Gaddafi's compound.
Image: Sergey Ponomarev/AP/Press Association Images
Smoke billows over Muammar Gaddafi's compound.
Image: Sergey Ponomarev/AP/Press Association Images
MUAMMAR GADDAFI AND those loyal to him have said that the battle for Tripoli is not over and they will fight on.
The Guardian reports that the defiant messages from Gaddafi and his spokesman Moussa Ibrahim came as forces loyal to the long-time leader launched a number of Scud missiles towards the rebel-held Misrata overnight.
A local television station aired Gaddafi's audio address on Wednesday in which he spoke to the people of Tripoli. He asked, "Why are you letting them wreak havoc?"
From an unknown location, the strongman called on residents of Tripoli to free the capital from the "devils" who have overrun it.
The broadcaster, which is known to be pro-Gaddafi, said the leader had left his compound in a "tactical move" following NATO air strikes.
Gaddafi also claimed that he had made a discreet visit to the capital:
All Libyans must be present in Tripoli, young men, tribal men and women must sweep through Tripoli and comb it for traitors. I have been out a bit in Tripoli discreetly, without being seen by people, and … I did not feel that Tripoli was in danger.
Al Jazeera has a full translation of the message:
Ibrahim also gave an interview with the same station, in which he promised to "be back to take Tripoli back", reports Al Jazeera.
He also confirmed that Gaddafi's exit from the Bab al-Azaziya compound was made because there "is nothing but slabs of concrete" left there.
Slow to declare victory
The defiance comes despite the rebels' capture of Gaddafi's main compound in Bab al-Aziziya. Opposition fighters have been showing off some of the wares they looted at the compound. The treasures include a golf cart, a gold-plated rifle, jewellery and the autocrat's colourful hats.
Although there is jubilation on the streets across Libya, it is not really possible for the rebels to declare victory yet as Gaddafi and his sons remain at large.
"It is too early to say that the battle of Tripoli is over. That won't happen until Gaddafi and his sons are captured," said Mustafa Abdel-Jalil, the head of the National Transitional Council.
Other issues have arisen for the government-in-waiting as the rebel leaders are already struggling to maintain law and order in Tripoli.
However, the NTC has gained international recognition with the Washington Post reporting them as the only group "organised enough" to take control. They are currently working on a stabilisation programme, says the Guardian, which will include work on maintaining basic services and food supplies.
Trapped
Meanwhile, 35 foreign journalists remain trapped in the Rixos hotel in Tripoli. The BBC's Matthew Price tweeted from the hotel last night:
"For those worried about Rixos: This is not comfortable position but BBC, CNN, Reuters, AP, Fox, Sky, China TV etc. are all in good spirits."
However, this morning he told the BBC's Today Programme that the situation had "deteriorated massively" overnight. He gave details of Gaddafi's guards patrolling the corridors and said it was clear that the journalists would not be able to leave the hotel of their own free will.
It is suspected that there are snipers on the roof of the building and reports are emerging of an AK47 being pulled on an ITN cameraman.
-Additional reporting AP