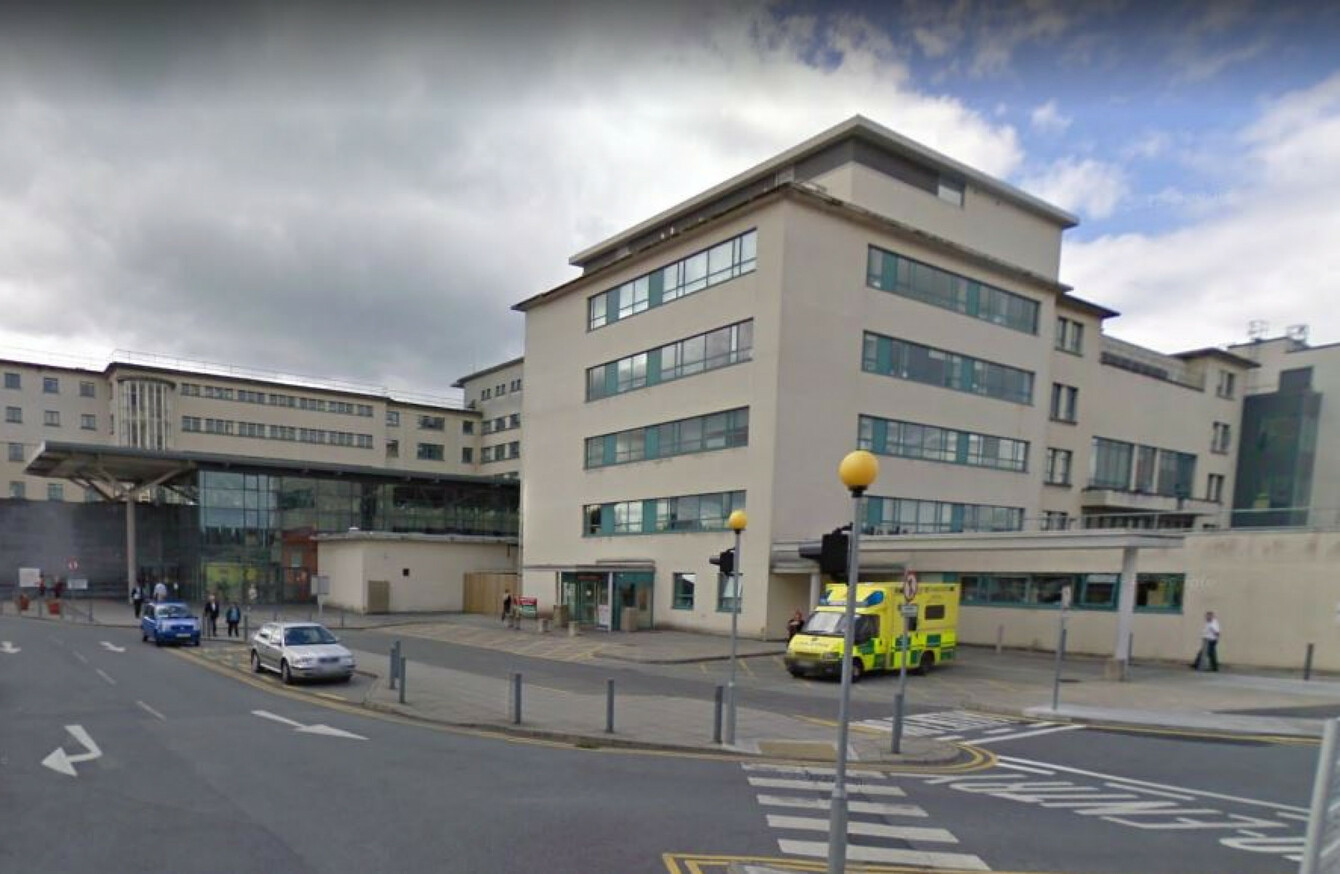 University College Hospital Galway
Image: Google Maps
University College Hospital Galway
Image: Google Maps
UNIVERSITY COLLEGE HOSPITAL Galway has denied claims that patients were moved out of the emergency department (ED) and "hidden" in advance of a visit from Taoiseach Leo Varadkar last Thursday.
In an interview this morning on Adhmhaidin on RTÉ Raidió na Gaeltachta, Connemara man Pádraig Mac Donncha described his experience at the hospital's ED on Thursday.
"When the doors opened, my goodness, there's no telling how many people were there," Mac Donncha said.
"It was absolutely full of people lining the wall and out to the front door. I've been there many times, day and night, and it was the worst I'd ever seen it," he said.
Mac Donncha went on to claim that he was sent to a short stay ward and that other people were being moved from the ED in order to be "hidden" ahead of Varadkar's visit.
"Next thing, I was sent down to a short stay ward, that itself was heaving. There were people in there in wheelchairs… anywhere they could put people, they were there, hidden," he said.
I can't understand why it was done, why the Taoiseach wasn't given an accurate picture… it was disgraceful.
Mac Donncha claimed that there were subsequently about 20 beds left free in the ED, "so when the Taoiseach came in it would look good".
Hospital statement
A spokesperson for University College Hospital Galway denied the claims and told TheJournal.ie:
Patients were not moved out of the ED to facilitate the Taoiseach's visit.
Outlining the number of patients in the hospital's ED over the course of last week, a statement from the spokesperson said that it was "an extremely week with a high number of patients attending".
It said that six escalation beds were opened on St Patrick's ward on Monday and a further six overflow beds were opened on Tuesday in the Acute Medical Assessment "to accommodate patients awaiting admission from the ED".
"On Tuesday, 10 April, there was a further increase in the number of people presenting to the ED and by 8pm there were 26 patients awaiting admission in the ED and we had 13 on ward trolleys with over 100 in total in the ED at that time," the statement said.
"On Tuesday, as part of the hospital's escalation plan, additional trolleys were placed on wards… bringing this to a total of 19 trolleys. In addition, this included using two beds on St Finbar's ward, elective beds to accommodate two trauma orthopaedic patients from the ED for Tuesday night only."
58 patients were awaiting admission on Wednesday morning. On Thursday, there were 18 patients awaiting admission to the ED, with seven patients accommodated on ward trolleys. As of 8am on Friday morning, there were 19 patients awaiting admission.
Criticism
Mac Donncha went on to claim that after the Taoiseach left the premises, beds and patients were put back into the A&E.
"There should be an investigation, to find out why the Taoiseach and TDs weren't shown conditions in the hospital in Galway," he said.
Galway TD Catherine Connolly, who was at the event on Thursday with Varadkar, also spoke to Adhmhaidin about the day.
I walked through the hospital on Thursday, and I noticed that it was quiet. I got calls then afterwards to tell me that it was all a pretence, that there were patients there but that they had been hidden.
"I suspected something myself too because there were 42 patients on trollies on Tuesday, 58 on Wednesday, and then a miracle on Thursday, only 26."