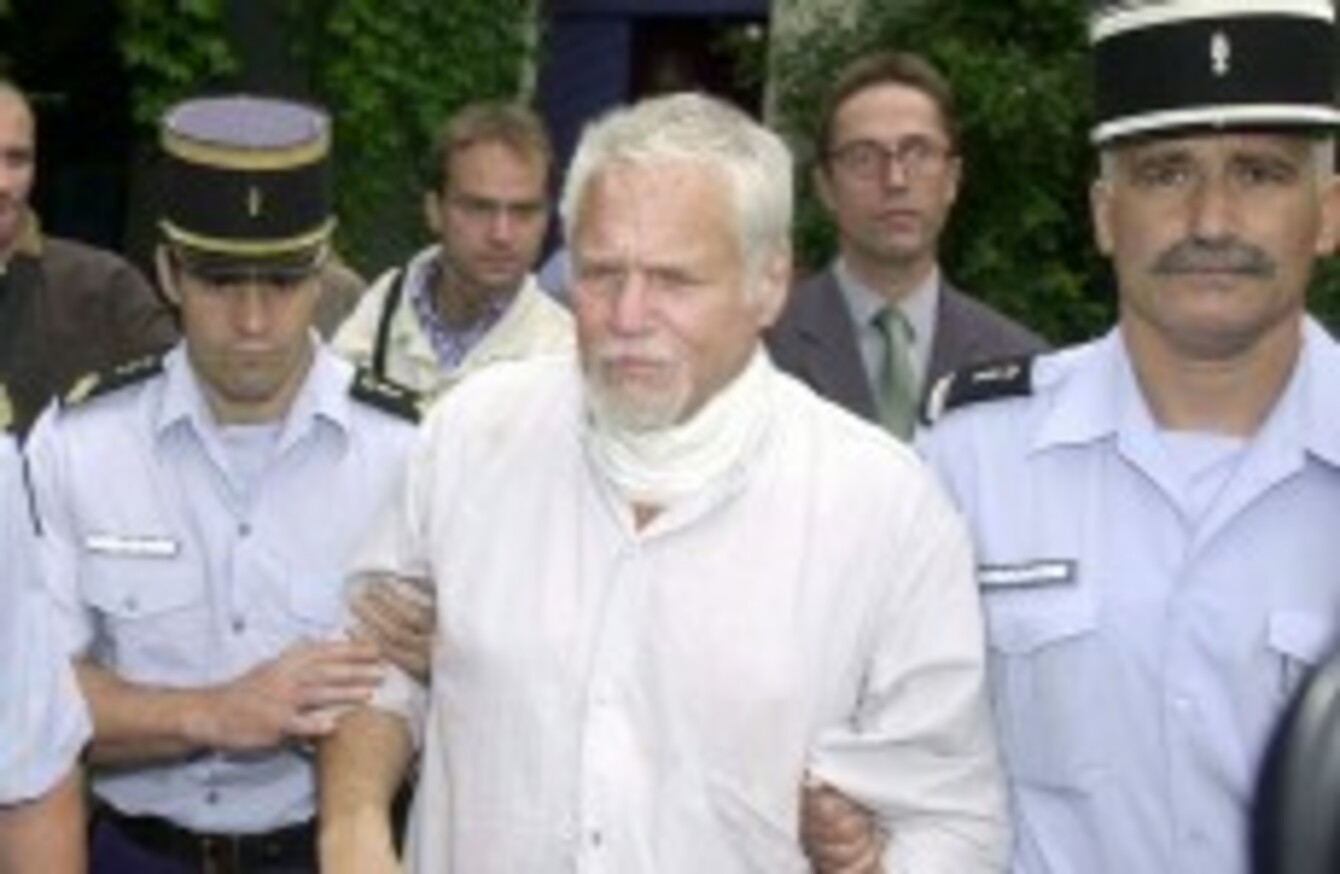 Ira Einhorn is escorted by police in Champagne-Mouton in Central France in July 2001
Image: BOB EDME/AP/Press Association Images
Ira Einhorn is escorted by police in Champagne-Mouton in Central France in July 2001
Image: BOB EDME/AP/Press Association Images
Today is Earth Day, and with it comes calls for people around the world to contribute to "A Billion Acts of Green"; to do something small in your own life to improve the planet's health. Lovely.
However, there is a dark dark history behind the event.
MSNBC reports that the man who partly founded Earth Day went on to kill his girlfriend, hide her body in a closet, skip bail, hide out in Ireland among other places, and was finally extradited to the US from France where he was convicted of her murder.
Ira Einhorn hosted the first ever Earth Day event in Philadelphia on 22 April 1970. He was a committed environmental activist who called himself "Unicorn".
In 1977 his girlfriend Helen "Holly Maddox" broke up with Einhorn. She went to the apartment they shared together in Philadelphia to collect some belongings, and was never seen again. 18 months later police called to the apartment after a neighbour complained about a foul-smelling liquid leaking through her ceiling. Holly's mummified body was found stuffed in a trunk.
Einhorn claimed that he'd been framed, and days before his trial, fled the country.
Catch me if you can
In a sequence of Catch Me If You Can-esque events, police chased Einhorn around Europe for 23 years, always close, but yet too far away. Time reports that Dublin was one of his first stops. Along with a new girlfriend, he rented an apartment from a professor at Trinity College called Denis Weaire. When Weaire told friends about his new tenant, they recognised his name and contacted the gardaí, who said they had no power of extradition. Einhorn travelled between England, Ireland and Wales for four years, and when Weaire spotted him once again in the canteen in Trinity College, Einhorn gave him a different name and fled before police could catch up with him.
He moved around Europe, with the authorities always on his tail. They finally tracked him down in a small village in France through an alias he used – that of an Irish bookseller called Eugene Mallon. After many years of legal wranglings, he was finally extradited to the US in 2001, where he was convicted of Holly's murder, and where he now serves a life sentence in prison.
The Earth Day organisers understandably do everything in their power to distance themselves from Einhorn. It's said that he was only the MC at the first Earth Day rally, whereas he maintains it was his idea. The US Environmental Protection Agency attributes the concept to Gaylord Nelson, a former US senator who died in 2005.