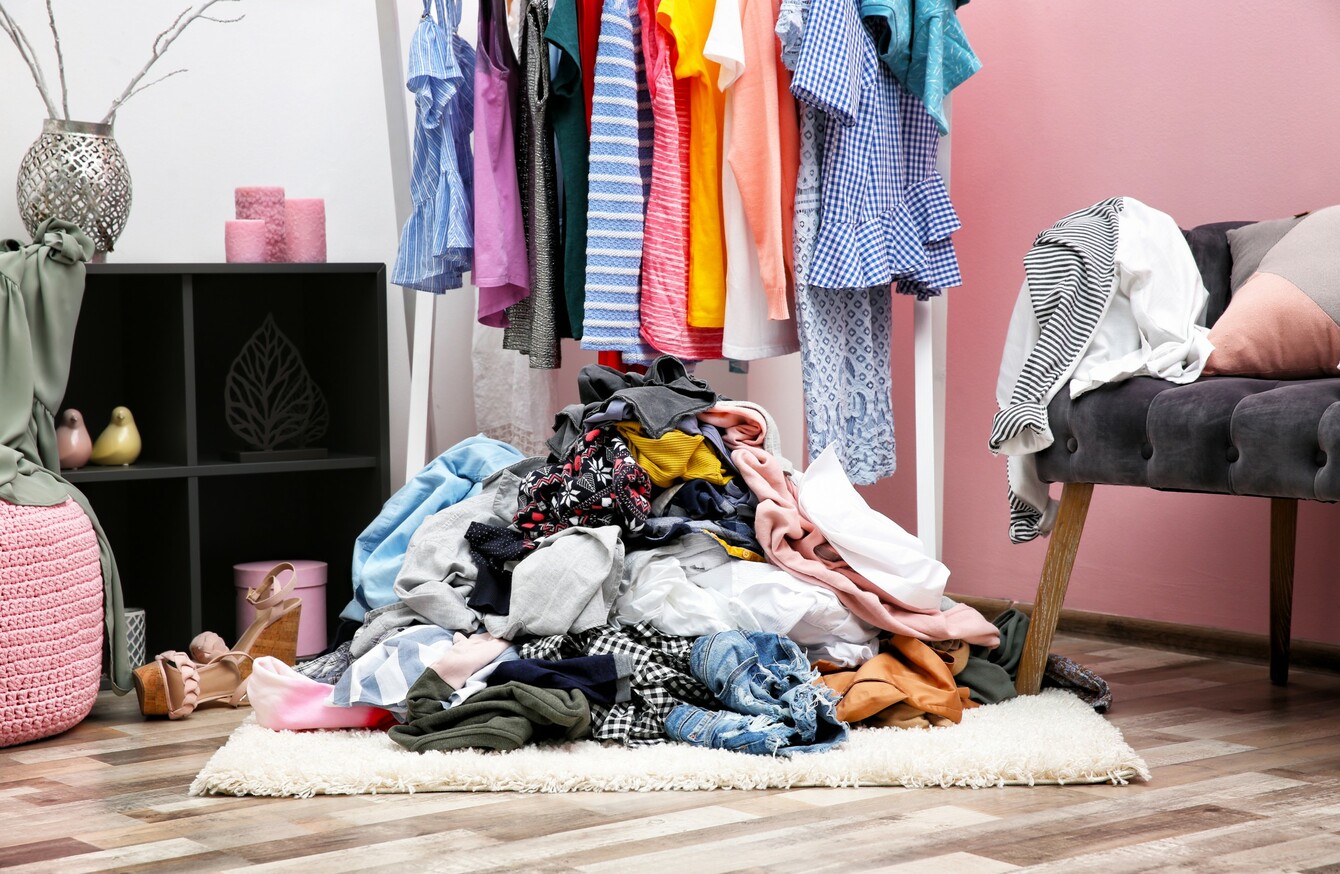 Image: Shutterstock/Africa Studio
Image: Shutterstock/Africa Studio
WHETHER IT'S THE hall cupboard that is fit to bursting with coats and cleaning products, or the spare bedroom that has become a gathering ground for old clothes, everyone can name the parts of their home that are in need of a spring clean.
But time is in high demand, and suddenly finding yourself with hours of cleaning time to spare is an unlikely scenario.
So how can you maximise your minutes, and turn your focus to truly efficient tasks: the organisation, maintenance and cleaning jobs that don't take long to do, but have a long-lasting impact on your home?
Professional organiser Sarah Griffin of Harmonised Home shares six speedy tasks with us, each with a 15-minute time limit…
1. Try the walk-through trick
If you don't know where to start, take a more general approach and give your home a quick once-over. "Grab a container, like a laundry basket or a plastic basin, and walk through each part of your home," says Sarah. "In each room, pick up anything that doesn't belong, add it to your container, and at the end, return all the misplaced items to their homes." This is a handy way to get shoes out of the living room, bags out of the kitchen, and so on – and it's a simple one to get young kids involved with too.
2. Give your stairs a vacuum valet
If time is short, leave the rest of the house for another day, and choose one high-footfall area, like the staircase carpet or your working-from-home space, for a detailed vacuum clean. "Use this as an opportunity to remove all debris, dust or pet hair from tricky corners and hard-to-reach spaces," says Sarah. If your cleaner comes with interchangeable nozzles for detailed cleaning, like the Bosch floorcare range does, this job will be even simpler.
3. Finally conquer your junk drawer
"Every home has a junk drawer of some kind," says Sarah. "It's the one that ends up full of pens, business cards, Sellotape, scissors and other bits and pieces." Taking everything out and putting it back in neatly might feel satisfying, but you can guarantee it'll all be in disarray again in a week. Instead, Sarah suggests dividing and conquering:
Grab some small boxes, or cut up a cardboard box, and use them as DIY drawer dividers. Remove everything from the drawer, categorising as you go, and pop everything back into its designated space.
4. Create a new home for hallway clutter
Hallways are like magnets for shoes, rucksacks, coats and more. Next time you are doing a hallway clear-up, consider adding some simple organisation and storage solutions too. Thinking about how you move through your home is important here, notes Sarah:
If everyone kicks off their shoes as they come in, put a basket in the hallway and designate it as the new home for shoes. If you're always looking for your keys, drill a hook just inside your front door, so you have somewhere to hang them.
#Open journalism No news is bad news Support The Journal

Your contributions will help us continue to deliver the stories that are important to you

Support us now
5. Do a kitchen counter clear-up
Whether you have plenty of space but would prefer a minimalist look, or have a tiny kitchen where every inch matters, tackling the kitchen counter is a worthwhile way to spend your 15 minutes. A general tidy-up will work wonders, but for even longer-lasting impact, Sarah suggests putting in some advance prep and purchasing drill-in magnetic strips or cupboard dividers:
There is so much unused space in the typical kitchen cupboard, particularly up top and inside the doors. Magnetic strips are great for holding knives or spice jars with metal lids, and cupboard dividers will act as extra shelves, allowing you to fit more into the space.
6. Hang hooks to get the most out of unused areas
Kitchen cupboards aren't the only spots that could benefit from smarter storage. A set of drill-in or stick-on hooks can turn a cluttered hall cupboard or utility room into a streamlined space in minutes. "Sweeping brushes, mops and cleaning products can all hang on the back of doors, saving floor space and making it easier to find things when you need them," says Sarah.
The above tasks might seem small, but they are mighty too, says Sarah:
People tend look at their homes as one mammoth space, and they'll say, 'It's all too much, I'll never get it done.' But by breaking things up into smaller tasks and increments, you can achieve a lot.
Bring the power of Bosch to your home with our cordless floorcare range. The Unlimited Serie 6 and Serie 8 offer powerful suction, 360-degree cleaning and an effortlessly flexible design. Battery packs are interchangeable with your other Bosch home and garden tools, so you'll never be without charge when you need it. Bosch: invented for life.