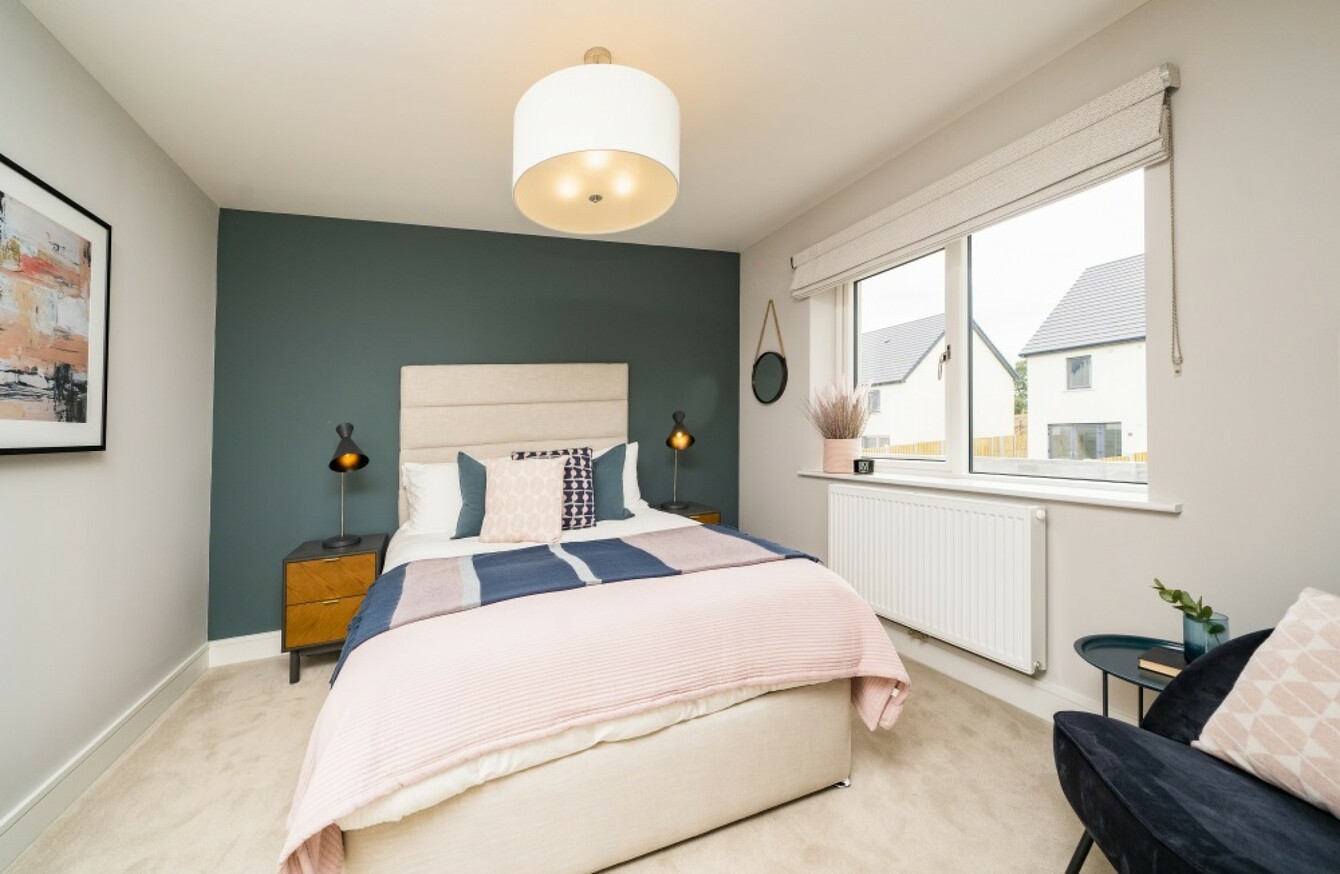 A bedroom in Glenveagh Homes' Ledwill Park.
Image: Slawomir Zielinski
A bedroom in Glenveagh Homes' Ledwill Park.
Image: Slawomir Zielinski
Caroline Foran of GAFF Interiors is well versed in helping new homeowners make their new property feel like home. Each week in our series, My New Place, she'll be working through some of the biggest decisions you'll tackle on the house hunting and buying journey.
THE LIST OF purchases you need to make when moving into a new place can feel endless, especially if you're a first time buyer who is starting with a blank slate.
By this stage, you've drawn down your mortgage for your house, which will more than likely be the most expensive thing you've ever bought. You've paid your deposit, your stamp duty, and any other costs involved. Now, with the remaining pennies, you're left with the task of decorating your new house to make it feel like a home.
A little exhausted, this is where people can make mistakes. Wanting to just get things done, you may find yourself spending more money than is necessary on some items, while scrimping on the things that are far more worthy of an investment.
Here we'll outline three things on which you can save money and three things on which you should absolutely spend.
Three things not to blow your budget on:
1. Your cushions and throws
Soft furnishings like cushions and throws are a great way to experiment with trends, colour and styles. As they are likely something you will update every year or so, they are not worthy of a significant investment. Balance the cost of your sofa with its complementary accessories.
2. Your rugs
Rugs get a lot of footfall and gather a lot of dirt, so spending huge money on them is not a great use of your money. Again it's a piece of soft furnishing that can dictate the style and tone of a room and is therefore something you might want to switch up as often as the mood strikes you – and your budget allows. There are countless affordable options for rugs these days, so you should be able to find a decent option for less than €100 that still achieves your desired aesthetic.
3. Your art
Until you really fall in love with a piece of art, treat your wall art in the same way you do your soft furnishings, especially when you've just moved into a new place. Experiment with different colours and styles of prints to see what you really like before taking the plunge on a one of a kind piece that might clean out your bank account. Unless you're an art connoisseur, you probably won't know the difference. There are so many affordable options out there (try Iamfy for one) that work wonderfully with the simplicity of an IKEA frame. 
Three items you should invest a little more cash in: 
1. Your bed
You're going to spend a third of your lifetime in your bed, so it's not the kind of item you'll want to find yourself updating every year. While decor styles will come and go, the bed you sleep on is a long-term fixture. One option that will allow updating periodically is to buy a durable, high quality divan bed which comes with a base and mattress. You can then swap out the headboard to suit your changing tastes. 
2. Your sofa
Whether you're entertaining guests or indulging in a Netflix binge, your sofa is not a piece of furniture to scrimp on. It will get a lot of use and endure daily wear and tear. It should also be something that can be styled in different ways, enduring beyond short-lived trends. A sofa is a purchase best made in person, so you can ensure that the depth and squishiness suits your way of living.
3. Your lighting
Good quality lighting is always worth the investment because it will stand the test of time. Cheap lighting looks tacky up close and can negatively impact the overall aesthetic. This is particularly relevant when it comes to integrated lighting, such as ceiling pendants or wall lighting. On the other hand, you can and should have more fun with your table lamps.
Glenveagh Homes understands that buying a home is possibly the biggest decision you will ever make in your life – but we want to make it your easiest. That's why we produce high-quality homes in great areas at competitive prices. Click here to learn more and discover the Glenveagh home that's right for you.