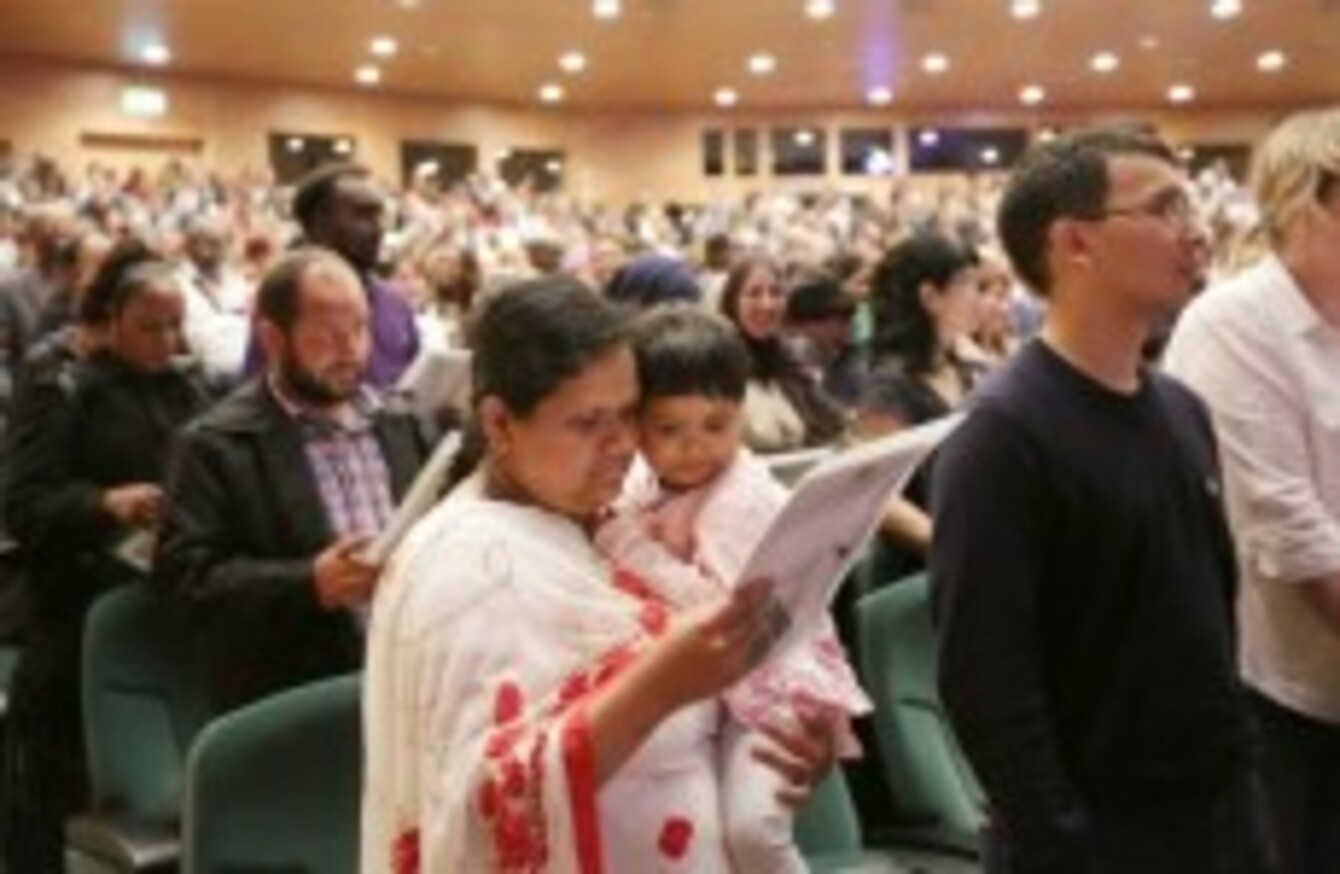 Samsoom Nahar, originally from Bangladesh, at a citizenship ceremony in Dublin's convention centre in May
Image: Laura Hutton/Photocall Ireland
Samsoom Nahar, originally from Bangladesh, at a citizenship ceremony in Dublin's convention centre in May
Image: Laura Hutton/Photocall Ireland
ONLY 13 PER cent of immigrants to Ireland are choosing to become citizens, new research carried out across 15 EU states has shown.
According to the Immigrant Council of Ireland, the Irish rate is far below the average of 34 per cent – with only Luxembourg having a lower rate.
The council says 'vagueness' over how to qualify and a high level of bureaucracy is putting off people who may be interested in taking the oath, in spite of Ireland having a regime which – in theory at least – is more inclusive than elsewhere in Europe.
According to solicitor with the group, Hilkka Becker:
The absolute discretion of the Minister for Justice and Equality in deciding who is conferred with citizenship has created a lack of transparency and clarity with people forced to negotiate a system which lacks clear guidelines.

In addition, the concept of 'earned citizenship', whereby people are naturalised upon meeting certain conditions or waivers for people in certain categories does not exist in Ireland, unlike many other European countries.
Becker says the system is also one of the most demanding in in Europe terms of supporting documentation, with applicants forced to "produce identity cards, residence permits, income records as well as officially translated and certified birth certificates and passports".
4,500 people became Irish citizens in the latest large-scale ceremony in May – and in total, more than five thousand people have received a certificate of naturalisation since the start of the year.
According to CEO of the Immigrant Council, Denise Charlton:
This report highlights that despite the positive media coverage and feel good factor of the citizenship ceremonies, which the Immigrant Council campaigned to have introduced, we still have work to do in this area.
The findings are contained in research undertaken by the Immigrant Council of Ireland in cooperation with the Migration Policy Group in Brussels.