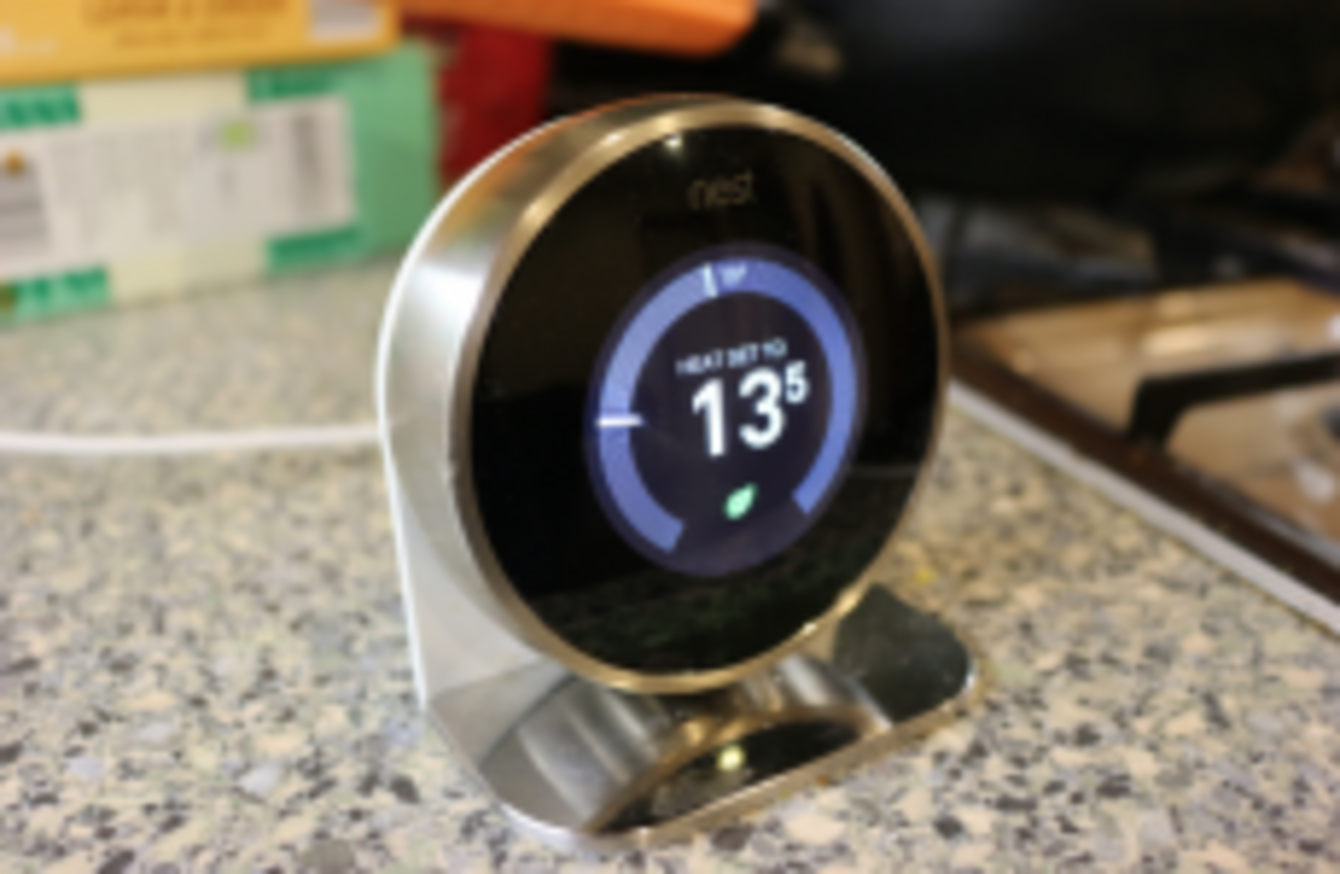 Google's Nest Thermostat is one example of a normal appliance given smart capabilities, but that's only the beginning.
Google's Nest Thermostat is one example of a normal appliance given smart capabilities, but that's only the beginning.
IF YOU HEARD about the Internet of Things before, it's understandable if you glossed over it as the term has been around for a while.
It's a sector that's been bubbling underneath for a few years now, but this years has seen a huge push from some of the major players in the technology space. Google, Apple, Microsoft and Samsung are just some of the companies that are muscling their way into the area.
It's going to impact everyone's lives sooner or later as more items and industries adapt it and chances are you might own something that has these capabilities.
Ok, so what exactly *is* the internet of things (IoT)?
IoT is where machines and devices can talk to each other to carry out actions without human input. By using WiFi or 3G/4G, sensors and software, they can exchange information with each other improving their usefulness and efficiency.
In layman's terms, it's making traditional objects like your thermostat, fridge, oven, and TV smarter by giving them extra functionality, so you can interact with them remotely and they can learn from this so it better suits your needs.
Currently, a number of devices you use in your day-to-day life are designed with smart capabilities in mind. Your smartphone, your PC/Mac, your console, maybe your TV. That number is going to grow and will include items you would never have associated with the web. But these are siloed and at best link to one item (eg: smartphone and smartwatch or fitness tracker).
IoT will give those items, the mundane, everyday ones you use, extra intelligence so they serve you better. It's not a case of just slapping WiFi connected capabilities to it for the sake of it (although some might feel that way), the end goal is to make them more useful by learning your preferences.
Ok, so why should I be thinking about it now?
If for no other reason, devices you're going to buy over the next few years will come with this functionality. For now, you have to specifically look for specific devices if you want smart capabilities and for now, the majority of them are controlled through your smartphone.
In the future, items like your smartphone, your TV, thermostat, fridge, washing machine, oven and car could be communicating with each other, and sharing information to make each other more efficient. Your car could tell your thermostat you're on the way home so it would warm the house up for your arrival for example.
Ok, how about some example of items already available?
Well, to start off with the home itself, you have Nest, a smart thermostat which learns through your own input to get the right temperature for you and help save your heating bill. Then there are others like Philips has a smart lightbulb which adjusts lighting and/or hue from your phone or tablet as well as set preferred settings.
Source: Nest/YouTube
A smart lightbulb? How riveting!
Glad you feel that way. But the real potential is what happens beyond the home. For example, one of the major areas looked at right now are vehicles. The majority of cars are left stationary and have enough energy to run different functions while they're in this state.
Some of the potential uses include using them as WiFi hotspots, or an emergency response service where sensors will activate when it senses an accident or gas leak and alerts the relevant authorities. Other cars could communicate with each other and share this info, giving authorities a better idea of the situation.
In an industrial context, prototyping, manufacturing and development can end up being more efficient since different manufacturing devices, which don't even have to be in the same area, can communicate with each other.
And even areas you wouldn't consider like health (think fitness trackers), town policy and planning, and farming. For the latter, keeping track of livestock and crops, analysing conditions like crops, soil, temperature, humidity and other factors to determine the best time to plant and harvest crops as well as improving productivity and reducing waste could help increase output and make the process more efficient.
The real question isn't what areas it will impact, it's what areas won't be affected by this development.
So what are the issues facing IoT?
One problem is most of these devices don't communicate with each other, only your phone.
For that, there needs to be a common language which allows these devices to communicate with each other. That's where companies like Google, Apple, Samsung and Microsoft are trying to enter the market.
It's no good having such functionality if they're unable to talk, and by acting as the middleman, these companies hope to become the lynchpin for these devices to chat to each other.
#Open journalism No news is bad news Support The Journal

Your contributions will help us continue to deliver the stories that are important to you

Support us now
Great, but I mean real issues like security? More devices must mean more chances for compromise, right? 
It's a massive problem and to be honest, the likelihood of a major breach happening is high since (a) there's no such thing as airtight security, especially online, and (b) we won't truly know what flaws surround IoT devices until they're exposed. When a major incident occurs, it will cause everyone to reassess their security measures, but until then, we won't learn much.
Back in March, we spoke to Bitdefender's senior threat analyst Bogdan Botezatu about this and since we're still in the very early stages, it means there are a few incidents just waiting to happen.
We're at version one [with smart devices] and version one is always prone to failure. We're going to see a lot of incidents in this space from the early adopters [and there's] going to be an incident so massive, it's going to make everybody do better with their security.
Until then, I don't think that vendors are going to give too much thought on the security side… I'm looking forward to that mistake to happen sooner rather than later as it's going to be less data exposed.
This becomes more striking when you consider the words of Misha Glenny, a British journalist who specialises in cybersecurity, back in 2011 which are more relevant now than they were before.
A friend of mine from the security industry told me the other day that there are two types of companies in the world: those that know they've been hacked, and those that don't.
As more connections are added to our devices, this problem is only going to grow.
(sigh) Anything else we need to know?
The other issue that ties into this is privacy. Most people will feel a little creeped out by the idea of numerous devices gathering different information and sharing them with each other (and possibly the companies responsible for said devices). While the initial purpose is to make all items more efficient, they also come with their own concerns, some more legitimate than others.
For example, the controversy surrounding Facebook Messenger on phones and Samsung's Smart TVs proves that there is a lot of distrust among these services. As these items require data to properly function, it's more important than ever that consumers know exactly what's required and how that data is used.
So what you're really saying is keep as many dumb items as you possibly can?
Maybe not that extreme, but it's important to note that such a future isn't as immediate as one might think.
There are smart items but there's no real ecosystem built around them yet, but over time, more will arrive on the market so it's worth keeping in mind. It will gradually happen over time so so it's better to be aware of it at least.