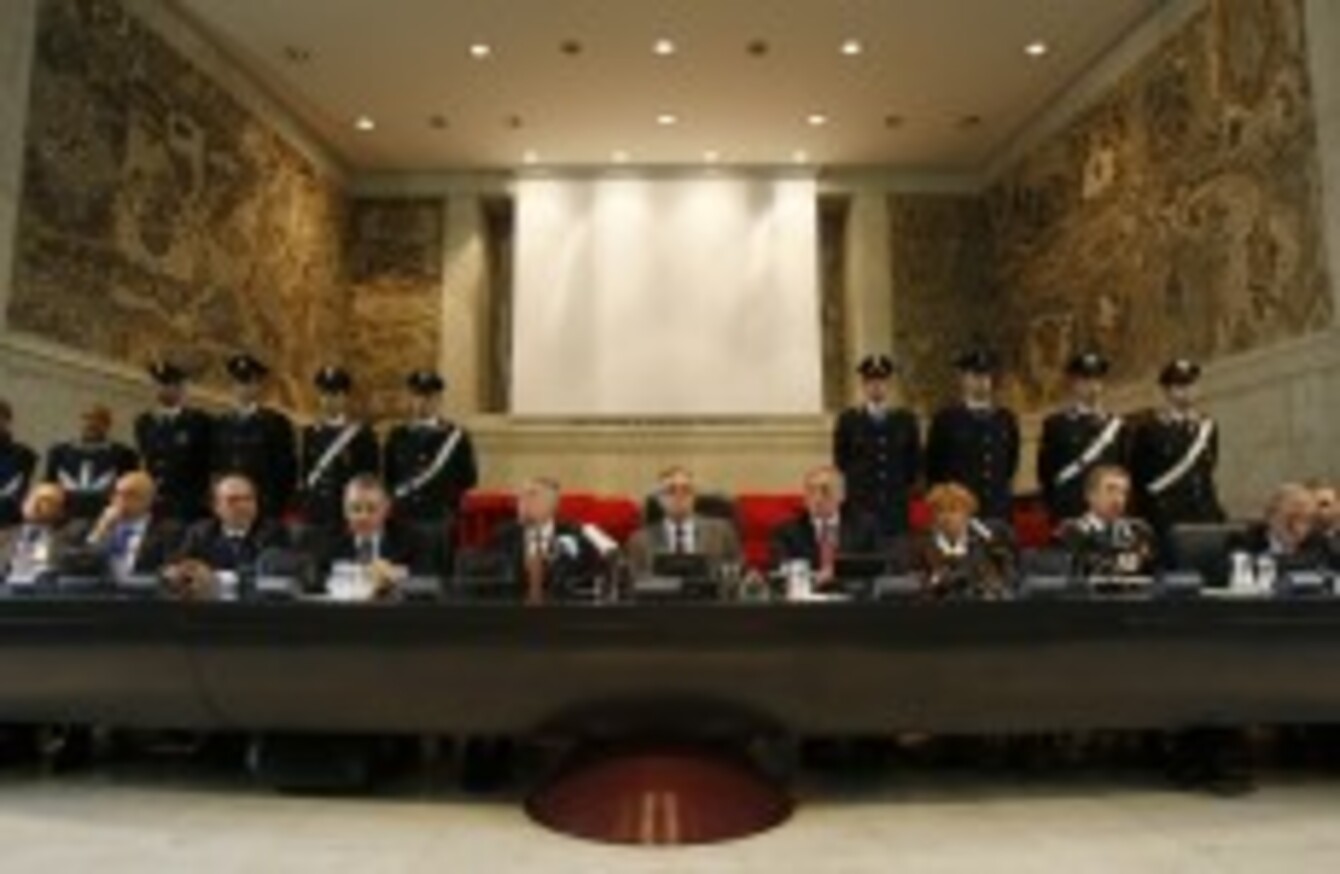 Judges at the biggest ever operation against the 'Ndrangheta crime organisation in 2010 which saw 300 people arrested.
Image: AP Photo/Antonio Calanni
Judges at the biggest ever operation against the 'Ndrangheta crime organisation in 2010 which saw 300 people arrested.
Image: AP Photo/Antonio Calanni
AS THE POLICE patrol outside and pace the corridors of her office, anti-mafia prosecutor Alessandra Cerreti is talking about her specialty — breaking the power of the clans by turning their women.
Only a handful of women have ever broken ranks with the ruthless and secretive 'Ndrangheta mafia group based in the Calabria region in southern Italy, which controls the flow of cocaine from South America to Europe.
The clans enforce a stringent code of loyalty that punishes rebellion by death but more and more women born or married into the 'Ndrangheta now want to "change the destiny of their children", said Cerreti, whose office is protected by a steel-reinforced door.
"A mother who acts in the interests of her children is hard to stop. That is what makes these female turncoats particularly dangerous for the 'Ndrangheta," she said.
They want to "end the predestination in the 'Ndrangheta in which sons are prepared to become killers by being taught to handle knives from the age of 12 or 13″, said Sicilia-born Cerreti, who is herself one of a growing number of women in Calabria standing up to the mafia.
"The daughters become a currency for the mafia" because "vendettas are laid to rest or alliances are created" when they are married off, she said in a tightly guarded office in Reggio Calabria, the region's main city.
Cerreti's biggest success so far has been the testimony of Giuseppina Pesce, which last year helped sentence 42 mobsters including her own father Salvatore to a total of 600 years in prison in a trial known as "All Inside".
Deadly
At least two of the women who have rebelled against the 'Ndrangheta have paid with their lives.
Lea Garofalo was lured to her death by her former partner in 2009 and her body was then dissolved in acid, while Maria Concetta Cacciola took her own life by swallowing hydrochloric acid in 2011 after she spoke out.
A plaque commemorating Lea Garofalo in Monza, near Milan. (AP Photo/Antonio Calanni)
The violence shows that female defiance is shaking the clans "because it communicates weakness — this idea that they can no longer control 'their' women".
Cerreti said being a woman helped her communicate with the daughters, sisters and wives of the mafia because "they are more trusting, we speak the same language".
The alternatives
The 'Ndrangheta has been successful in combining elements of archaic tradition with modernity and has proved particularly difficult to infiltrate because of its reliance on a tightly-knit network of families.
One challenge to its power comes from an unusual quarter — a feminine pink and green television studio in a palace in the town of Roccella Ionica.
"We show that alternatives exist," said Raffaella Rinaldis, who runs Fimmina TV — "woman" in the Calabrian dialect — a local television channel.
"Belonging to the 'Ndrangheta does not mean belonging to some romanticised vision of the mafia, it means belonging to something repugnant and we tell that story on our channel," she said.
With a team of 13 women and two men, Rinaldis said she also aims to combat stereotypes in a region usually seen "through the prism of organised crime" and she offers a mix of cultural programmes.
Fimmina TV got a big interview recently with Maria Carmela Lanzetta, the new Regional Affairs Minister in Italy's cabinet and a former mayor of the Calabrian town of Monasterace who also challenged the 'Ndrangheta.
#Open journalism No news is bad news Support The Journal

Your contributions will help us continue to deliver the stories that are important to you

Support us now
"There is no need to be a hero. Doing your job well, respecting the rules and the constitution already means opposing the mafia," she told Rinaldis.
Protection
Elisabetta Tripodi, the mayor of Rosarno, a town of 15,000 inhabitants, said she is leading by example.
"For 'Ndrangheta women forced into a marginal role as subservient women, seeing others engaged on a political level shows that another way is possible," she said.
Tripodi has been under protection since she was elected in 2010. She has received threats and had cars burnt.
"Being against the mafia is not a choice, it's natural. As officials, we have to guarantee transparency and apply the law for everyone, whatever their name may be," she said.
The mayor often visits local schools, which are recruiting grounds for the 'Ndrangheta, to explain that "the mafia is a negative thing, not the romanticised version that people see on television".