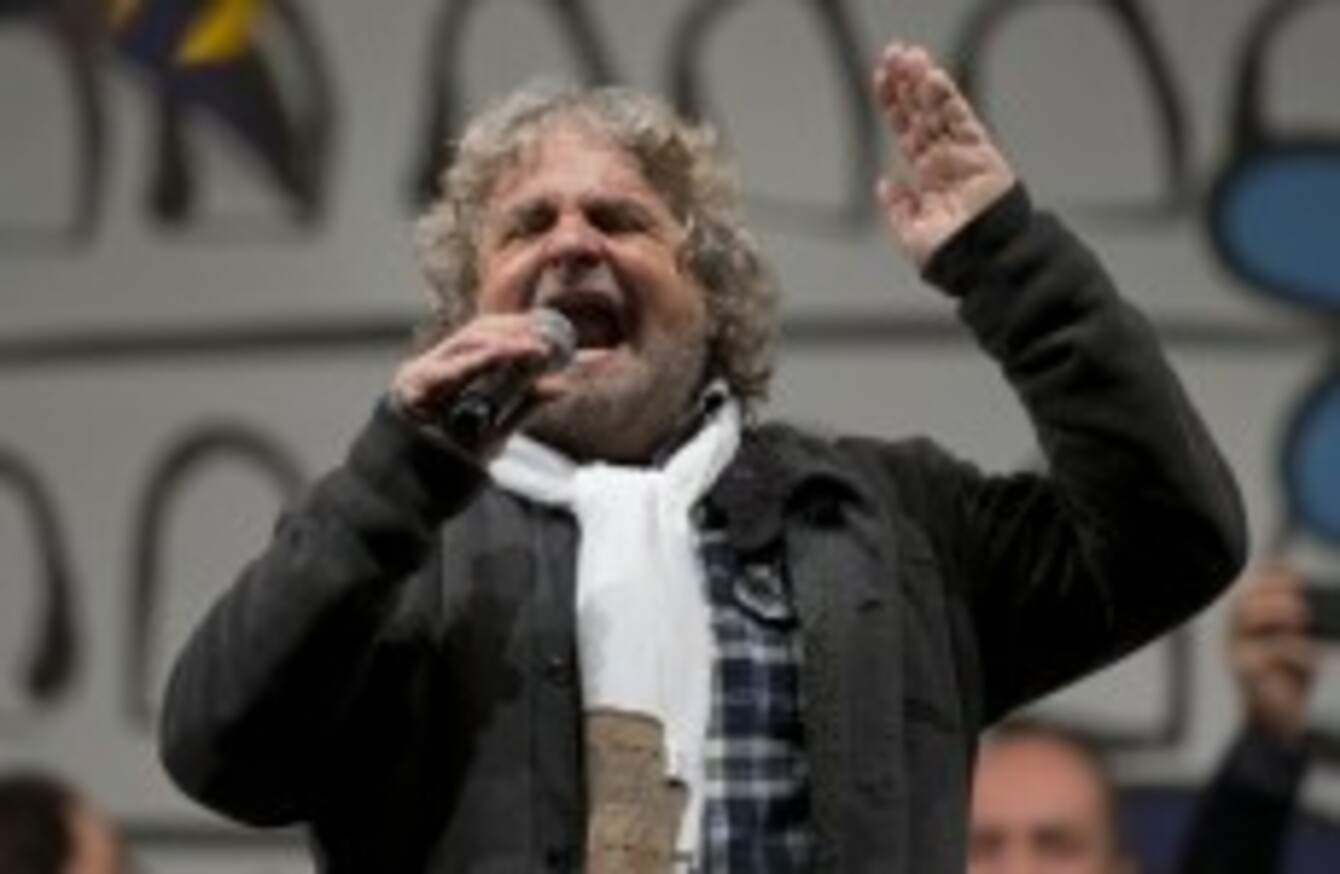 Image: Andrew Medichini/AP
Image: Andrew Medichini/AP
ITALY'S LOCAL ELECTIONS were marked by a plunge in support for an anti-establishment party that had promised to channel the anger of ordinary Italians against austerity and corruption.
Turnout also reached record lows in mayoral races in recession-hit cities like Rome, most of which will have to go to second-round run-offs on June 9 and 10 because few candidates won majorities.
A total of 62.4 per cent of voters cast their ballots – around 15 points less than five years ago.
The figure was worse in big cities, with a turnout of 56.2 percent — a very low figure for Italy.
The elections showed a "disenchantment with politics", said Massimo Franco, a columnist for Corriere della Sera, Italy's top-selling daily. "The political parties are proving incapable of regaining their role," he said.
That disgruntlement even impacted the Five Star Movement protest party, led by comedian-turned-firebrand Beppe Grillo.
The movement won more than a quarter of the vote in national elections in February, coming in third after the main leftist and rightist coalitions but becoming the biggest single party in parliament.
In the local polls on Sunday and Monday, however, the party failed to advance to run-offs in any city.
'A flop for the 'Grillini"
"A flop for the 'Grillini'," read a headline in La Stampa daily, referring to the popular nickname used by Italians to refer to Grillo's followers.
"Their message was confused. They were unable to act on a real dynamic of reform," said Stefano Folli, a columnist for business daily Il Sole 24 Ore.
Political analyst Pierluigi Corbetta said that a portion of voters for the party in February had cast their ballots "with the hope of change, which has not come, generating serious disappointment."
Leftist daily La Repubblica said the elections also showed a "recovery" for the Democratic Party (PD), the main centre-left party, which has been seething with bitter divisions in recent months.
Prime Minister Enrico Letta's party won the first round in Vicenza and Sondrio – two former bastions of the populist Northern League party. It also won control of Massa and Pisa in Tuscany.
The left's weakness has been seen as a destabilising factor for Letta's fledgling government – the first grand coalition right-left cabinet in Italy since the Second World War.
In Rome, leftist challenger Ignazio Marino did even better than expected by winning 42.7 per cent – far ahead of rightwing incumbent Gianni Alemanno with 30.2 per cent. Grillo's candidate garnered just 12.8 percent in Rome.
"Marino was convincing because he was seen as a candidate of civil society," said Guglielmo Epifani, the leader of the Democratic Party.
Deputy Finance Minister Stefano Fassina, a heavyweight in the party, spoke of his concern for the lack of enthusiasm in a country where turnout is usually high.
"The chasm between politics and citizens is increasing. Without urgent answers to the economic crisis, it cannot be narrowed," Fassina said.
Analysts were surprised by the poor performance of Silvio Berlusconi's People of Freedom party, which was given as a surging force by opinion polls.