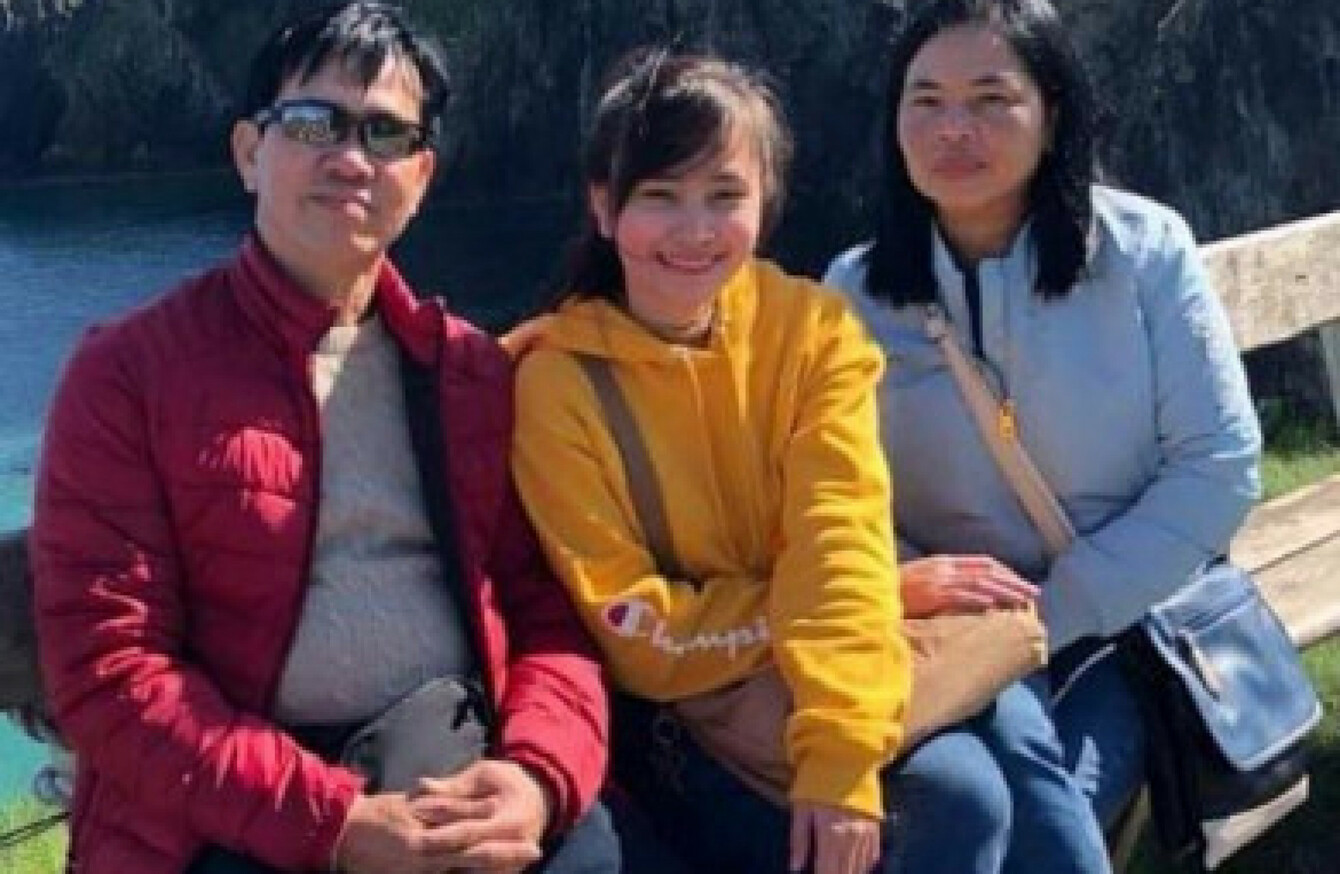 Jastine (centre) with her parents.
Image: Philippine Consulate Dublin via Facebook
Jastine (centre) with her parents.
Image: Philippine Consulate Dublin via Facebook
THE PARENTS OF murdered Jastine Valdez described how they knew something terrible had happened to their daughter when she didn't arrive home. 
24-year-old Jastine was killed on Saturday 19 May after being abducted by Mark Hennessy, a married father-of-two, in Enniskerry, Co Wicklow.
Hennessy murdered Valdez 45 minutes later and left her body at Puck's Castle in Rathmichael, Co Dublin.
He was killed himself by a Garda bullet when apprehended in his black Nissan Qashqai in Cherrywood, south Dublin, the following day.
Jastine's parents, Tess and Danny, today told Miriam O'Callaghan on RTÉ Radio One, that they knew deep down what had happened to their daughter when she didn't return home.
Tess said: "When she didn't come home by around 7.30pm, I knew there was sort of a gut feeling in me that I knew that something was wrong, something terribly wrong had happened.
"I kept on collapsing when I knew something was wrong. I couldn't remember much from the time. I just knew something had happened to her. I tried calling her many times but she wasn't picking up. We kept calling, no answer. She always told me the time she was coming home."
Two days after reporting her missing, a garda came to the door and informed the family that they had found Jastine's body. The parents said they still have so many questions for Hennessy about why he did what he did. 
Not knowing the reason for their daughter's murder is something that will stay with them forever, they told Miriam. 

Mark HennessySource: Facebook
"The gardaí came to our house to tell us they found her body. I'm keeping crying, I don't know what I'm doing. The gardaí were very helpful and very kind.
"It was on Monday that we were informed that Mark Hennessy was the one who murdered Jastine. At 10 in the morning we were informed.
"We didn't like that he was killed, it didn't change anything.
When we found out he was killed it didn't ease the pain, it didn't matter, Jastine was gone. We were also sad he had passed away. We felt bad that he was killed quite quickly because we wanted to find out what was running in his head. We were disappointed he was killed. We wanted to know more about why he wanted to do such a terrible thing.
The family has returned back to Ireland after burying Jastine in her native Philippines. Nearly €150,000 had been raised through a GoFundMe page, most of which was spent on her wake, according to the family's translator Vanda Brady. 
She said: "It'd be great to get more support from the community again. It's hard enough that we lost Jastine."
Brady said the Valdez family is starting from scratch again in Ireland and currently have no jobs or home.