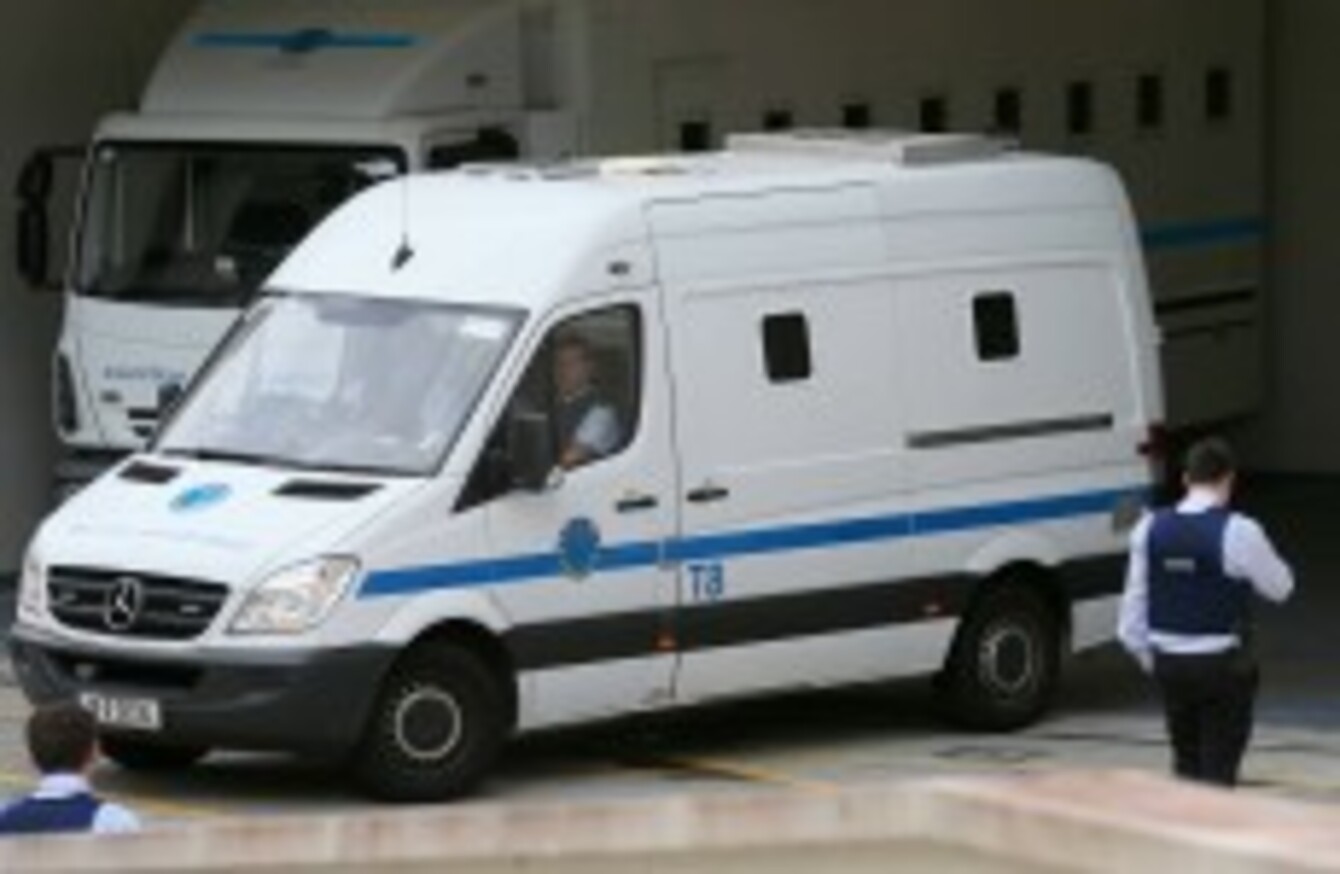 The prison van believed to be carrying John Dundon arrives at the Criminal Courts of Justice.
Image: Laura Hutton/Photocall Ireland
The prison van believed to be carrying John Dundon arrives at the Criminal Courts of Justice.
Image: Laura Hutton/Photocall Ireland
THE THREE PRESIDING judges in the murder trial of John Dundon at the Special Criminal Court noted in their verdict that the case was "all about credibility".
"While that may be said of many criminal cases, it is particularly true in this case where all the principal suspects and those suspected of having information were closely associated and involved with each other at the time of Shane Geoghegan's murder in November 2008," they explained.
Shane Geoghegan, a 28-year-old Garryowen rugby player, was shot dead in a case of mistaken identity as he walked to his girlfriend's home at Clonmore estate in Limerick almost five years ago. The fatal shooting shocked the nation as it brought so-called gangland crime into the realm of those that could be labelled as 'innocent' victims.
Dublin man Barry Doyle was convicted of carrying out the murder but it was subsequently alleged that Dundon participated in the killing by way of ordering and directing the murder of intended target John 'Pitchfork' McNamara at a meeting earlier the same month. He was found guilty of the crime and sentenced to life in prison by the three-judge panel yesterday.
April Collins was in a long-term relationship with John Dundon's brother, Ger Dundon, at the time of the killing. Her sister, Lisa Collins, was in a long-term relationship with the accused's first cousin, Christopher McCarthy.
Other characters in the winding and tragic tale include Ciara Killeen – partner of John Dundon and sister to Nathan Killeen – and Ciara Lynch, known as the girlfriend of Dessie Dundon, another brother of the accused.
The judges noted that all the witnesses who gave evidence have a "long history of mutual association and criminal histories of varying degrees of seriousness" and that "gangland rules of 'silence in all circumstances' usually prevail in the aftermath of a serious crime".
Following close scrutiny of the evidence, the court treated both Collins sisters and McCarthy as accomplices to Dundon. Despite a warning to itself about the dangers of accomplice evidence, the court said it accepted the testimonies of April and Lisa Collins and Christopher McCarthy as being truthful and accurate.
The judges said April Collins presented evidence that was "truthful and compelling", adding that she was "plainly terrified of the accused" but "nonetheless steadfast in her account of what was said and done".
She did not present herself as some sort of innocent and admitted to her own wrongdoings in the past and provided explanations when asked why she said and did certain things.
According to the court, her account was "well corroborated" by CCTV footage and mobile phone evidence. In their written judgements, the judges said the only evidence to contradict Collins was that of Liam Casey but they found him to be "utterly unworthy of belief", calling his evidence "perfunctory and evasive".
His demeanour when giving it did not inspire confidence or convey to the court that the witness was telling the truth, indeed the opposite was the impression conveyed.
Satisfied that the conception and implementation of a co-ordinated and fabricated account of John Dundon's involvement in the murder "was beyond the capacity of these particular individuals", the judges found that the defence's theory (that the Collins sisters and McCarthy concocted an elaborate case to bring Dundon down) "holds no water".
The evidence, taken as a whole, pointed "overwhelmingly to the guilt of John Dundon", the court found. He was sentenced to life in prison.
April Collins – "I'd be killed myself, and my family would have been killed"
April Collins, a mother of four and the former partner of Ger Dundon, turned State witness against the accused, becoming somewhat of a jewel in the prosecution's case.
Born in 1987 and raised in Weston in Limerick, she knew the Dundon family since she was 15 years old when she stuck up a relationship with one of the brothers. Her relationship with Ger broke down in February 2011 when he went to prison.
In her evidence she said she remembered the period before and after Shane Geoghegan's murder in Limerick, telling the court she was in the accused's house the night before the killing.
She said that John Dundon's girlfriend Ciara Killeen and her brother, Nathan Killeen, were also in the house, as were her children, John and Ger Dundon, Lika Casey and the already-convicted Barry Doyle.
Recalling a conversation held in the sitting room, she said John started talking about how he had "sussed out" McNamara's whereabouts over the previous two days. He explained to Doyle what his target looked like and the times of his "coming and going".
According to Collins, John said that he had a gun in the car ready and that "everything was sorted, it just needed to be done". On hearing that, Nathan Killeen jumped up and said "you've nothing sorted".
In reply, Dundon told Barry Doyle, "The gun is there – you kill him", before turning to Nathan and Lika to say, "and one of ye are driving, and that's that".
After that conversation, April Collins testified that she and her partner stayed in the Strand Hotel with their two sons that night. The next morning was filled with "normal routine and stuff, bringing kids to school and whatever". They remained in the hotel for a second night. Asked if she booked into the hotel to create an alibi for Ger Dundon, she confirmed that he asked her to make the reservation "so she just did what she had been told to do".
On the morning of the 9 November, the couple brought their children to Finnegan's pub near Annacotty as John Dundon had asked them to meet him there during a 6.30am phone call. She drove her car up beside the vehicle that John and Doyle were sitting in.
When we pulled up, John was very excited, saying 'John Mac is dead, we got him'. He then said, "I'm going to ring Philip Collopy now and slag him.
Once John had made that phone call, he started panicking, said Collins.
"He was giving out to Barry Doyle, saying it was the wrong man who had been hit, that it wasn't John Mac. John was roaring and shouting at Barry Doyle and Barry was saying, "It is him, the way you described this man, this is the man I killed.
Barry started getting frightened because John was getting out of control, roaring and screaming.
Delayed reaction
Collins made her first statement about the murder of Shane Geoghegan in April 2011, after she split from Ger Dundon and some two-and-a-half years since the event.
She told the defence team that she was not offered immunity from the State in exchange for her testimony and accepted that she has been convicted of a number of offences, including the intimidation of a witness.
Asked if she lived a "charmed life" because she had managed to stay out of prison despite the convictions, she said, "No one would like to live the life I'm living, under garda protection 24/7."
Following the relationship breakdown with Dundon, Collins entered a partnership with Thomas O'Neill, one of the Cratloe rapists (a group of young men and teenagers who attacked a man and locked him in the boot of his car while they raped his female companion in a county Clare wood in 2004). She told the court she did not want to discuss the matter.
During the trial, it was put to her that she left the hotel on the night of the 8 November and was stopped twice by gardaí who said she was "done up", looking like she was heading "out on the town". Although she said that could have happened, she claimed she was not going out for the evening. She said she might have been going to "the chipper".
She accepted that she knew someone was going to be killed and it was put to her that she had two "golden opportunities" to tell the authorities.
I couldn't," she responded. "I couldn't say that to the guards at the time. I'd be killed myself, and my family would have been killed.
She later added that she felt sorry for the man's family because he had been killed and he was an innocent man. However, she claimed she had not done anything wrong.
Asked why she came forward to make a statement in 2011, she said it was because she was being threatened by John and Wayne Dundon.
She made the complaint about intimidation on 8 April 2011 to her liaison officer, Garda Hourihan. She contacted him again later to say she knew "some stuff about murders". An appointment was made for her to talk to him on 20 April 2011. On that day, she made a "cautioned statement" about the shooting dead of Shane Geoghegan.
During her evidence, she repeatedly said she was there to tell the truth, insisting that nobody told her what to say.
Personal battles
There were plenty of personal twists in the Dundon tales emerging throughout the trial as the web of crime and love affairs that entangled the witnesses and accused was examined. Collins was asked if she was aware that her sister was also having a relationship with Ger. She confirmed that the allegations had been scrawled over the walls of a house in their estate but insisted there was no truth in it and denied she had a "screaming match" with Lisa over the rumours.
She also gave evidence about a trial which went before a jury in Limerick concerning allegations that she had been threatened by Ciara Killeen. The accused was found not guilty and the defence team argued she was not believed by the jury.
Collins said she did not know what the jury believed but that she had "gone up and given her evidence and it was up to the jury after that".
In a separate incident, she admitted to following Lorna Heffernan around a shop and threatening to giver her a beating. She pleaded guilty in this case and apologised. The argument was about who she was going out with at the time, the court heard.
Collins gave evidence that John Dundon, the accused and her ex-partner's brother, beat her outside her home on one occasion and she was hurt as a result. She also said that his girlfriend and Dessie Dundon's girlfriend, along with their friends and sisters came to her mother's house with pickaxes, hatchets and other weapons days before the threats of intimidation came from John and Wayne.
In its judgement, the court ruled that Collins was "plainly terrified" of the accused but was compelling, steadfast, truthful and accurate.
John Devane, the solicitor for John Dundon, at court today. Images: Julien Behal/PA Wire/Press Association Images
Lisa Collins – "John said, 'We're going to kill the c**t'"
Sister to April and girlfriend of the accused's first cousin John Dundon, Lisa Collins also became an important witness for the State. During her evidence, she recalled hearing John Dundon tell Barry Doyle that they were going to "kill the c**t", referring to John McNamara, the intended target on the night Shane Geoghegan was killed.
She remembered one conversation in her house that took place some weeks before the 8 November. She told the court how John had demanded that she and Christopher must steal a car and that he threatened to "slap [her] around the place" if they didn't.
On the last day he came around he said 'if you don't get the fucking car I'll kill her'.
"So we went off to look for a car. I was driving a grey Passat and Christopher and Sam Quilligan were in the car with me. We drove out country roads and down back roads," she told the court, before describing how they stole a seven-seater vehicle from outside Morrison's pub. They showed it to Dundon a couple of days later.
On the night of the murder, she said she was at home with McCarthy and her niece Chloe. John Dundon and Doyle called to the house after the shooting.
We went to the kitchen where John Dundon was saying that John Mc was dead. He was just laughing. Barry Doyle was quiet and wasn't saying anything. He had new clothes on him. They did not stay long.
She told the court she watched a CrimeCall programme on RTÉ in which she noticed that the car used in the Shane Geoghegan murder was the one they had stolen. At the time, she "felt sick" about the murder.
The whole thing had been always on her mind and she had been feeling guilty about stealing the car.
Similar to her sister, Collins has a number of offences against her name for road traffic infringements but claimed she was not given immunity from other charges on agreeing to testify. However, the prosecution interrupted evidence to point out that she was granted immunity from prosecution in relation to the car theft.
Christopher McCarthy – "I'm not saying I'm an angel but…"
Lisa Collins's partner and John Dundon's cousin, Christopher McCarthy, was also considered an accomplice of Dundon's by the court and his evidence taken as truthful and accurate. He moved to Limerick (from London) in 1999.
He told the court that shortly before the murder, Dundon threatened him in order to get a car.
I didn't know what he was going to use it for but he threatened that he would kill me or he'd kill my girlfriend if I didn't get him a car.
He repeated Collins's claim that they were home the night Shane Geoghegan was killed.
During the night John Dundon called to the house. He was with Barry Doyle. When they came into the house John was saying 'Pitchfork is dead'…He was excited. They stayed for a bit and then went away. I was asked by the gardaí the following day about what had happened, but I could tell them nothing about it for fear for my family's life.
During the trial, McCarthy's cannabis use, extortion charges, drugs and firearms offences and dangerous driving, as well as a vast number of other convictions were detailed. However, he denied playing any part in the Geoghegan murder or any other killings.
He told the judges, "I'm not saying I'm an angel but I'm being honest here today."
Similar to his partner, McCarthy was also stirred to give evidence by the CrimeCall programme detailing the killing of the innocent Shane Geoghegan.
"The whole thing was on his mind and he wanted to get it off his mind," reads the final judgement from the Special Criminal Court.
Chief Superintendent David Sheahan leaving the Criminal Courts in Dublin after the hearing. Image: Sam Boal/Photocall Ireland
The conviction of John Dundon – coming to fruition on the back of the testimony of the three main witnesses, one time central members of his clique – was welcomed by gardaí, with Commissioner Martin Callinan congratulating all those involved in the "painstaking and lengthy investigation".
He also took the opportunity to offer condolences to the Geoghegan family, stating gardaí are aware of how difficult it has been for them all.
He said the verdict clearly shows his organisation's determination to pursue fully, individuals or groups involved in this type of serious crime and…endorses the capacity of the state to deal with the most serious and difficult criminal cases.
Dundon, aged 30, will now serve a mandatory life sentence.