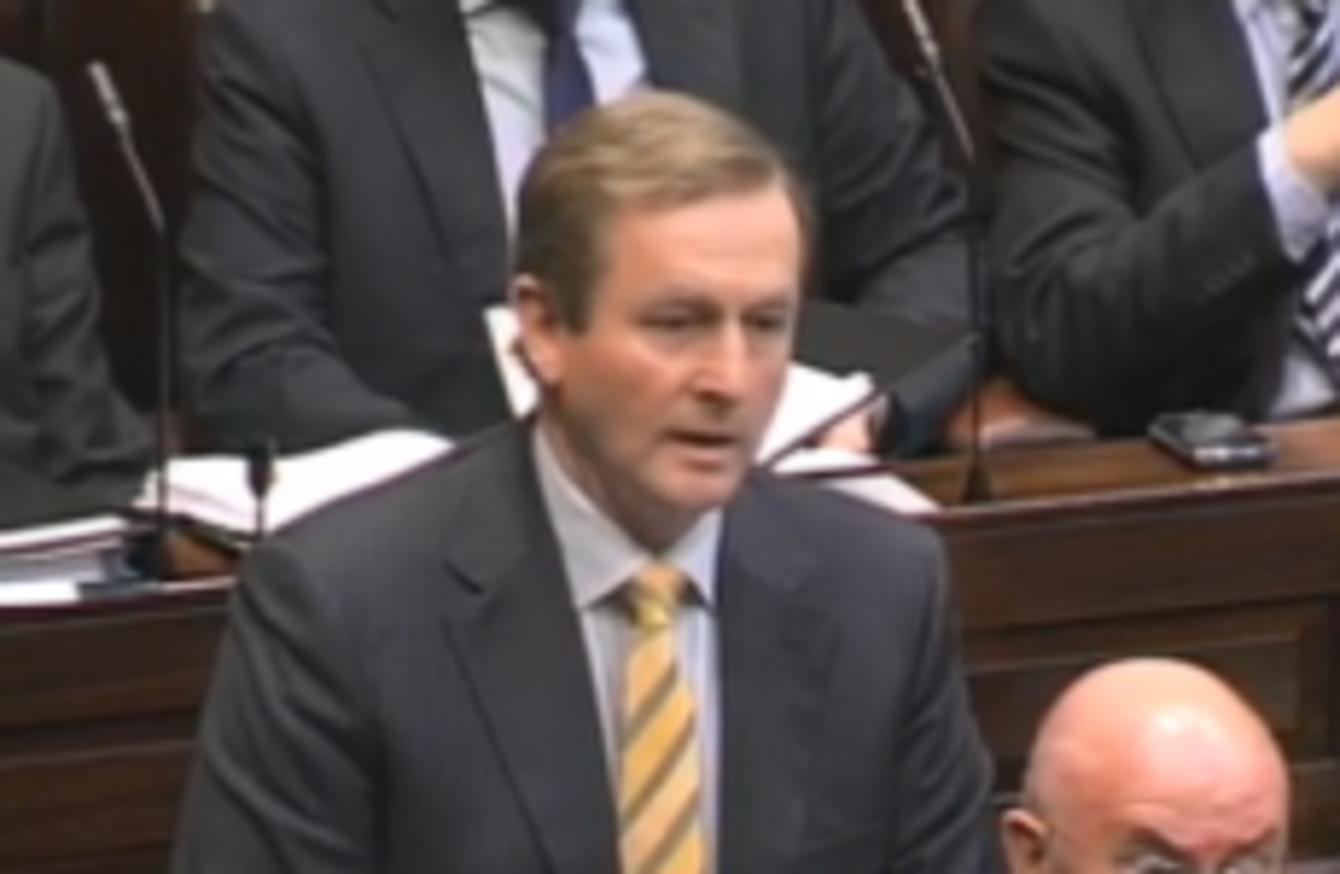 TAOISEACH ENDA KENNY has deflected queries from opposition leaders in the Dáil this morning about the status of the talks on the Anglo Irish Bank promissory notes – saying he does not want to raise expectations about their outcome.
Kenny faced inquiries during Leaders' Questions in the Dáil this morning on the current status of the talks, which were dealt a blow yesterday by Olli Rehn's insistence that Ireland meet its financial obligations as other EU member states are required to.
The Taoiseach was asked by Fianna Fáil, Sinn Féin and the technical group's Shane Ross to indicate what exactly Ireland was seeking, but Kenny declined to offer any indication about tehir current process.
"It is complex, it is technical, there are quite a number of moving parts in that," Kenny said. "There is a requirement here to allow these negotiations to proceed ahead. I've never set a timeline on this."
Fianna Fáil leader Micheál Martin had said the government had offered "mixed messages" on whether discussions on the notes would be linked to the referendum on the fiscal compact, or whether they would be discussed at meetings of the ECB's Governing Council.
"You said during the election, 'Paddy wants to know'," Martin recalled. "Taoiseach, with the greatest of respect, and in the nicest possible way, Paddy doesn't know. Paddy doesn't have a clue what's going on in this issue."
Martin and Sinn Féin president Gerry Adams both asked for clarification on whether Ireland was merely seeking to extend the promissory note liabilities across a longer period, or whether the proposals also included an outright plan to write down the €31 billion notes.
'If you won't ask, you won't get'
"Would you confirm that the commentary by Minister Joan Burton in the Financial Times led to the ECB pulling down the shutters on any deal in this issue," Martin asked, while Adams urged Kenny to start "a real negotiation".
"If you won't ask, you won't get," he said, turning attentions to the first repayment of the promissory notes which is due in two weeks' time. "Tell the ECB you cannot and will not pay this €3.1 billion," he said.
Kenny, in respond, defended his approach to negotiations so far, saying the personnel involved in the talks "should be allowed to do their work".
Shane Ross, speaking for the technical group, said commissioner Olli Rehn should "brush up on his Greek" before trying "to tick us off, in Latin no less, about our obligations".
"Greece was the first exception to the rule he was making yesterday, Spanish was the second exception to the rule he was making yesterday. Spain was given leeway on its budget deficit," he said.
When we're entering the fiscal treaty, we're entering into an à la carte Europe, where people can pick and choose when they're going to breach the treaty. Ireland and Hungary are going to be at the poor man's table.
Kenny, extending the linguistic analogy, remarked that the "old Gaelic tongue in ancient times was one of the prime languages of Europe and there's an old saying in there".
"When negotiations are underway, is binn béal ina thost", he said, translating the Irish phrase for 'silence is golden'.
#Open journalism
No news is bad news
Support The Journal
Your contributions will help us continue to deliver the stories that are important to you
Support us now