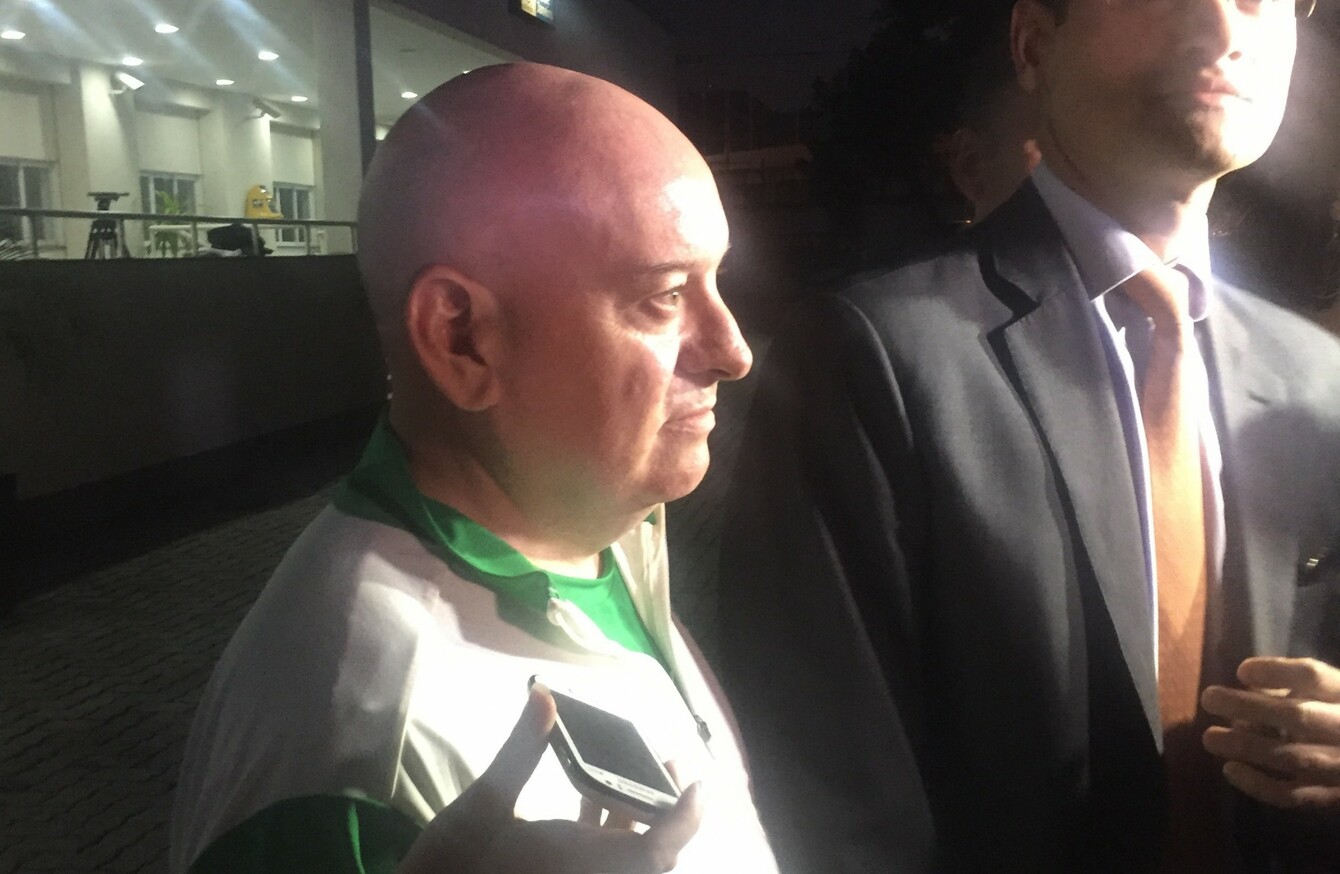 Kevin Kilty leaving a Rio police station.
Image: Sinead O'Carroll
Kevin Kilty leaving a Rio police station.
Image: Sinead O'Carroll
- Sinéad O'Carroll in Rio
Updated 11.15pm
OCI EXECUTIVES KEVIN Kilty and Stephen Martin spent four and a half hours at a police station in Rio today, giving statements in relation to the probe into the OCI's handling of Olympic Games tickets.
At about 6.10pm (local time), the two men emerged from the station. They said they were very happy to have cooperated fully with police but gave no further comment.
The passports of the two men – as well as that of Dermot Henehan – are still being held by police but it is likely they will be returned by a judge in the coming days.
Police said they now have a huge amount of information after talking with the two OCI executives.
Investigating officer Ronaldo Oliveira told reporters that he was very satisfied with the statements made by Kilty and Martin.
He said they now have much of the information needed to put the puzzle together, adding that their testimony lined up with the evidence already collected.
We are going to put together other evidence and emails. Then we will decide whether to solicit the return of their passports. At this point, there is a good chance they will be returned.
"We will continue the investigations and forensics," he told a large crowd of reporters who had gathered in the north of the city throughout the day.
"They were here as witnesses, important witnesses," he added, confirming Martin and Kilty were not suspects.
Oliveira revealed that police intend to intensify the probe tomorrow and have already sought the assistance of the force's money laundering arm and Interpol.
Earlier
As he walked into the building in Rio de Janeiro earlier, Kilty, Chef de Mission of OCI, said:
We are here to fully co-operate. That is all I can say at the moment.
They were both dressed in Team Ireland kit.
Both Kilty and Martin were due to meet police to discuss the ongoing probe into the alleged illegal selling of tickets for the Olympic Games 2016.
There is no suggestion of impropriety or wrongdoing on the behalf of Kilty or Martin.
Source: TheJournal.ie/YouTube
Their passports were confiscated on foot of a warrant issued last week. An early morning raid on the OCI's office in Rio led to phones, laptops and tickets being seized.
Police say there were 228 tickets found in Kilty's room. He explained to officers that they went unused after being offered to athletes and their families. Following today's statements, police say the men are not being indicted. They were being treated as important witnesses, and not suspects.
Earlier today, lawyers for Pat Hickey who is currently in the city's notorious Bangu prison applied for bail for their client. If this is denied, they have asked for him to be held under house arrest.
Under Brazilian law, those over 80 years of age or with health problems can be held in domestic settings, rather than prison. On his arrest, the 71-year-old executive was brought to hospital to undergo tests as he told police of a heart condition he is being treated for.
Investigating officer Aloysio Falcao has said he would not object to house arrest for Hickey, as long as he doesn't leave Brazil.
Authorities hope that any court case that may emerge from the investigation will be heard within three months.
Currently, Hickey is waiting for his case to be assigned to a judge who will decide whether he is to be formally charged with facilitating ticket touting, establishing a cartel and illicit marketing.
The courts closed for the duration of the Olympic Games and there is currently a backlog of 800 cases waiting to be assigned. The courts have said that Hickey's case will not be fast-tracked and he is in a queue that will be dealt with chronologically. The courts closed from 5 August and the former president of the OCI was arrested on 19 August.
It has been confirmed today that Hickey's wife Sylviana is no longer in Rio. She was in the hotel where her husband was arrested earlier this month but has since left the country.
Comments are closed for legal reasons