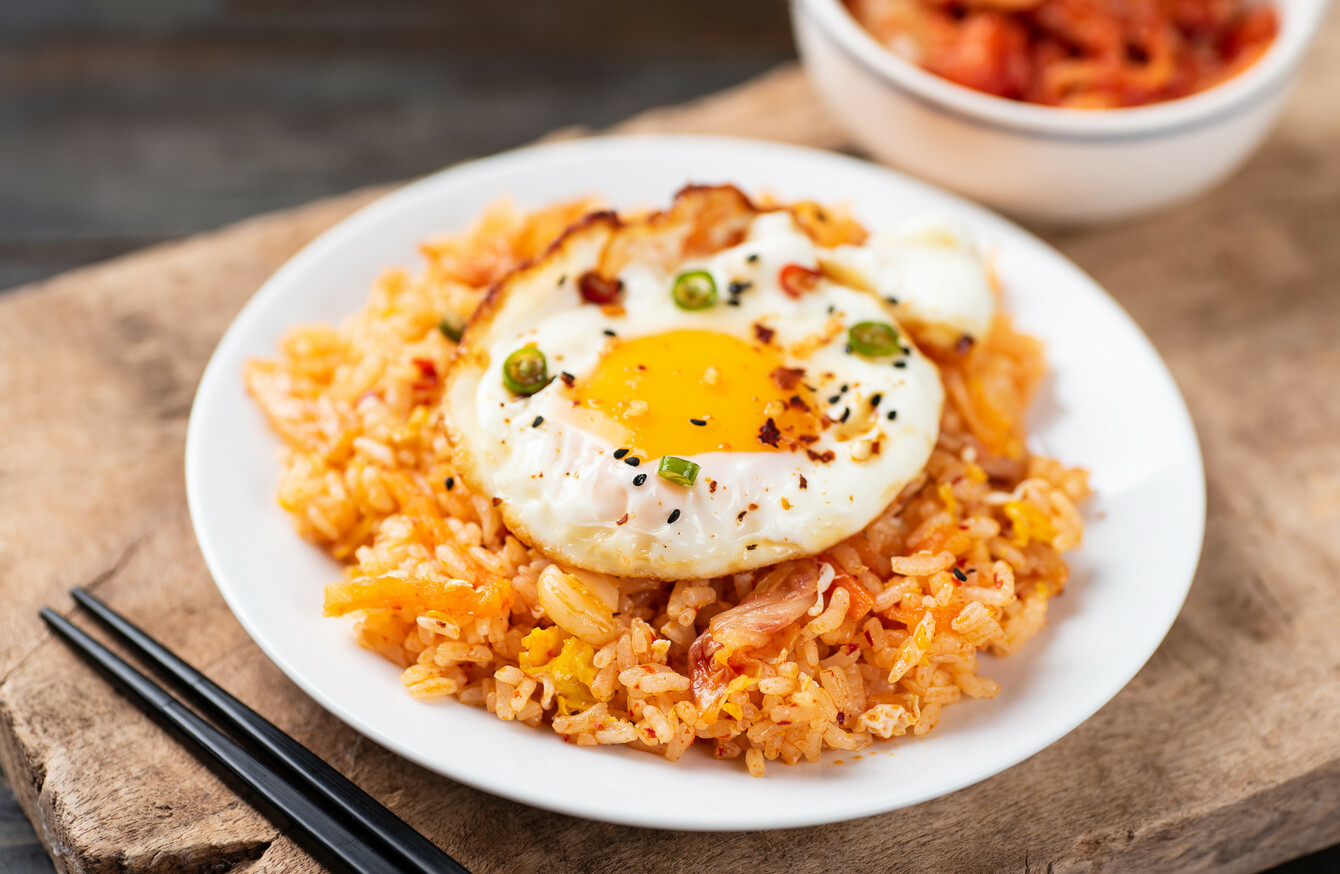 Image: Shutterstock/Nungning20
Image: Shutterstock/Nungning20
EVERY HOME COOK has their own kitchen hacks, cheats and traditions, and we want to know yours.
Each week as part of our Kitchen Secrets series, we'll be asking readers to share their cooking tips and go-to-dishes. From the secret to quick-and-easy dinners, to the best way to scramble an egg, we'll have a new question every seven days.
Sometimes, you don't want to make a complicated meal. You want something that's simple, substantial, and packed with flavour. And from stir-fries to salads, an egg is often the best way to get there.
So this week, we're asking…
What's your favourite put-an-egg-on-it dinner?
Want to become a member of our Kitchen Secrets panel? Email us on food@thejournal.ie – and you could start to see your own kitchen secrets in the magazine!
Thai noodle bowl: I love to top my noodle dishes with a fried egg, eggs really add something special to any noodle bowl. I use rice noodles. In a wok or pan fry spring onions, ginger, garlic, red chilli and any other vegetable you like. Just make sure the veg is roughly the same size so everything cooks evenly.
The same rule applies to whatever meat or fish you choose – I like to use fresh prawns. Push your veg over to one side and add the prawns, they cook in seconds. Now add Thai red curry paste, cooked noodles, juice of one lime, a tablespoon each of fish and soy sauce and one teaspoon of brown sugar. While the flavours combine in a separate pan fry the eggs (don't overcook, lightly fried is best). To serve, pile the noodles into soup bowls and top with an egg on each, sprinkled with chopped coriander. Enjoy!
- Angie
Fried rice in a flash: I love this recipe for Thai herb fried rice with pork – like a twist on fried rice with a lot of herbs added at the end. It's originally from the Lucky Peach cookbook but it's become a staple in our house. It's just a really hearty dinner and full of flavour, and is simple to make after a long day!
- Kate
Simple spaghetti carbonara: For years I made carbonara using cream instead of eggs, but once I started using eggs instead it totally changed the game. All the recipe requires is whisking two egg yolks and one whole egg together, adding some parmesan and seasoning, then throwing it all together with cooked pasta and pancetta. It's so simple and tastes much better than the cream-filled version. Unlike cream, I always have eggs in the fridge, and I make this every week without fail as a result.
For evenings when even making a carbonara seems like too much work but I still want something tasty for dinner, I make cowboy eggs. Take a slice of bread, cut a hole in the centre using a mug, put the bread in a frying pan and throw an egg in the centre. Allow the egg to cook and the bread to fry, add lots of salt and enjoy!
- Amy 
Egg inside, egg on top: My favourite enhanced-by-egg dinner would have to be kimchi fried rice. Simply stir fry some kimchi (if you can't buy it, it's simple to make yourself) with garlic and ginger, then add cooked rice and whatever veggies you have hanging around. Stir a beaten egg into the rice just before the end of cooking, so that it goes silky. It's spicy, substantial and delicious. If you're feeling eggstra you can also stick a fried egg on top. 
- Michael
Comforting scrambled eggs: For pure comfort food it has to be a scrambled egg dinner. There's something a bit luxurious about having scrambled eggs for dinner, it's like being a child again or something. There are as many opinions about scrambled eggs as there are people, but in my view the best way is to cook them low and slow with plenty of butter, and make sure to take them off the heat while they're still good and soft. Put on toast and enjoy!
- Jenny