Image: Niall Carson/PA Wire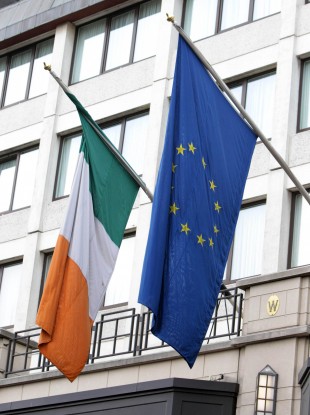 Image: Niall Carson/PA Wire
THE DEPARTMENT OF FINANCE has this evening published the latest updates to Ireland's memorandum of understanding with the European Union and the International Monetary Fund for its bailout.
The updates contain the latest edition of the Memorandum of Understanding which oversees the terms and conditions for the €67.5 billion being received from the IMF, European Central Bank and European Commission.
That document sees the government reaffirm its commitment to announcing €3.5 billion in Budget adjustments this December.
That'll include €2.25 billion in spending cuts, achieved largely through cuts on social spending and in pay, while new taxes – including a broadening of income tax, motor tax, and the new property tax – will total €1.25 billion.
Here are eight points we think are important.
A deal on Ireland's promissory notes is now considered a pretty high priority. The report suggests a full deal on the notes would avoid "the need to continue to rely on official financial support".
It also points out that a deal to restructure Permanent TSB – which is likely to include selling at least part of the bank – is also considered a top priority.
The government's still firmly committed to implementing a site-value-based property tax in the next Budget. The pledge to get it done by this December, which was originally introduced in May's update, remains there now.
There's a little more detail on the sale of state assets. The funds are now earmarked as being split 50-50 between commercial investments and a fund which will go toward the 'eventual' repayment of Ireland's debts. (A spokesman for the Department of Finance this evening said this included funds which would be used as collateral for investments from the European Investment Bank – and what while the money would eventually go into debt repayment, it would be used for economic stimulus first.)
We can expect more and more experimental trips back to the bond markets in the coming weeks and months. The government says it's committed to exploiting any opportunities for outside funding that it can find.
Options to address loan arrears and unsustainable mortgage debts should be rolled out by the banks by the end of the year.
Legislation to give legal effect to the current government's new plans for multi-annual Budgets will be published before the end of September – that is, within the first two weeks of the Dáil's return. Also due by then is legislation to establish a statutory register of credit risk.
The results of the next round of stress tests on Ireland's banks will be known in the second quarter of 2013.
The publication of the report sees Ireland formally request the latest €1 billion instalment of funds from the European bailout mechanisms, and about €900 million from the IMF.