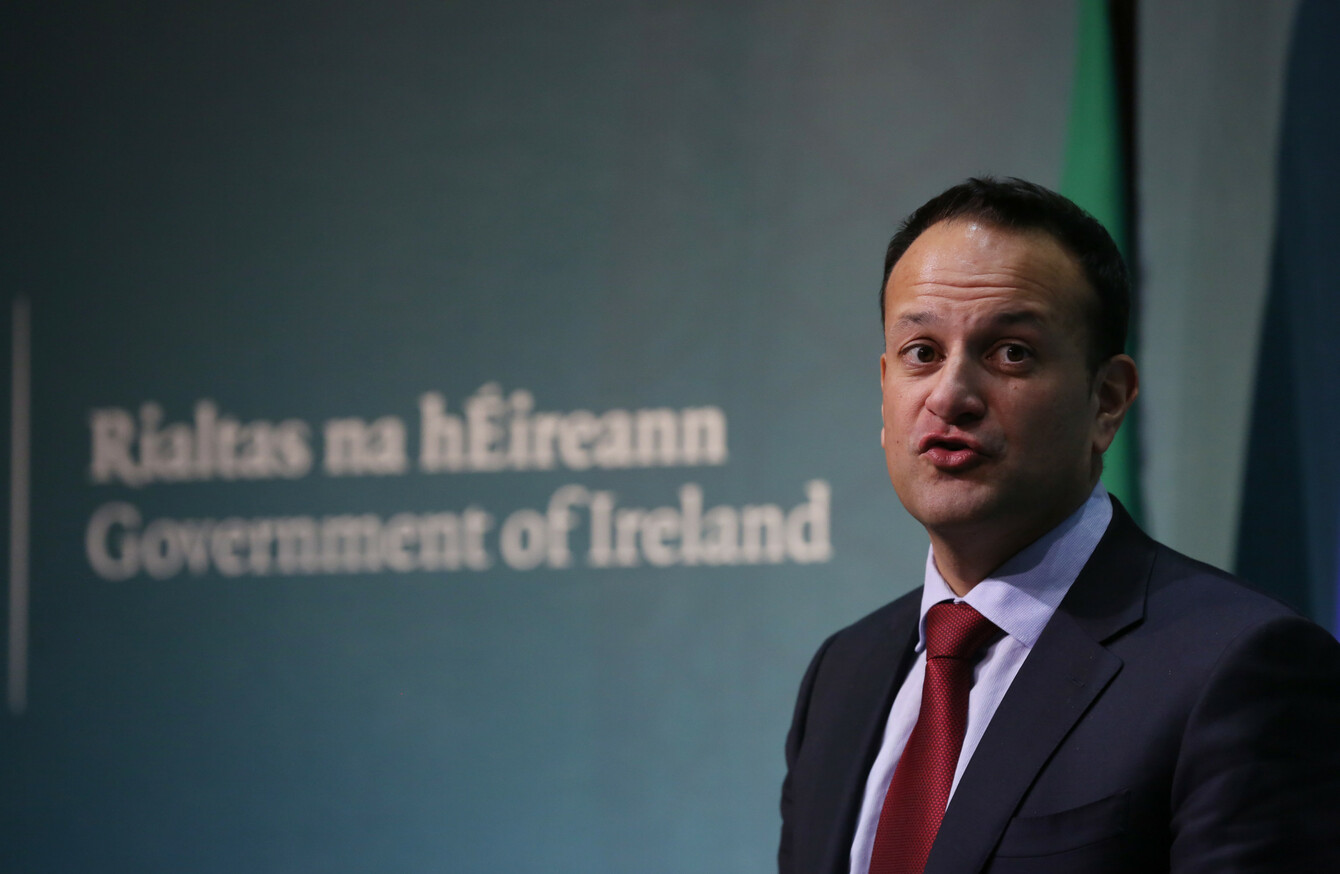 Image: Sam Boal
Image: Sam Boal
TAOISEACH LEO VARADKAR has said he understands the concerns some politicians might have about the proposals for unrestricted access to abortion up to 12 weeks.
However, he said having read the Oireachtas Committee on the Eighth Amendment's report and studied the evidence, he understands the reasoning behind the limit.
A number of TDs and ministers, including Tánaiste Simon Coveney have said that while they support a referendum, they cannot support legislation that would allow abortion up to 12 weeks.
The Taoiseach was asked to respond to that perspective at an event this evening.
"I totally understand and respect that people have concerns about the all-party committee's proposals of 12 weeks, I understand that," Varadkar said.
I had those reservations myself at first until I studied the reasoning behind it, and having understood the reasoning behind it, it is something I strongly support and strongly endorse.
Varadkar told reporters this afternoon that there were straightforward or clearcut answers on the issue of abortion.
"We need to be very frank with people about this – there isn't going to be certainty or absolute certainty either way. Abortion is not a black and white issue.
"Let's not forget the case of Savita Halappanavar, when doctors who were treating her were uncertain about whether they could end that pregnancy.
"Let's not forget the case of Ms P, the woman who was clinically dead on life support because the child she was carrying was still alive and doctors were uncertain as to whether they could take her off life support or not."
He added:
So the idea that we have certainty now really isn't correct. What is certain now is that a 15-year-old girl who is raped, and who is in pain and cannot end her pregnancy in Ireland – and anyone that helps her could be sent to prison for 14 years. So, is the certainty and uncertainty we have now something that we want to keep?
#Open journalism No news is bad news Support The Journal

Your contributions will help us continue to deliver the stories that are important to you

Support us now
While Cabinet members were unanimous this week in their support to hold a referendum, senior government ministers including Coveney and Agriculture Minister Michael Creed have stated they have an issue with the 12-week mark.
Labour's Joan Burton said yesterday that politicians that have outlined this view should provide clarity about their stance on how the issue can be addressed in the course of the debate on the legislation.
The division within government on the issue means there will need to be opposition support to ensure the 12-week law is passed in the event of a referendum returning a yes vote.
This afternoon, the Taoiseach said he did not want to see the debate "personalised" in any way. He also raised his concern about the referendum campaign, stating:
One thing that is significant is to ensure there is no foreign funding of either campaign.