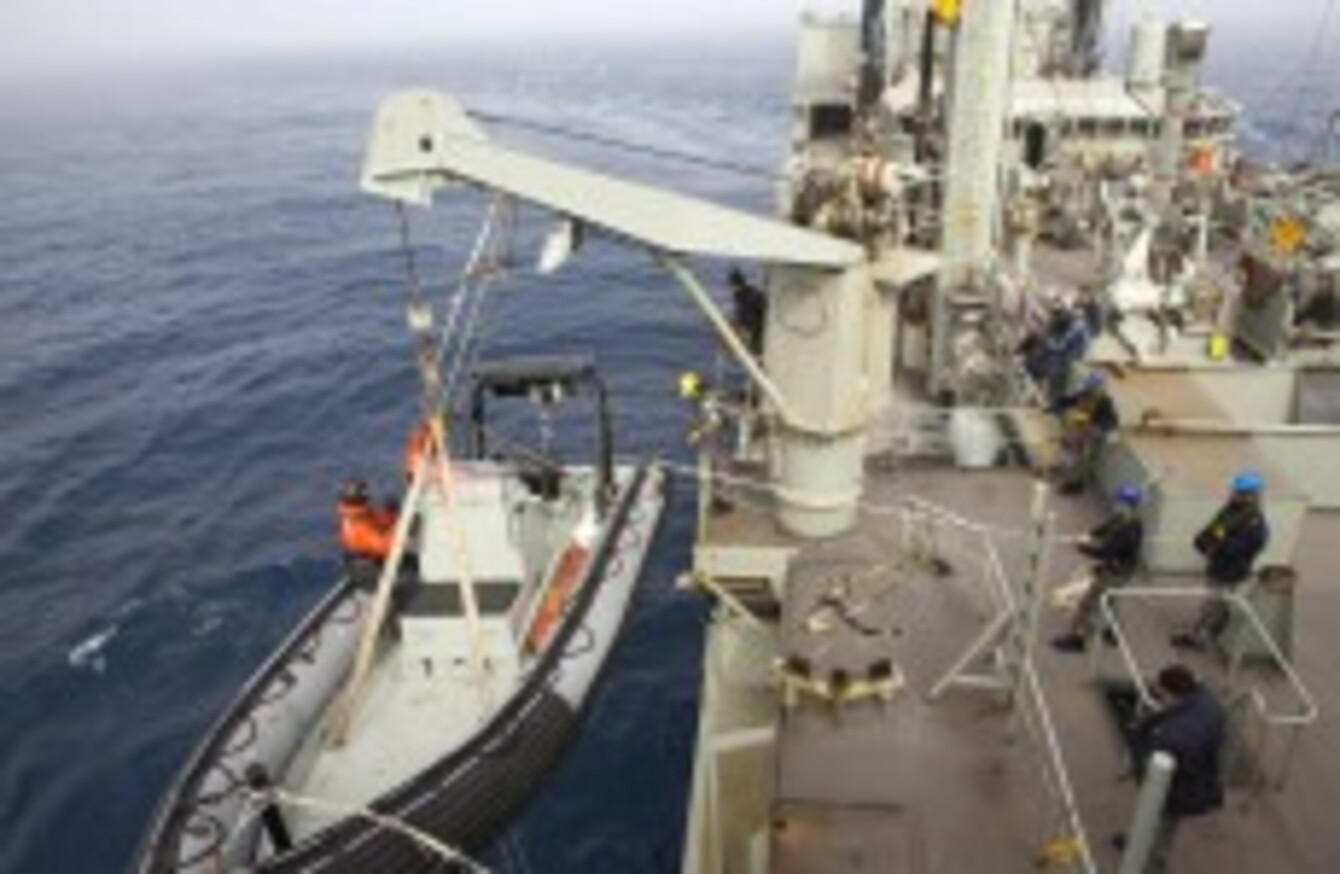 An inflatable boat is launched from HMAS Success.
Image: James Whittle/PA Wire
An inflatable boat is launched from HMAS Success.
Image: James Whittle/PA Wire
A FRENCH SATELLITE scanning the Indian Ocean for remnants of a missing jetliner found a possible plane debris field containing 122 objects, a top Malaysian official said today, calling it "the most credible lead that we have."
Defence Minister Hishammuddin Hussein said the objects were more than 2,500 km southwest of Australia, in the area where a desperate, multinational hunt has been going on since other satellites detected possible jet debris.
Clouds obscured the latest satellite images, but dozens of objects could be seen in the gaps, ranging in length from one metre to 23 metre. Hishammuddin said some of them "appeared to be bright, possibly indicating solid materials."
The images were taken on Sunday and relayed by French-based Airbus Defence and Space, a division of Europe's Airbus Group; its businesses include the operation of satellites and satellite communications.
Various floating objects have been spotted by planes and satellites over the last week, including on Wednesday, when the Australian Maritime Safety Authority sent a tweet saying three more objects were seen. The authority said two objects seen from a civil aircraft appeared to be rope, and that a New Zealand military plane spotted a blue object.
Members of the Japan Disaster Relief Team. (Pic: AP Photo/Will Russell)
None of the objects were seen on a second pass, a frustration that has been repeated several times in the hunt for Malaysian Airlines Flight 370, missing since 8 March with 239 people aboard. It remains uncertain whether any of the objects came from the plane, they could have come from a cargo ship or something else.
"If it is confirmed to be , at least we can then we can move on to the next phase of deep sea surveillance search," Hishammuddin said.
A total of 12 planes and five ships from the United States, China, Japan, South Korea, Australia and New Zealand were participating in the search, hoping to find even a single piece of the jet that could offer tangible evidence of a crash and provide clues to find the rest of the wreckage.
Malaysia announced on Monday that a mathematical analysis of the final known satellite signals from the plane showed that it had crashed in the sea, killing everyone on board.
The new data greatly reduced the search zone, but it remains huge, an area estimated at 1.6 million sq-km, about the size of Alaska.
"We're throwing everything we have at this search," Australian Prime Minister Tony Abbott told Nine Network television.
"This is about the most inaccessible spot imaginable. It's thousands of kilometers from anywhere," he later told Seven Network television. He vowed that "we will do what we can to solve this riddle."
In Beijing, some families held out a glimmer of hope their loved ones might somehow have survived. About two-thirds of the missing were Chinese, and their relatives have lashed out at Malaysia for essentially declaring their family members dead without any physical evidence of the plane's remains. Many also believe Malaysia has not been transparent or swift in communicating information with them about the status of the search.
Hussein shows a printout of the latest satellite image of objects. (Pic: AP Photo/Joshua Paul)
Wang Chunjiang, whose brother was on the plane, said he felt "very conflicted."
"We want to know the truth, but we are afraid the debris of the plane should be found," he said while waiting at a hotel near the Beijing airport for a meeting with Malaysian officials. "If they find debris, then our last hope would be dashed. We will not have even the slightest hope."
China dispatched a special envoy to Kuala Lumpur, Vice Foreign Minister Zhang Yesui, who met Malaysian Prime Minister Najib Razak and other top officials Wednesday, the official Xinhua News Agency reported.
China, which now has Chinese warships and an icebreaker in the search zone, has been intent on supporting the interests of the Chinese relatives of passengers, backing their demands for detailed information on how Malaysia concluded the jet went down in the southern Indian Ocean.
That also is the likely reason why Chinese authorities, normally extremely wary of any spontaneous demonstrations that could undermine social stability, permitted a rare protest on Tuesday outside the Malaysian embassy in Beijing, during which relatives chanted slogans, threw water bottles and briefly tussled with police who kept them separated from a swarm of journalists.