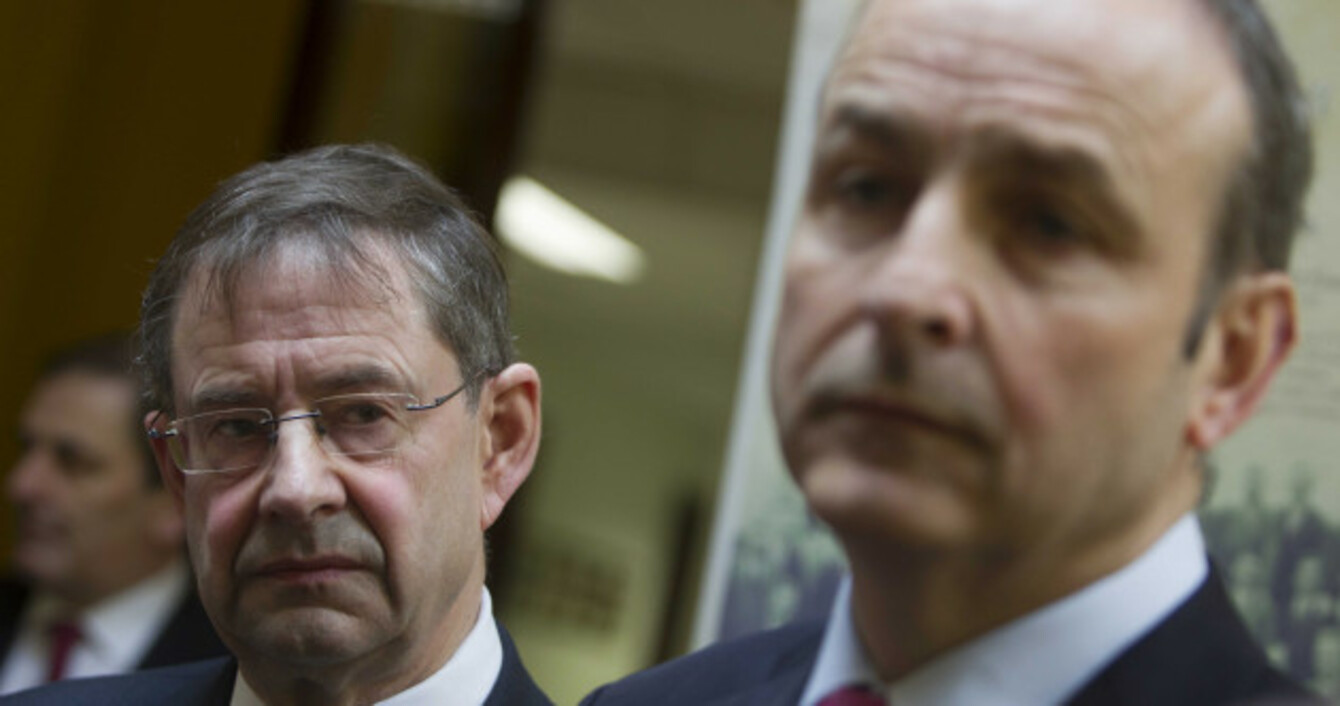 Party Leader of Fianna Fail Micheal Martin with Galway West TD Eamon O Cuiv.
Party Leader of Fianna Fail Micheal Martin with Galway West TD Eamon O Cuiv.
OMNISHAMBLES. A FINE mess. Drama. 
Just some of the words used by figures within the Fianna Fáil party in the aftermath of the 'launch that was not a launch' of Councillor Sorcha McAnespy as the party's first candidate in the North last month. 
Utter confusion reigned when McAnespy, a member of the Fianna Fáil's national executive, was announced as an 'official' candidate in the local elections in Northern Ireland. 
Standing next to her were her two campaign directors – veteran Fianna Fáil TD (and grandson of the party's founding father Eamon De Valera) Éamon Ó Cuív, as well as Kerry-based Senator Mark Daly. 
It was all smiles up in Tyrone. But the celebrations were short lived. 
Fianna Fáil HQ was not happy at all. 
A tweet issued from the party's main account said it had made no decision to run McAnespy. 
The message coming from FF headquarters was: 'If we decide to run a candidate in the North, you'll know all about it, and Micheál Martin will be up there, front and centre.' 
So it was no surprise this week when Martin took decisive action and sacked the two politicians from their roles. 
Martin moved on Daly first, stripping him of his role as the party's deputy leader in the Seanad and taking away his portfolio as Seanad spokesperson for Foreign Affairs, Diaspora and Brexit.
All eyes were then on Ó Cuiv – the former minister whose family history is steeped in Fianna Fáil. Would Martin take action against him? 
It would seem unfair not to. "Life isn't fair though," as one Fianna Fáil politician put it earlier this week – casting doubt on whether punishment would be levelled against Ó'Cuiv. 
Another party source party force reckoned: "It doesn't matter who the hell Dev's grandson is, that is neither here nor there, it was a stunt, a launch without party say so."
Realistically, Martin had no choice. During his meeting with Martin, Ó'Cuiv made it clear to his leader that he knew exactly what he was doing at that 'launch' on the night of 25 October.
This was not the first thinly-veiled attempt to undermine Martin. Supporters of Ó Cuív also attempted this summer to install him as the Fianna Fáil candidate for the presidency, in defiance of Martin's endorsement of Michael D Higgins.
A letter was sent to councillors nationwide calling for support for Ó Cuív to be the next President of Ireland. The letter, sent by Galway Councillor Ollie Crowe, was seen in Fianna Fáil circles as a major challenge to Martin's authority. 
Crowe told TheJournal.ie at the time that he told Ó Cúiv he would be sending the letter to all 265 Fianna Fáil councillors. In the end, whether it was just another stunt or not, it amounted to nothing.
The incident in Tyrone, however, was a bridge too far for Martin. 
The party previously stated it might run candidates in the North, but now the possibility that an SDLP merger may take place instead is leaving some members far from happy. 
So what's the broader mood in the Soldiers of Destiny? 
One Fianna Fáiler said the feeling within the party is that Daly and Ó'Cuiv deserved it, adding they should have been handed an even harsher punishment.
"Whilst Micheál Martin is not everyone's cup of tea it was felt that he had to act and parliamentary party members are happy with his decisiveness."
Another said Ó'Cuiv's grandfather would have "dished out" similar punishment and would not have tolerated it.
Some within the party feel Martin had no choice but to take strict action against the rogue politicians as talks with the SDLP about a possible merger are at a very advanced level, with a possible announcement about a deal expected in the new year. 
The Tyrone event was seen as potentially scuppering the whole deal. 
However, others believe Martin could have dealt with the whole issue at a parliamentary party meeting, rather than shafting the pair from their jobs. 
TheJournal.ie spoke to a number of TDs who stated that the whole issue was an internal matter.
However, some members within the party were happy to state that while it is a leader's prerogative to lead, it is not their prerogative to "drag" the party down a road of merging with another party – a party which some Fianna Fáilers dubbed a "damaged brand". 
It is understood that while running candidates in the North was discussed at the Ard Fheis, a merger with the SDLP was not. This is an issue of major concern to some within the party. Merging with the SDLP would give the party a healthy number of ready-made candidates to run in the North.
One politician stated that Martin does not have a mandate to strike a deal with the SDLP, pointing out that it has not been brought to an Ard Fheis, the parliamentary party, or the national executive.
While some said they are happy for the party to run in the North, they said it should do so on its own brand, not someone else's.
Another said that with pressing ahead with a deal the SDLP, Martin is overstepping his role as leader "by a mile" and that it was a move that would be "vehemently opposed" and could "blow up" in Martin's face. 
While the rogue politicians and 'fake launch' provided a headache for the Fianna Fáil leader, mutterings of discontent about an SDLP merger should ring alarm bells for Martin.
Considering confidence and supply talks with Fine Gael are also continuing, now is not the time to be showing signs of a party divided. 
'Nothing to see here' is the message the party HQ is pushing. But if it did open its eyes, it might find a base that is ready and willing to get going in the North – but with Fianna Fáil's own candidates rather than a cobbled-together deal with the SDLP.
If Martin is not careful, he could find that headache quickly turning into a right pain in the neck.