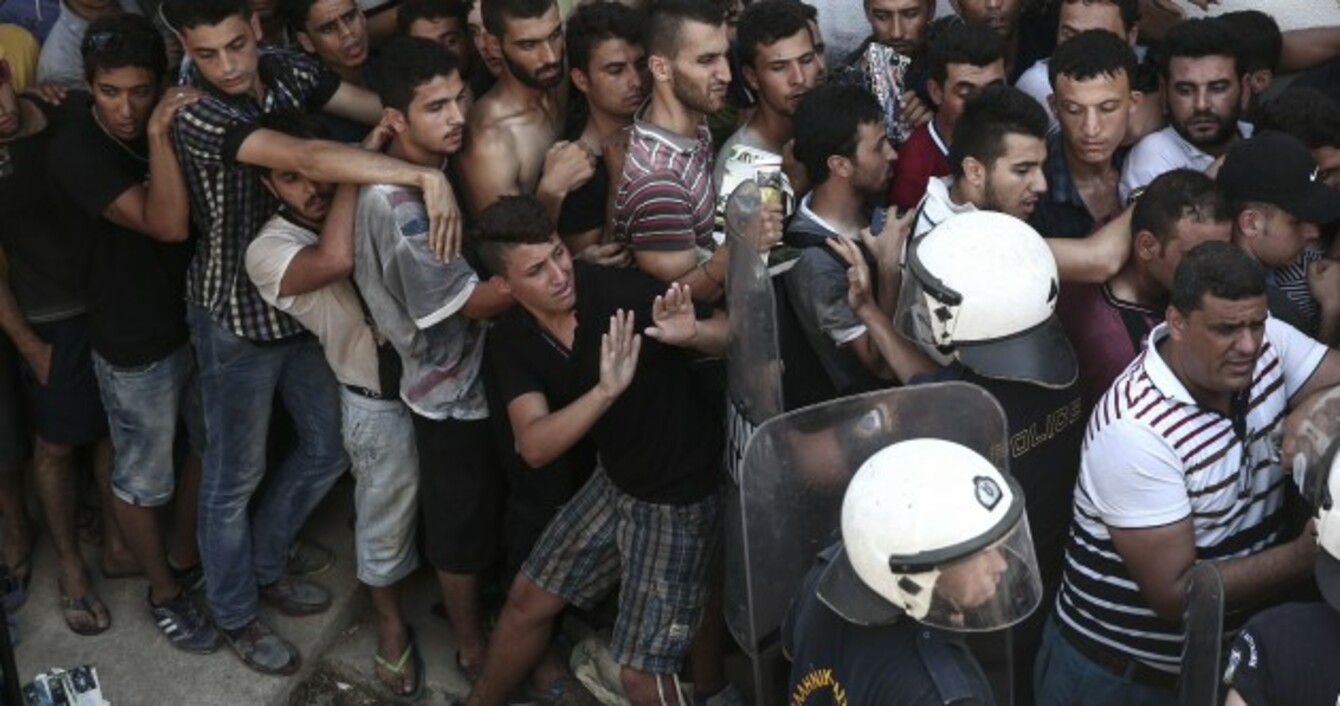 Police officers try to make space as migrants queuing for a registration procedure inside a stadium in Kos
Image: Associated Press
Police officers try to make space as migrants queuing for a registration procedure inside a stadium in Kos
Image: Associated Press
OVER A THOUSAND migrants were locked into a football stadium on the island of Kos in Greece this week.
Now Greece has sent extra riot police to the island as tensions mount over the issue.
On Tuesday, photos showed police spraying migrants with fire extinguishers in an attempt to control the crowds as people queued up for a registration procedure.
Reports from the area said migrants were locked into the stadium to try and speed up the registrations.
Large numbers of people have been arriving on the island using rubber dinghies, after departing from nearby Turkey.
Migrants were relocated to a local football stadium after camping on roads and beaches on the island.
"Bloodshed" warning
The island's mayor, Giorgos Kiritsis, warned of "bloodshed" if the situation on the island of 33,000 people worsened.
AFP reports that around 7,000 migrants are waiting to apply for immigration papers.
Medecins Sans Frontiéres told AFP there are two toilets for over a thousand people (in the stadium) and a single water hose.
The island's stadium, local gymnasium and police station are being used to register the migrants.
European migration commissioner Dimitris Avramopoulos is expected to make an emergency visit to Athens today for talks with Greek ministers over the crisis.
The Greek government said it was "immediately" dispatching a ship to Kos to double up as an accommodation and processing centre for up to 2,500 people.
Photos show police pushing back migrants who were queuing, as large crowds gathered at the stadium.
Things were said to have calmed overnight, but migrants are still waiting to be processed.
Medical charity Medecins Sans Frontieres said its teams in Kos had seen "harassment of migrants and refugees in public spaces, including private security men forbidding them from sitting on park benches in the city centre".
Mayor Kiritsis said extra immigration officials had been sent to Kos to speed up the administrative procedure.
MSF described how people were "piled up under the hot sun", with some "hanging from the stadium railings, trying to jump inside".
- Contains reporting from AFP