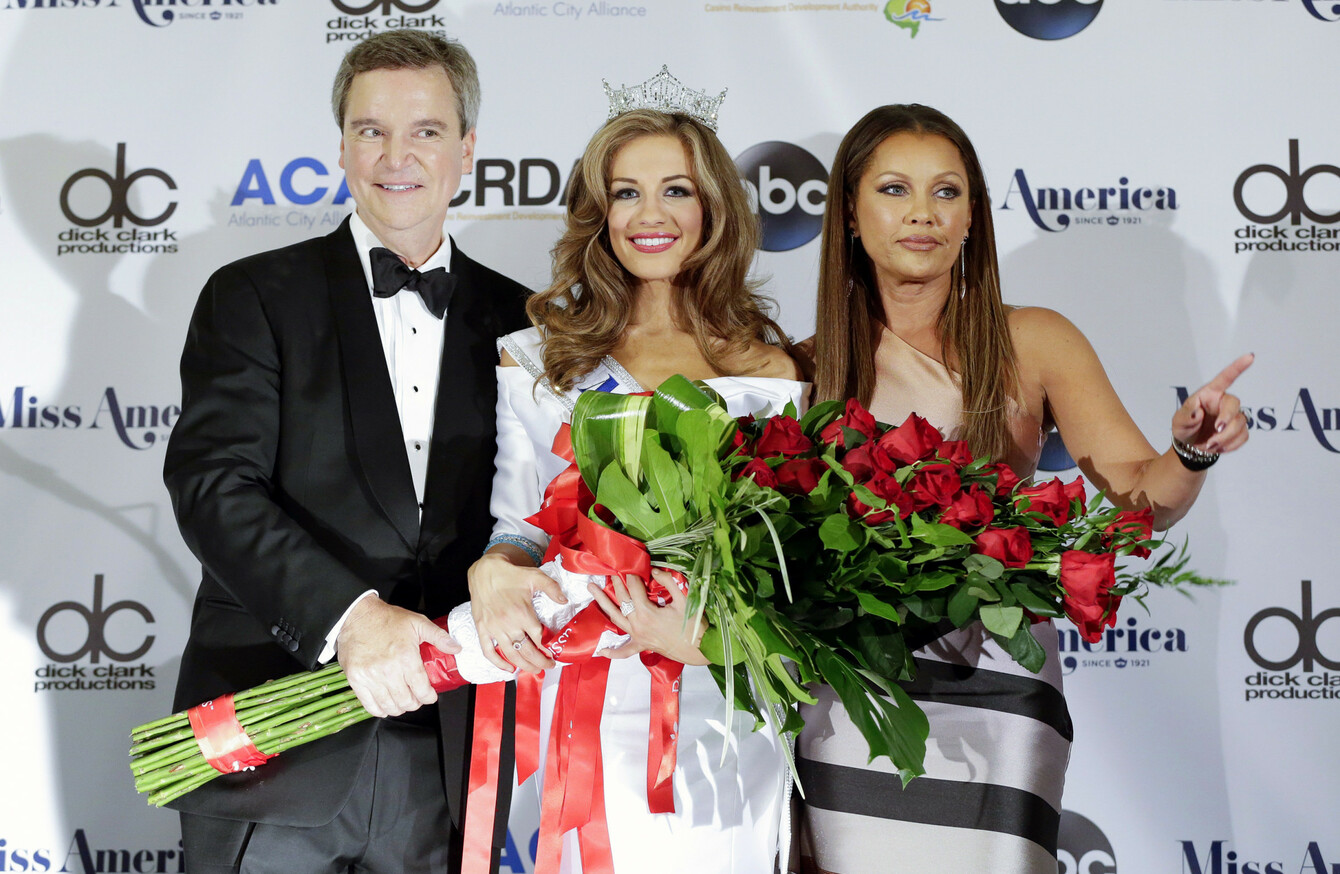 Former Miss America CEO Sam Haskell with the 2016 Miss America Betty Cantrell and a former Miss America, Vanessa Williams.
Image: PA Images
Former Miss America CEO Sam Haskell with the 2016 Miss America Betty Cantrell and a former Miss America, Vanessa Williams.
Image: PA Images
THE MISS AMERICA pageant's CEO resigned late last night after dozens of former beauty queens demanded he step down over leaked internal emails that contained misogynistic, fat- and slut-shaming language.
"This afternoon, the Board of Directors of the Miss America Organization accepted the resignation of Executive Chairman and Chief Executive Officer Sam Haskell, effective immediately," interim chairman of the board Dan Meyers said in a statement.
The organisation's president, Josh Randle and the chair Lynn Weidner also resigned.
"The Board of Directors also accepted the resignation of Chairman Lynn Weidner," according to the statement from Meyers, which said she would stay on for up to 90 days to "facilitate a smooth transition".
HuffPost published leaked emails two days before that included a vulgarity that referred past winners being routinely maligned, and the shaming of one over her weight and sex life, with Haskell calling her "a piece of trash".
Haskell and been suspended the previous day by the organisation, which said it would conduct an "in-depth investigation into alleged inappropriate communications and the nature in which they were obtained".
Sam Haskell has decried the Huffington Post story as "unkind and untrue".
"My mistake is a mistake of words," Haskell wrote in a statement issued on Friday, shortly after the board suspended him indefinitely while it investigates the situation.
Much of what was reported is dishonest, deceptive, and despicable.
The story is so unkind and untrue, and hurts me, my family, and the stewardship of this nonprofit. Those who know my heart know that this is not indicative of my character, nor is it indicative of my business acumen.
Calls for resignation
Dozens of former Miss Americas, including a 87-year-old crowned in 1948 and a former Fox News host, had signed an open letter demanding the resignations of the organisation's CEO, president and board chair.
"We stand firmly against harassment, bullying and shaming – especially of women – through the use of derogatory terms meant to belittle and demean," HuffPost quoted the letter as saying.
As Miss Americas, we strongly reject the mischaracterizations of us both collectively and individually. We also reject the ongoing efforts to divide our sisterhood and the attempts to pit us against one another.
Signatories included Gretchen Carlson, who settled a sexual harassment lawsuit in 2016 against then-Fox News boss Roger Ailes for a reported $20 million (€16.9 million), which precipitated his departure from the network.
- With reporting from Gráinne Ní Aodha, © AFP 2017