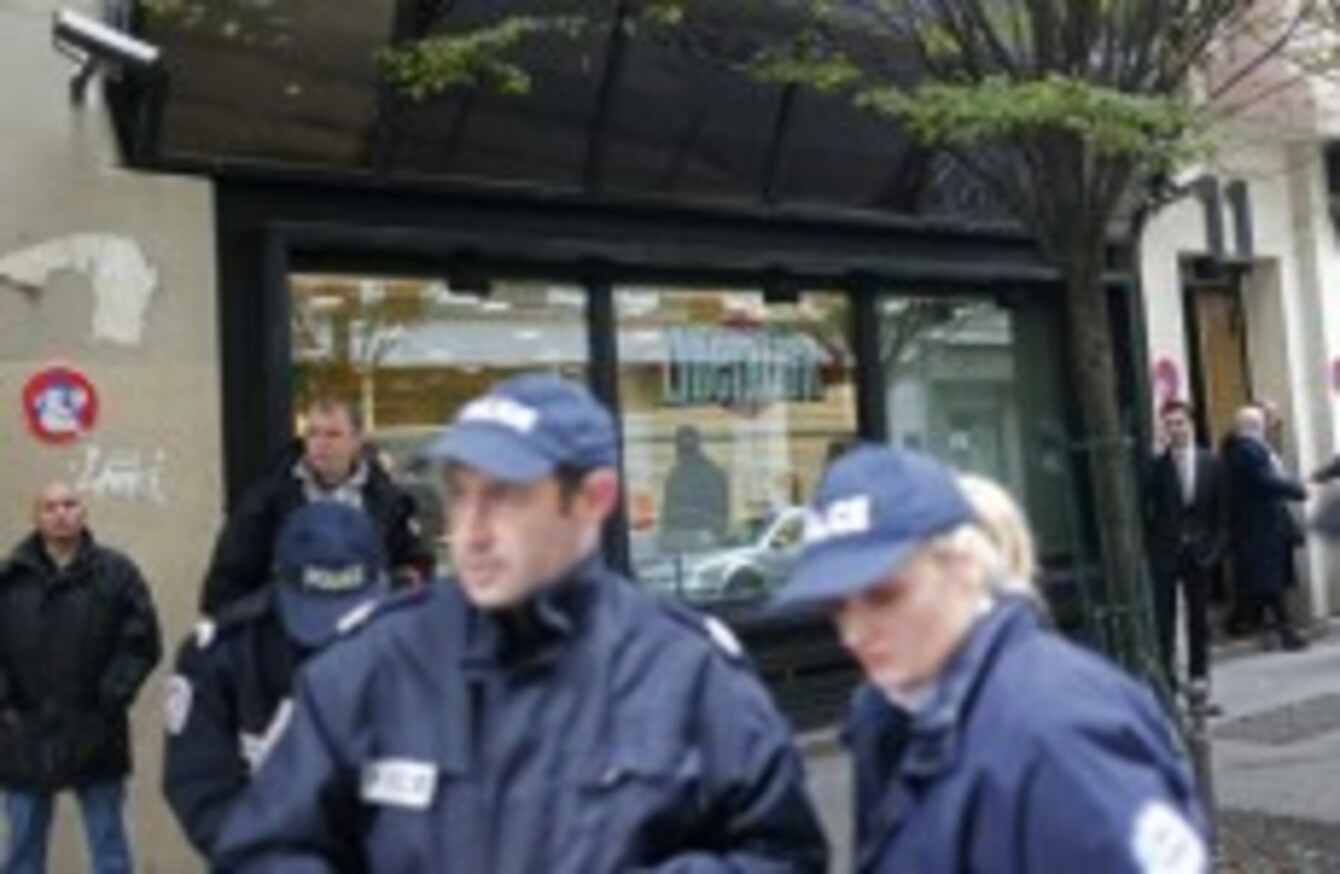 Police officers stand outside Liberation newspaper office in Paris
Image: Thibault Camus/AP/Press Association Images
Police officers stand outside Liberation newspaper office in Paris
Image: Thibault Camus/AP/Press Association Images
Updated 8.35pm
POLICE IN FRANCE have launched an extensive manhunt in the country's capital after a lone gunman opened fire in the lobby of a French newspaper injuring a photographer.
Left-wing paper Liberation say that man entered their Paris offices at around 9.15am Irish time and fired two shots before escaping.
A 27-year-old photographer, who the newspaper said had arrived for his first day of freelance work, suffered buckshot wounds to the chest and stomach.
He was taken to hospital in a critical condition. The newspaper later said that he underwent surgery and was being kept in intensive care.
Two hours later, a man fired shots outside the headquarters of banking giants Societé Generale.
Reports say that the man may be in the Champs-Elysées area of the city and that a manhunt has begun after a man took a motorist hostage and demanded to be brought there.
There have been unconfirmed reports that the man was armed with grenades as well as the shotgun but these have not been verified. The motive for the shootings is not known.
Staff traumatised
On Friday an armed man broke into the Paris offices of news channel BFMTV, but didn't fire any shots. It is not clear if the incidents are linked, though reports say that the weapons used are similar, if not the same.
The gunman is described as being in his 40s and wearing a khaki coat, a beret or a cap and is armed with a shotgun and possibly grenades.
Liberation's deputy editor Fabrice Tassel said that the injured man is fighting for his life and was a freelance photographer's assistant who had just arrived to help on a fashion photoshoot.
The paper's executive Nicolas Demorand said the shooting in the paper's entrance hall left staff traumatised.
"When you have someone with a shotgun coming into a newspaper's offices in a democracy, it is very, very serious, whatever the mental state of the person," Demorand told AFP. "If papers and other media have to become bunkers, something has gone wrong in our society."
Police have sealed the area around the paper off and are now stationed at all major media outlets.
French President Francois Hollande, speaking during a trip to Jerusalem, warned of the danger the gunman presented.
He "could still kill tomorrow or at any time," Hollande said.
- additional reporting from AFP
First published 1.11pm