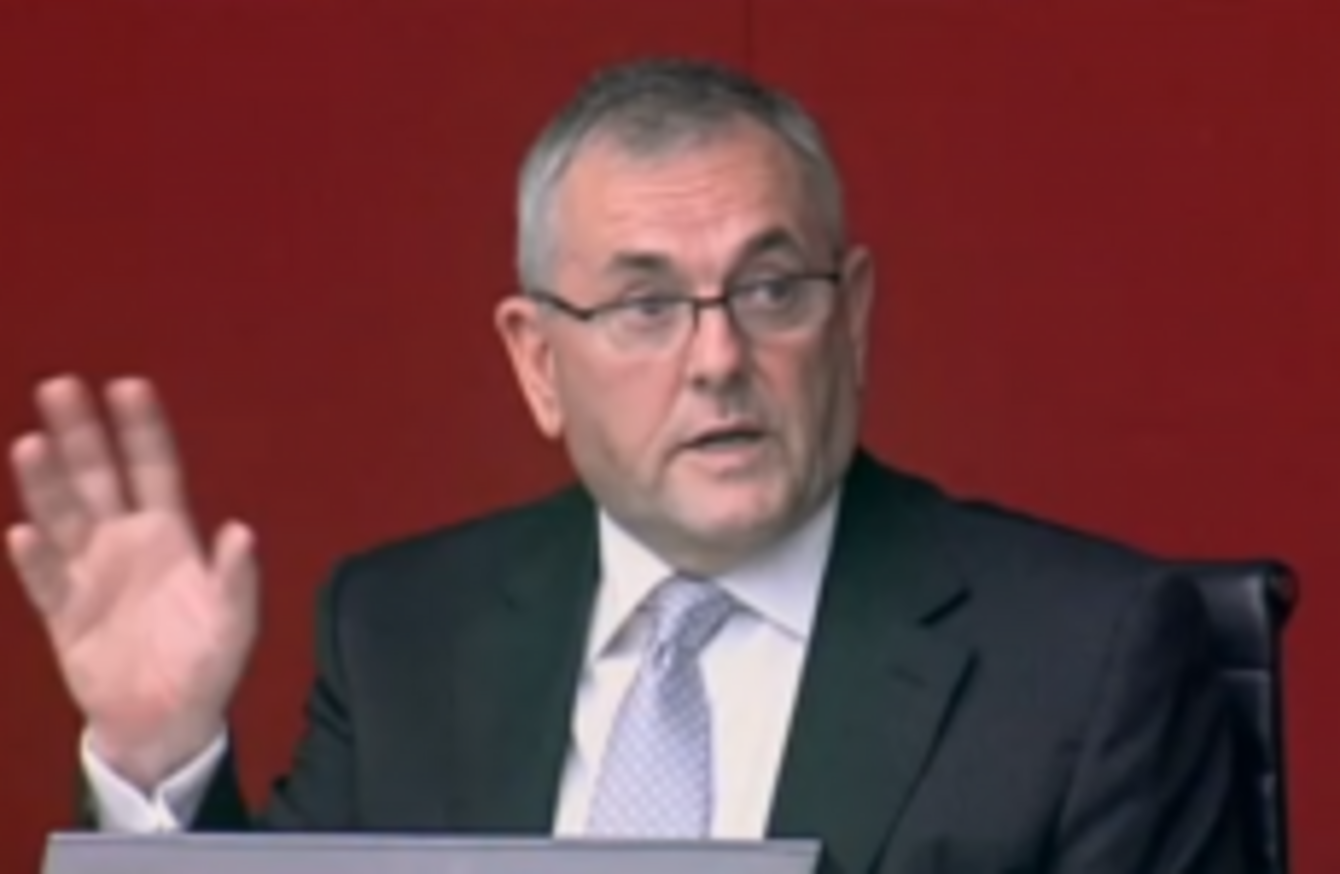 John McGuinness at the Public Accounts Committee
Image: Screengrab/Oireachtas TV
John McGuinness at the Public Accounts Committee
Image: Screengrab/Oireachtas TV
THE CHAIR OF the Public Accounts Committee, John McGuinness, has been criticised by members of his own committee for calling on the heads of the HSE and the Department of Health to resign yesterday.
McGuinness told Department of Health secretary general Ambrose McLoughlin and HSE director general Tony O'Brien that they should resign over ongoing problems with overspending and medical cards in the health service.
He said that if health is a business then "on all of the major fronts you have failed" and said that "both of you should resign because it seems to me that this is sort of Groundhog Day. We deal with the same issues every single time you come before us".
The Fianna Fáil TD's comments were criticised by members of his own committee today who said they were "unacceptable", "publicity seeking" and "over the top".
Responding today, McGuinness said that he was expressing his opinion and asked: "What would they like me to do? Sit on my hands?"
Criticism
Labour TD Robert Dowds, who lead questioning of the health chiefs yesterday, said that McGuinness's comments were "over the top" and added: "It smacked to me of publicity seeking as much as anything else."
"I'd have a concern that it would damage the reputation of PAC a little bit. It's quite a popular thing to say in many quarters. I would have thought that a chair would have been a bit more measured in that regard."
Dowds also pointed out that the HSE was established by McGuinness's party leader Micheál Martin – whose job he has previously indicated he would like. Dowds added: "So maybe it is part of his concern to overthrow his party leader as well."
Fine Gael TD Aine Collins said that while there was "no harm asking the question" McGuinness's statement was "over the top".
"I've no doubt that he was doing it for the publicity because that's part of the John McGuinness style," she said,
She said that the PAC was not the "right forum" for asking the two officials to resign, but said she agreed with the general point that civil servants should be accountable when things go wrong.
Opinion
Her party colleague Paul Connaughton, also a member of the committee, said he was "a bit taken aback" by the chairman's comments and said it was "over the top".
"As far as I am concerned every Thursday civil servants come in, we ask them questions, that's what we do. I don't think we're in the business of hiring and firing people. I don't think it was correct to be calling for their heads," he said.
He said that the resignation call did not do the committee any favours and was "a bit of point scoring" by McGuinness.
Another Fine Gael TD on the committee, Eoghan Murphy, said it was "unacceptable from the chair of a committee to call on a senior civil servant to resign".
Murphy's party colleague Regina Doherty, who is not a member of the PAC also sharply criticised McGuinness, saying that he now "sees himself as judge, jury and executioner".
McGuinness said that while he respected the opinion of members his opinion remained that the HSE and Department of Health can't manage their budget.
"It's not publicity seeking, it's a statement of fact," he said. "I went down through every single line with them in relation to their overruns and they failed on every count and this is not the first year."