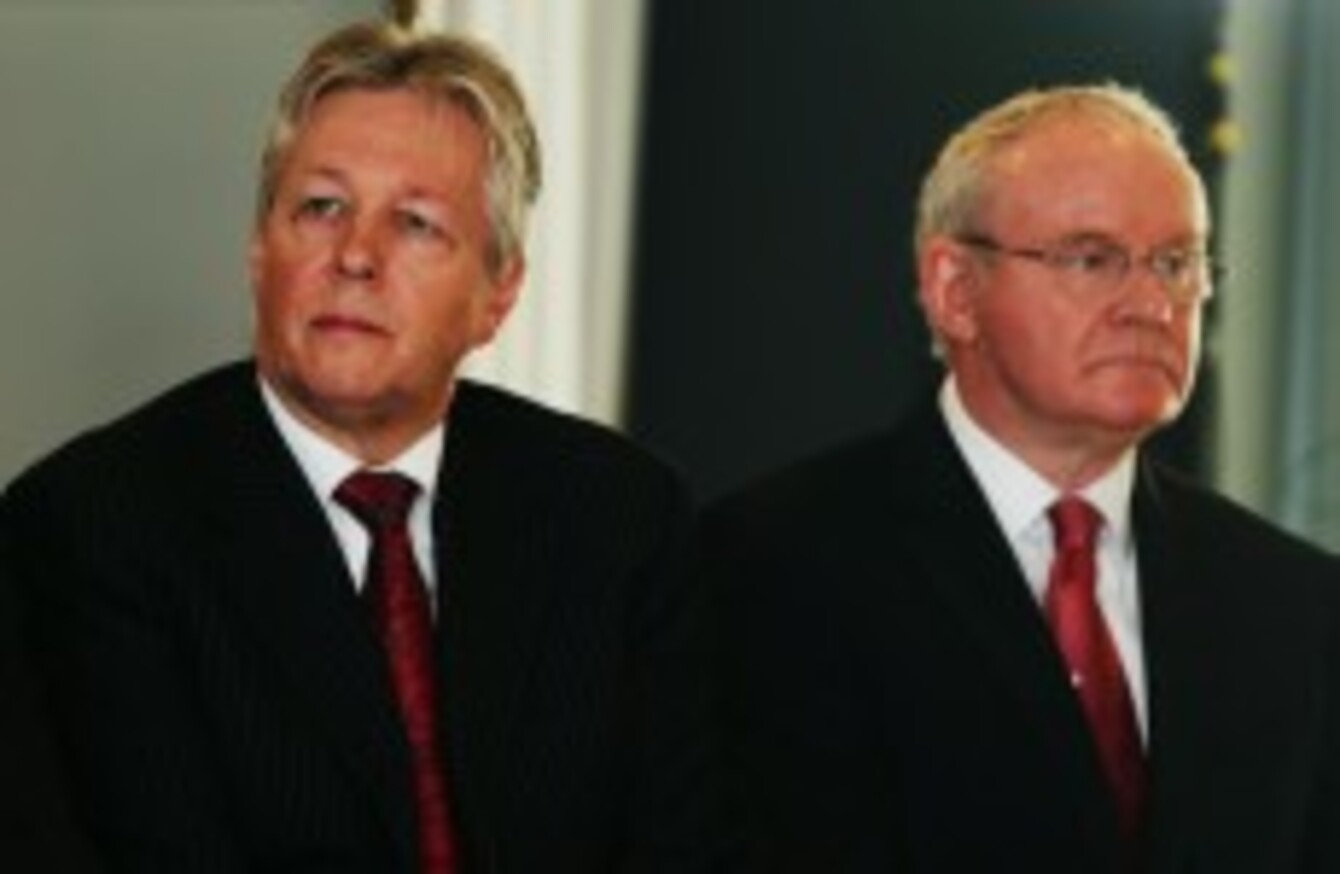 Peter Robinson and Martin McGuinness (File photo)
Image: Brian Lawless/PA Wire/Press Association Images
Peter Robinson and Martin McGuinness (File photo)
Image: Brian Lawless/PA Wire/Press Association Images
THE NORTHERN IRELAND First Minister Peter Robinson has heavily criticised his deputy, Martin McGuinness, for what he said are "unhelpful and irrational comments" about the recent failed Haass talks on flags, parades and the past.
Robinson was responding to comments made by McGuinness in an interview with BBC's The View last night in which he said that unionist leaders had told him the Orange Order, the UVF and PUP are acting as "one and the same".
"Unionist leaders have told me that they regard the UVF, the PUP and the Orange Order in Belfast as one and the same thing," Mr McGuinness said.
He was speaking in the wake of the break-up of the process chaired by US diplomat Richard Haass which failed to reach reach an all-party agreement on the North's contentious issues.
The Haass talks broke up without a deal how to deal with flags, parades, and the past on New Year's Eve and this week saw the first meeting of Northern Ireland's five main parties since the end of the negotiations.
After that meeting, the Sinn Féin MLA McGuinness said loyalist extremists had influenced unionist leaders during the Haass talks, saying he had watched over the last 18 months at "unionist parties dancing to the tune of extremists within their own community".
'Controller and dictator'
But in a statement issued overnight, the DUP leader Robinson said that McGuinness spoke as if he is not one of the parties to the talks "but rather the controller and dictator of how the process will operate."
"He appears to believe it is everyone else's duty to reach an agreement on his terms," Robinson said in a lengthy statement. "Every party in the process has had to move in order to narrow the differences. It is his responsibility to show some leadership and work to reach agreement on outstanding issues.
"Again, Sinn Fein will not dictate the rules of engagement. They do not own the process. They do not control how it will function or what it will (or will not) consider, nor will they prescribe the timing."
Robinson said that McGuinness shows "a visceral hatred of the Orange Institution in his interview" insisting that the contribution of the Orange Order's Mervyn Gibson was instructive and positive, defying McGuinness to say otherwise.
For its part, the Orange Order said the remarks of McGuinness were "entirely without substance" with a spokesperson telling the BBC: "The Orange Institution takes its own decisions, applies its own decisions and stands by its own decisions."
Robinson said that that Sinn Féin should "refrain from further public utterances aimed at heightening tensions within the Talks" and added: "Let's have less of the mind games outside the process and more serious engagement within it."