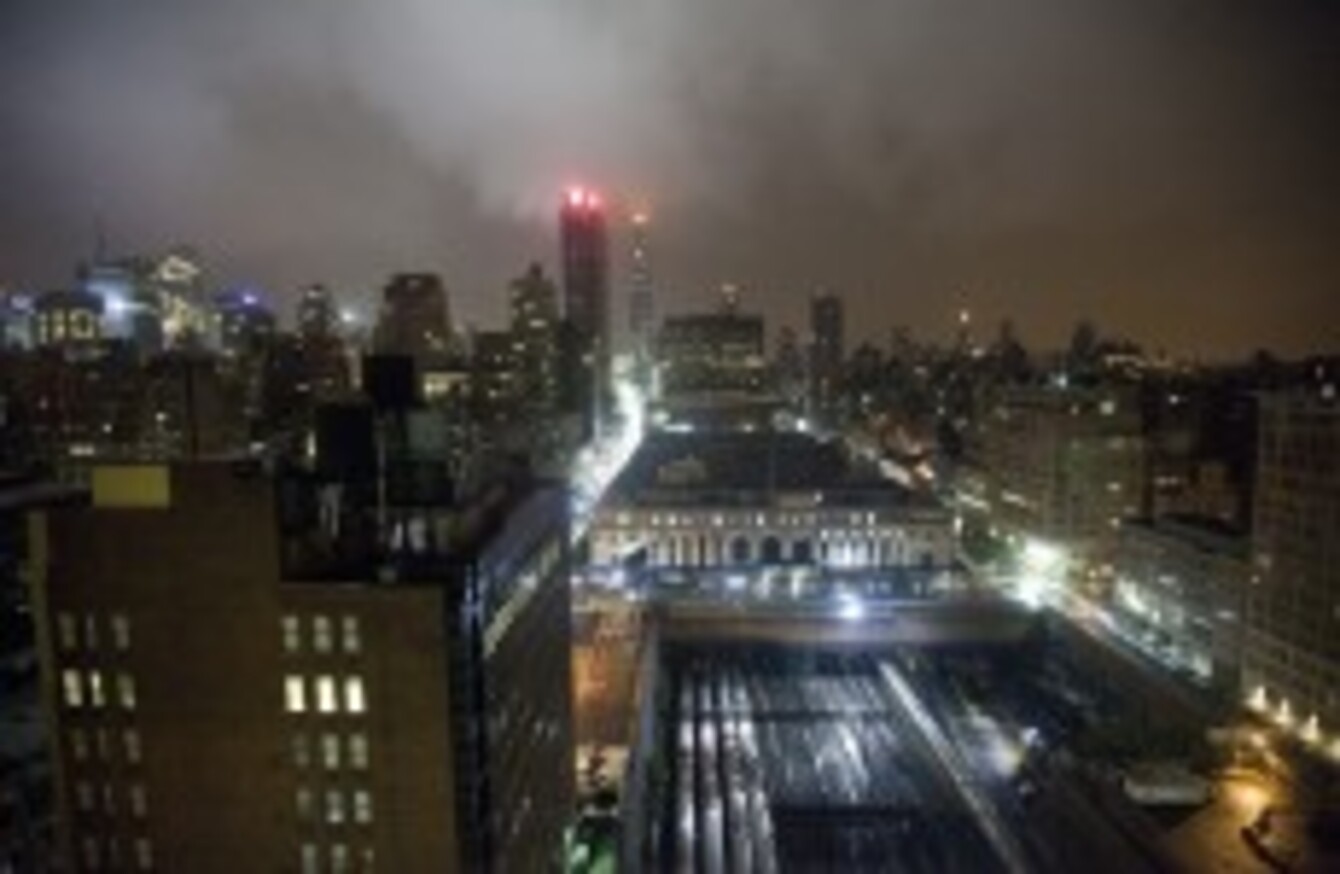 The New York City skyline is seen under clouds as Hurricane Irene approaches the region
Image: AP Photo/Karly Domb Sadof
The New York City skyline is seen under clouds as Hurricane Irene approaches the region
Image: AP Photo/Karly Domb Sadof
Updated 7pm
THE EVACUATION ORDER in place for low-lying parts of New York City has been lifted allowing some 370,000 residents to return to their homes in the city.
Mayor Michael Bloomberg confirmed the lifting of the mandatory evacuation order this evening saying on Twitter: "This could have been a lot worse. The bottom line is NYC was prepared, as we had to be."
Here's a gallery of how residents of the US east coast have been coping with Irene.
Earlier…
Updated 5.20pm
Hurricane Irene has led to the deaths of 14 people in the US, as it was downgraded to a tropical storm earlier today.
Making landfall in parts of New York, the high winds and heavy rain also affected the eastern states of Connecticut, Florida, Maryland, New Jersey, North Carolina and Virginia where there were a total of 14 deaths.
There were five deaths in total in North Carolina, four in Virginia, two in Florida, and one each in Maryland, Connecticut and New Jersey, AP news reports.
Earlier President Barack Obama was briefed on the latest developments in the White House situation room. Here's a picture via White House photographer Pete Souza:
Earlier…
Updated 4.50pm
US President Barack Obama has been briefed as Irene has been downgraded from a hurricane to a tropical storm.
Homeland Security Secretary Janet Napolitano says Obama instructed administration officials to continue to be aggressive in their efforts to deal with the storm and its aftermath.
Napolitano says the worst of the storm has passed for most areas. But she says communities still in Irene's path should continue to be vigilant even though the storm has weakened.
The storm is now forecast to move over Canada later tonight.
Earlier the heavy rain led to high waves which washed away a lifeguard watch tower on Long Island in New York. AP captured this dramatic video:
In New Jersey, governor Chris Christie said on Twitter that "preliminary reports show that the property damage along the Jersey shore isn't as bad as was expected."
Earlier…
Updated 2.00pm
THE NATIONAL HURRICANE Centre has reported that Irene has lost hurricane strength as it made landfall over New York's Coney Island, with winds of 65mph.
The mayor's office has tweeted a warning to residents of the city:
Earlier…
Updated 1.50pm
THE UNITED STATE'S National Hurricane Centre has warned that the centre of Hurricane Irene is now nearing New York City with winds of 75 miles per hour.
The storm is expected to make landfall in New York City at 9.30am local time  - 2.30pm Irish time. Streets at the city's edges are flooded as Irene approaches, with flooding worst in outer boroughs.
Ocean water has streamed into the main streets of the Rockaways, a peninsula in Queens that Mayor Michael Bloomberg had ordered evacuated. In Brooklyn, Coney Island streets were also under water, and in Red Hook, also along the harbor, water was coming in about 100 yards.
A storm surge of 4 to 8 feet was expected to rush into the harbor just before the eye crossed land. Wind and rain were expected to diminish by afternoon, but if the storm surge deluges Lower Manhattan, the water could linger for hours or even a day.
Parts of Long Island are also flooded –  a lifeguard tower has been washed away on Long Beach in Long Island after it was pounded by high waves:
Meanwhile Massachusets is also bracing for Irene, with Boston transit suspending all services.
#Open journalism No news is bad news Support The Journal

Your contributions will help us continue to deliver the stories that are important to you

Support us now
The hurricane made landfall for the second time (the first in North Caroline yesterday) earlier at Little Egg Inlet in New Jersey. Non essestional traffic was banned in the state, according to NewJersey.com, while hundreds of thousands of homes were without power.
According to the Associated Press four million homes are now without power across the eastern sea board.
Earlier…
11.30am
POWER IS NOW reported to be out in parts of New York as Hurricane Irene approaches the city.
The eye of the storm is expected to pass over Long Island in the coming hours, and hundreds of thousands of people have been evacuated from low-lying areas.
Forecasters say Irene, still barely a hurricane now with top sustained winds of 75-mph winds, has made landfall on the New Jersey coast.
The National Hurricane Center said the center of the huge storm lumbered ashore near Little Egg Inlet at 5:35 a.m local time.
The center says a hurricane warning remains in effect from coastal Virginia northward to Sagamore Beach, Massachussets. The storm remained a Category 1 hurricane and forecasters expect little change in strength.
The center says Irene was 100 miles  south-southwest of New York City. It was moving north-northeast at 18 mph.
The New York Times reports that hundreds of thousands of people are now without power in New York state, while up to two million are thought to be affected along the eastern sea board.
All Aer Lingus flights in and out of New York have been cancelled today, while airports up and down the east coast of the US remain closed.
Earlier news cameras caught people playing street hockey and soccer games in Times Square as rain and high winds blew through New York City ahead of a direct hit from Hurricane Irene:
- Additional reporting by AP and Hugh O'Connell