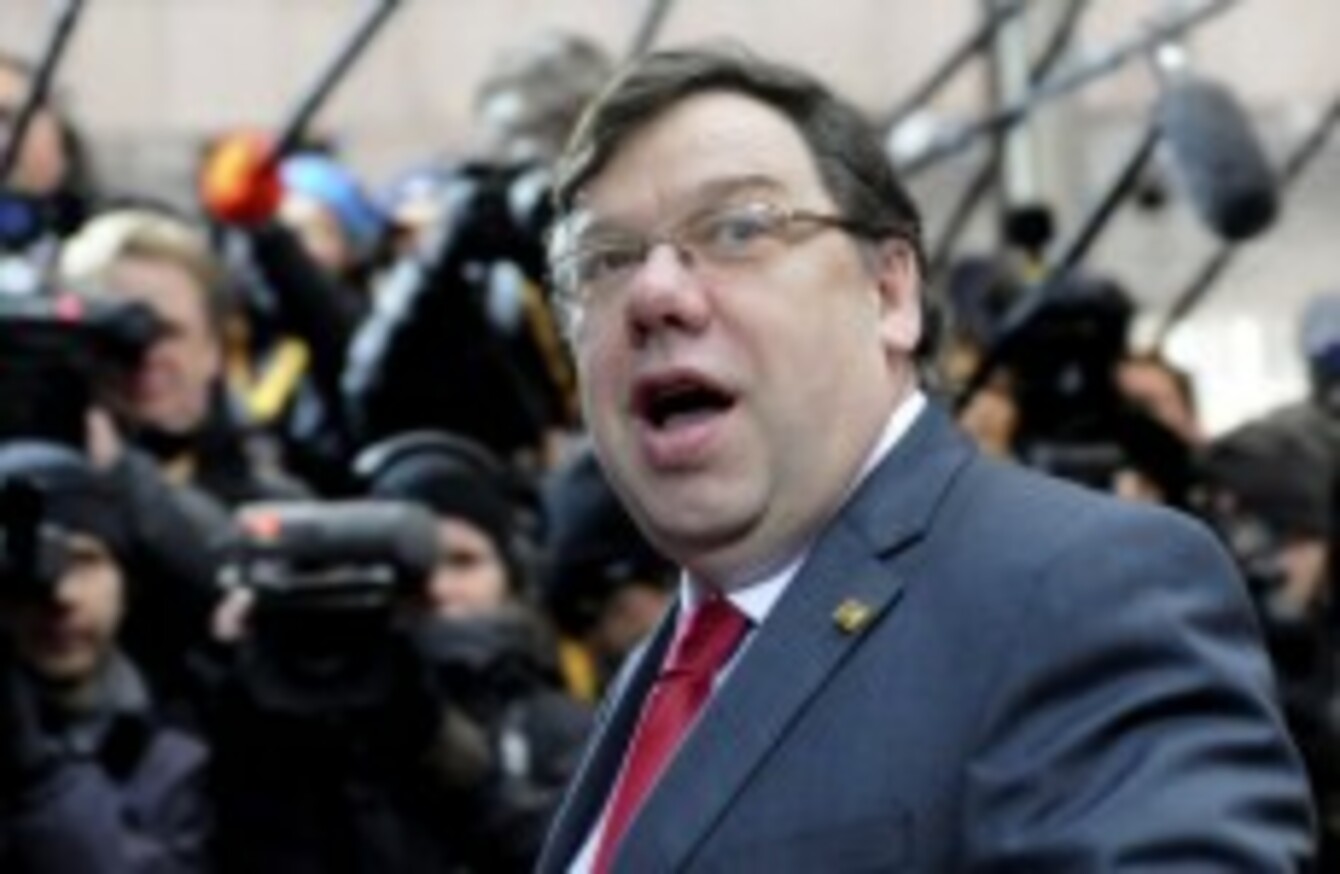 Image: AP Photo/Thierry Charlier
Image: AP Photo/Thierry Charlier
BRIAN COWEN IS UNDER pressure to provide further details of his relationship with former Anglo Irish Bank chairman Sean Fitzpatrick in the run-up to the September 2008 bank guarantee scheme.
The Sunday Times reported yesterday that the two had played golf and had dinner together in July of 2008 and spoken on the phone in March, months before the scheme was implemented.
Fitzpatrick says he spoke to Cowen, then-Finance Minister, in March over concerns about Seán Quinn's Anglo shares and the falling price of the bank's shares.
Cowen has confirmed both contacts, and said the July meeting was a social occasion and Anglo affairs were not discussed.
[caption id="attachment_66262" align="alignnone" width="512" caption="The Marriott Hotel & Country Club at Druids Glen, Co Wicklow, where Cowen and Fitzpatrick played golf and had dinner. (AP Photo/Peter Morrison)"]
[/caption]
"Very serious regrets"
Labour TD Joan Burton said she was "deeply concerned" over the revelations, and said it was "beyond belief that there was no discussion…of the rapidly deteriorating position of the bank" when Fitzpatrick and Cowen spoke.
Fine Gael's Leo Varadker said on RTÉ's Morning Ireland today that he believes the Taoiseach has not been forthcoming in providing information about his relationship with Seán Fitzpatrick, and this revelation indicates he knew a little bit more about the emerging banking crisis than he has previously indicated.
He said Cowen needs to give a full statement explaining what happened and why he didn't act sooner on the banking crisis.
Green Party leader John Gormley is expected to meet with Cowen today to discuss the Sunday Times' revelations, the Irish Times reports.
In interviews for a new book by Sunday Times journalists Tom Lyons and Brian Carey, Fitzpatrick apologised to "anyone who has suffered" since Anglo's collapse and said he feels "very serious regrets", but insists he was one of the biggest victims of the banking crisis.
Gardaí and the director of corporate enforcement are currently investigating alleged financial misdealing at Anglo before the bank was nationalised. Fine Gael TD Alan Shatter asked yesterday if gardaí had interviewed Brian Cowen as part of that investigation.
Irish Publishing News reports that the book, which comprises of 17 interviews conducted with Fitzpatrick last year, was only distributed to bookstores yesterday morning and shops had not been told what it was in advance. Penguin Ireland said they had not paid Fitzpatrick for the interviews.