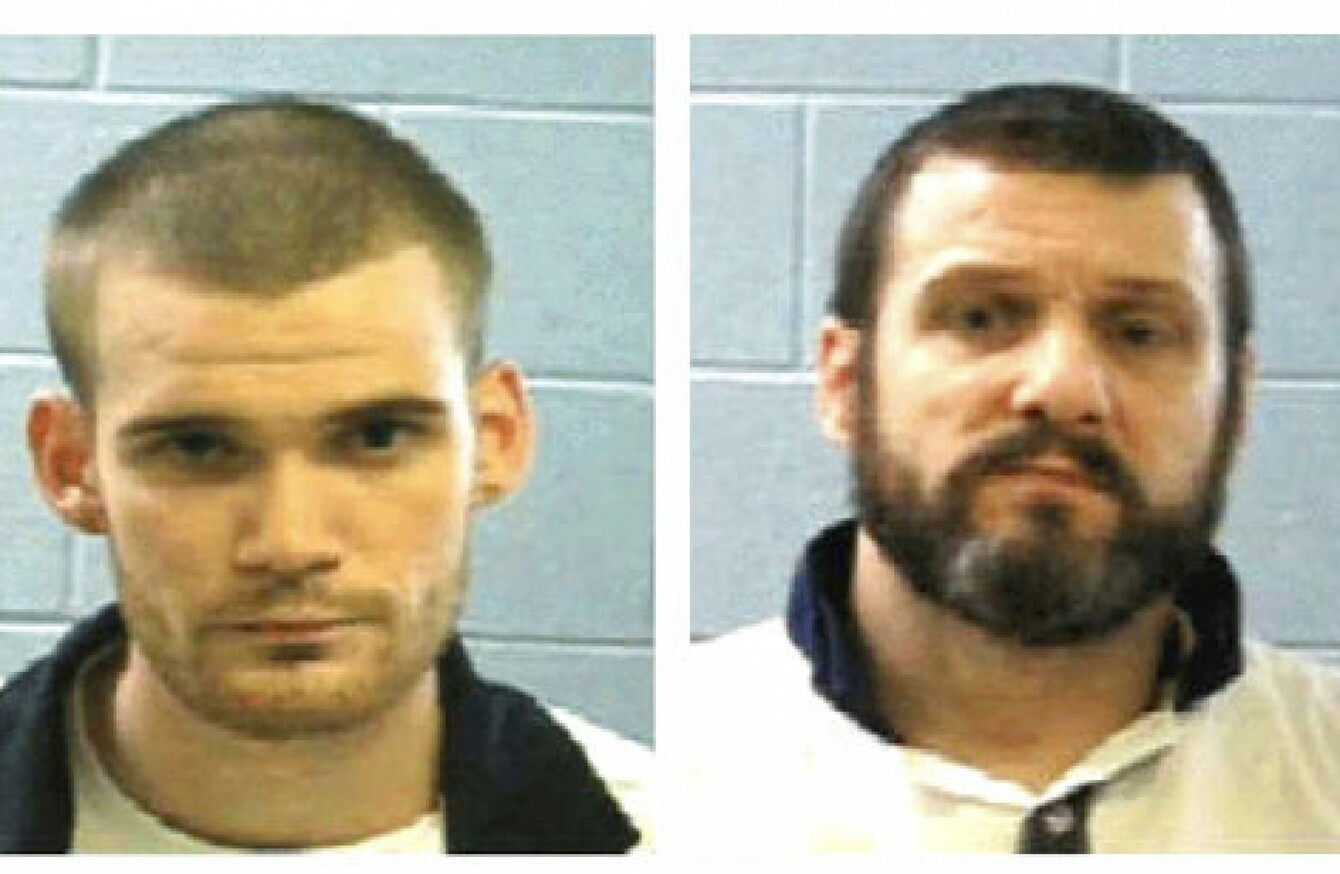 Ricky Dubose, left, and Donnie Russell Rowe
Image: Georgia Department of Corrections via AP
Ricky Dubose, left, and Donnie Russell Rowe
Image: Georgia Department of Corrections via AP
TWO INMATES SERVING serving long prison sentences in Georgia in the US overpowered and killed two guards on a prison bus before fleeing in a stolen car, authorities have said.
The men have been described as "dangerous beyond description".
The deadly escape happened at about 6:45am yesterday as the guards drove 33 inmates between prisons, and it set off a massive manhunt involving local, state and federal officers, Putnam County Sheriff Howard Sills said.
"I saw two brutally murdered corrections officers, that's what I saw," he said. "I have their blood on my shoes."
Donnie Russell Rowe, serving life without parole, and Ricky Dubose, doing a 20-year sentence, overpowered, disarmed and killed Sergeant Christopher Monica and Sergeant Curtis Billue and then carjacked a driver who happened to pull up behind the bus on a rural motorway, Sills said.
They got into the green four-door 2004 Honda Civic and drove west on Highway 16 towards Eatonton, southeast of Atlanta.
"We are still desperately looking for these two individuals. They are armed with 9mm pistols that were taken from these correctional officers. They are dangerous beyond description. If anyone sees them or comes into contact, they need to call 911 immediately," the sheriff said.
Worried they'll kill again
The two inmates got a head start by throwing away the Honda driver's mobile phone and leaving the other 31 prisoners locked inside the bus, Sills said.
"My biggest worry is they're going to kill somebody else," Sills said.
Later yesterday, the manhunt shifted about 40 kilometers north to the city of Madison, where Sills said the two men burgled a house and then two men fitting their descriptions were reportedly seen in a shop less than a mile away. Authorities had no further signs of the inmates and had no reason to believe they had split up, Sills said.
Multiple agencies contributed to a reward of $60,000 for information leading to the arrests of the two inmates, Georgia Bureau of Investigation spokeswoman Nelly Miles said.
Monica and Billue were both transfer sergeants at Baldwin State Prison. Monica had been with the Georgia Department of Corrections since October 2009 and Billue since July 2007. How the two inmates managed to reach and overpower the guards remains under investigation, Sills said.
"They were inside the caged area of the bus," he said. "How they got through the locks and things up to that area I do not know."
Victims' families
Protocol is to have two armed officers on the bus, but they don't wear bulletproof vests during transfers, Corrections Commissioner Greg Dozier said.
"We lost two of our fellow officers, two of our kin. We see our officers as our family," Dozier said.
Monica was 42 and leaves behind a wife, Dozier said. Billue was 58 and is survived by his father, five sisters, two brothers and two sons, Jim Green, a lawyer who's speaking for the Billue family, said.
"Officer Billue's family asks for prayers for all of those who are now placing their own lives at risk to bring these men to justice and asks anyone who has information that may assist in apprehending these perpetrators to please contact law enforcement," Green said.
The guards were moving the inmates to a diagnostic prison in Jackson, where their next placement was to be determined, Dozier said, adding that inmates do not know their transfer dates ahead of time.
Georgia Governor Nathan Deal pledged every state resource necessary to catch the pair. "The selflessness and courage of these two brave souls will not be forgotten, nor will their sacrifice and service," Deal said in a statement.
US Deputy Attorney General Rod Rosenstein said federal resources are being committed to help catch the fugitives. The FBI and US Marshals have joined the investigation, Sills said.
"An attack on any American law enforcement officer is an attack on every American law enforcement officer and the principles we all believe in," Rosenstein told a Senate budget panel in Washington yesterday.
Both escaped inmates were serving long sentences for armed robbery and other crimes. The Department of Corrections said Rowe, 43, has been serving life without parole since 2002, and Dubose, 24, began a 20-year sentence in 2015.
"They need to surrender before we find them," Sills said.