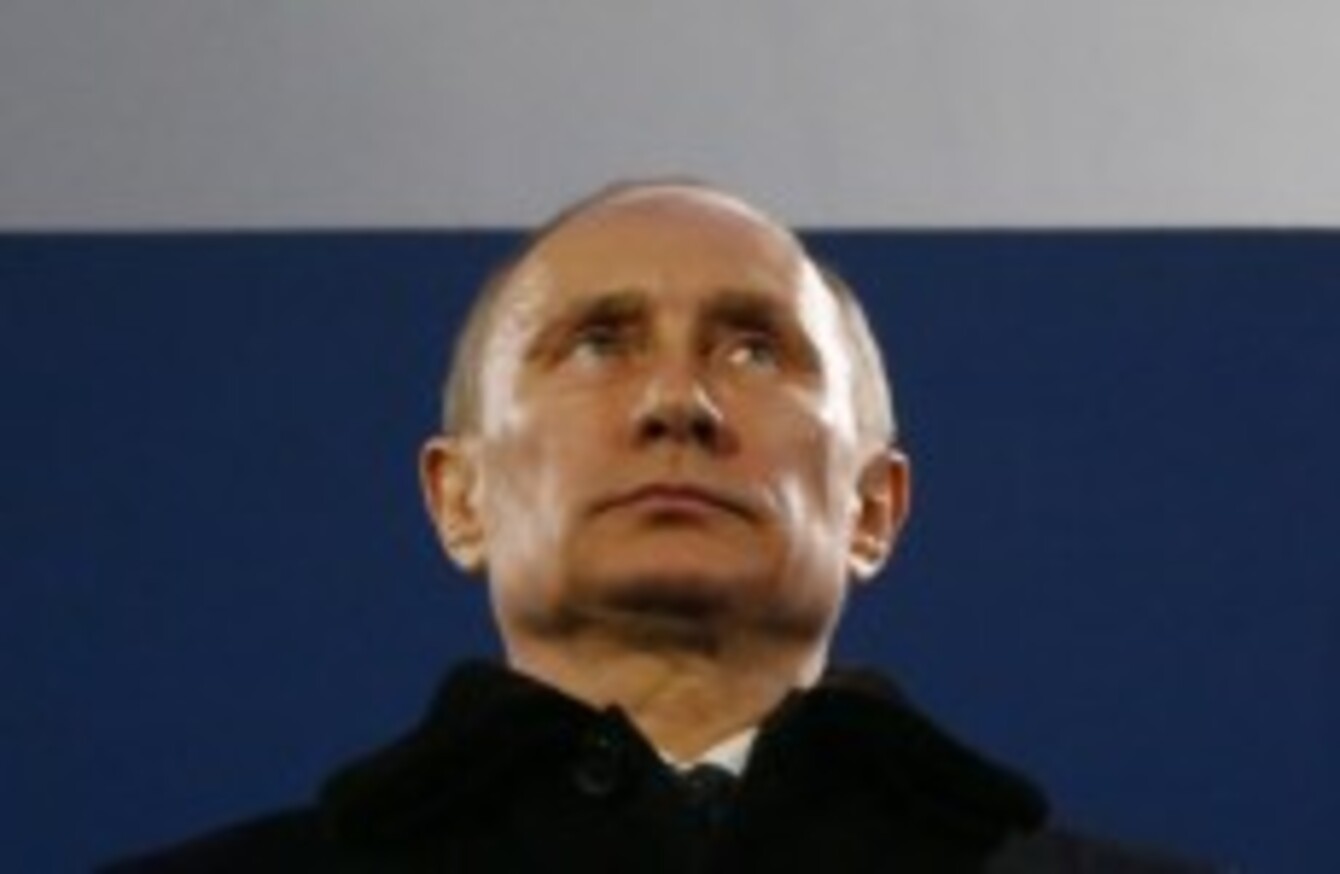 Russian President Vladimir Putin attends the opening ceremony of the 2014 Winter Paralympics on Friday.
Image: AP Photo/Dmitry Lovetsky
Russian President Vladimir Putin attends the opening ceremony of the 2014 Winter Paralympics on Friday.
Image: AP Photo/Dmitry Lovetsky
RUSSIAN PRESIDENT VLADIMIR Putin has said he wants to find a "diplomatic solution" to the crisis in Ukraine in a telephone call with British Prime Minister David Cameron.
A statement from Downing Street this afternoon says that Cameron had called Putin to urge him to "de-escalate" the situation in Ukraine and to support the formation of a contact group that could lead to direct talks between Moscow and the new leaders in Kiev.
"President Putin agreed that it is in all our interests to have a stable Ukraine," a Downing Street spokeswoman said.
He said that Russia did want to find a diplomatic solution to the crisis and that he would discuss the proposals on the contact group with Foreign Minister (Sergei) Lavrov tomorrow.
Cameron had made clear to Putin that Britain, along with its European partners and the United States, "want to work with Russia to find a diplomatic solution to the situation in Ukraine, including Crimea".
The British prime minister told Putin that "we recognise the right of all Ukrainian people to choose their future" and that elections scheduled for May "provide the best way to ensure the elections are free, fair and inclusive".
Ukraine PM to visit White House
The leaders's call comes as the White House has confirmed that President Barack Obama will meet with Ukraine's interim prime minister in Washington this week, in a show of support amid a tense stand-off with Russia over control of Crimea.
Obama will host crisis talks with Prime Minister Arseniy Yatsenyuk on Wednesday, US Deputy National Security Adviser Tony Blinken said, confirming earlier reports.
"He has invited the Ukrainian prime minister to come to the White House on Wednesday to further demonstrate… support," Blinken told NBC television's "Meet the Press" program.
Ukraine's Prime Minister Arseniy Yatsenyuk will meet US President Barack Obama on Wednesday. (Pic: CTK Photo/Jakub Dospiva)
Yatsenyuk had earlier announced in Kiev that he would travel to the United States, but gave no details of planned meetings.
Blinken said the US leader has been rallying world support for the Kiev's beleaguered fledgling administration and against Russia's incursion into the Ukraine's Crimean Peninsula.
"We've seen the president put together a major international support package. In terms of isolating Russia, what we've seen as a result of the mobilized support is the financial markets in Russia have hit lows, the ruble has hit a low, investors are wondering whether to get involved in Russia because of the instability," Blinken said.
"The president has made clear that going forward in coordination with our partners and allies we have in place a mechanism with sanctions to raise the cost significantly," he added.
"But this is really a choice for the Russians to make. They have to decide whether they want to resolve the diplomatically or whether they want to face growing isolation, growing economic."