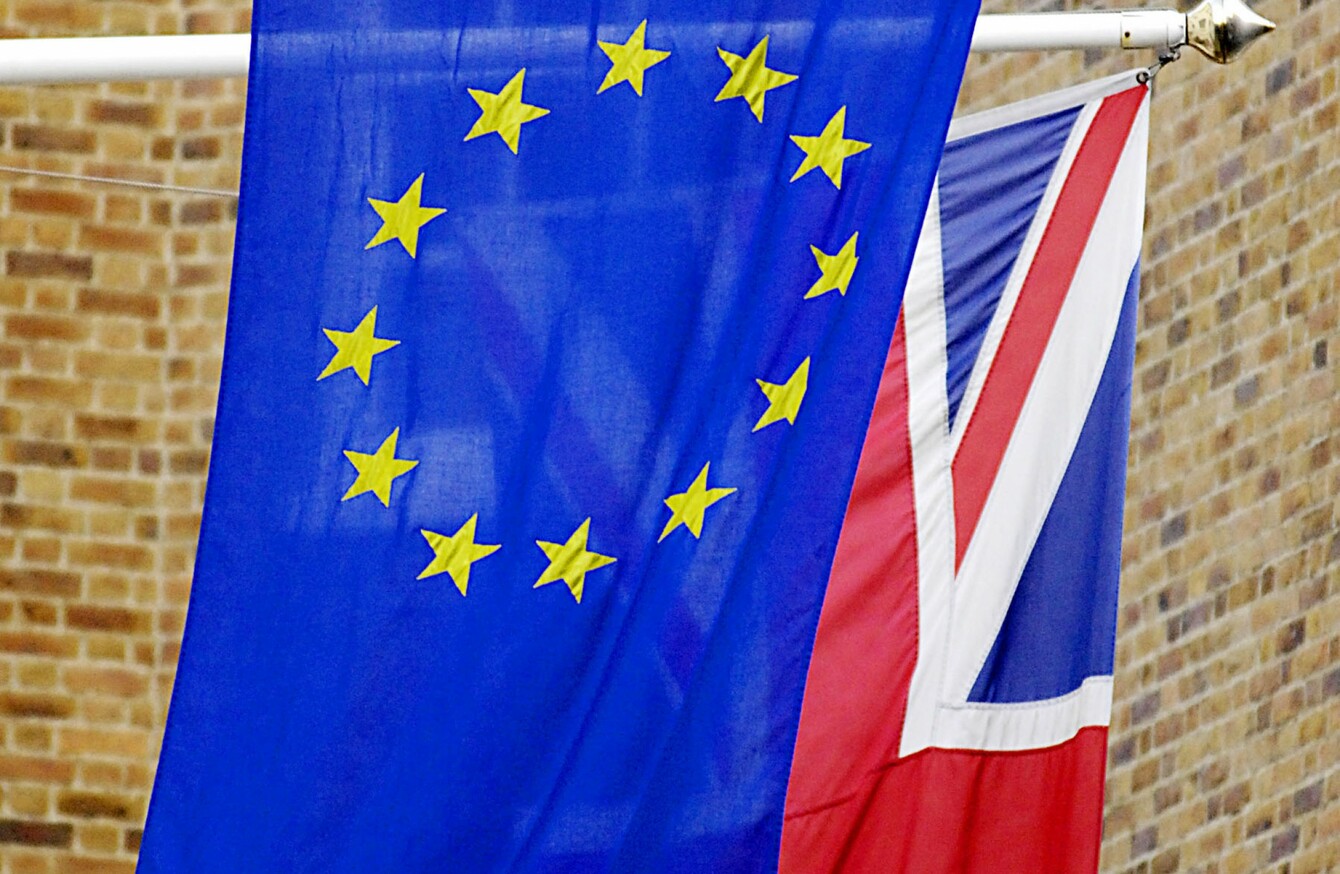 Image: PA Archive/Press Association Images
Image: PA Archive/Press Association Images
AT MIDNIGHT ON 23 June, the only constituency to have voted Leave was Sunderland. Throughout the night Leave's lead steadily increased, and six hours later, as the sun showed its face though the trees, David Dimbleby announced that it was now mathematically impossible for Remain to win.
"It is an earthquake that has happened," he said.
Freedom of Movement
International and multilingual families like ours are among the people who have benefited most from the freedom of movement the EU has given us, and they will be most profoundly affected by the Brexit vote.
There are three of us: I am Scottish; my wife, Victoriţa, is Romanian; and our daughter Catriona shares British and Romanian citizenship.
Ireland is our home. We live here by right as EU citizens, we make an active contribution to community and economic life, and until now our national citizenship has been largely irrelevant because of our shared EU citizenship.
We have built a life on the foundation of free movement, and now the foundation is under threat. With the UK outside the EU, there may soon be nowhere we can live by right as a family – not in Ireland, not in Romania, not in the UK.
Hundreds of thousands of EU citizens who are settled in the UK, and UK citizens settled in the EU, are in a similar position. People like us can't simply "go home" as many Leave voters would wish, because we don't come from just one place. In any case home we have made our home here – we're home already.
Growing up in the EU
I remember when the UK and Ireland joined in 1973. I was in my early teens and excited by the world that was opening up beyond the Glasgow tenement where I grew up.
As soon as we were old enough my best friend and I went to discover a continent that not many decades before had been destroying itself in war.
I remember my mother's being moved by our opportunity to meet people our own age from all over Europe and beyond. She felt that young people making friends was the best way to avoid future wars – not through treaties between states, but by knowing each other so well that to fight would be unthinkable.
Being young in the eighties, it seemed natural that we could not only travel freely anywhere in Western Europe, but fall in love and settle down anywhere we wanted within the borders of the EU.
Finding a home
My first wife was German and when we lived in London she was able to work there on the same terms as myself. When she decided to study in Germany, I could go there to join her, and I was treated in much the same way as any German citizen would be.
I was in Germany at the end of 1989, when the Berlin Wall came down. Millions of people were newly free, borders were becoming meaningless, and a split in our continent was being healed.
After my first marriage ended I moved to Bucharest, under an EU-funded programme as it happens, and met and married Victoriţa. Our daughter, Catriona, was born when Romania was still outside the EU, and normal family life was not so simple and secure as it had been for me in Germany: we needed a visa and I needed a residence permit and work permit too. Victoriţa needed a visa when we visited the UK, and had to experience the intrusive and offensive questioning that is part of the UK visa process.
She also needed a visa and residence permit when we moved to Ireland, and anyone who's been in that situation will be familiar with the early-morning queueing for hours in the rain at the visa office in Dublin, hundreds of people snaking all round the building, and the casual hostility of a minority of the staff towards those they were "welcoming" to Ireland.
We thought that was all over when Romania joined the EU – we would never again have to ask for permission to live together as a family. We were EU citizens, from two different EU countries, living in Ireland, a third EU country, on broadly the same terms as any citizen of Ireland.
#Open journalism No news is bad news Support The Journal

Your contributions will help us continue to deliver the stories that are important to you

Support us now
What the future holds
Now that's all about to change. People like us don't know what our futures will hold and whether we will continue to have the right to live together in our homes.
It doesn't only affect our current situation, but makes many future possibilities uncertain. What if elderly parents become ill and need care – can they live with us? When we are old, could we live near younger members of our families? Up to now, we had the right to do any of these things, but in future we may be need the State's permission.
Restricting freedom of movement was a major issue in the Brexit campaign. It is almost certain that the UK will try to impose limits now, and that UK citizens will face corresponding restrictions in the EU, including Ireland (we may not get our old bilateral arrangements back).
It may not be easy for UK citizens to get citizenship in the countries they are living in: some don't allow dual citizenship so they'd have to give up UK citizenship; in Ireland, naturalisation is discretionary and often refused for trivial reasons, even minor motoring offences.
Loss
Looking beyond our own lives, we are saddened by the lost opportunities for young people of Catriona's age in the UK. It will not be so simple for them to explore our continent, live where they want to, have fun, fall in love and make families that cross borders.
We are mourning Britain's rejection of the internationalist European ideal that for an older generation seemed the best hope for peace on our continent, and did so much good in breaking down barriers between us.
We never thought for a moment that Britain would actually do something so crazy as to vote to leave, but now they've done it the momentum's taken over. Catriona sees it with a theatrical metaphor: now the UK has messily exited stage right the EU seems worryingly keen to usher them out the back door of the theatre: "Quick, go go go, get out – there's a taxi waiting, jump in before you're spotted."
The political commentators have much to keep them busy, excitedly exploring the possible consequences. We're reminded of the curse that goes, "May you live in interesting times". We want to go back to when life was boring.
Gordon Reid is a senior lecturer in physiology at UCC.