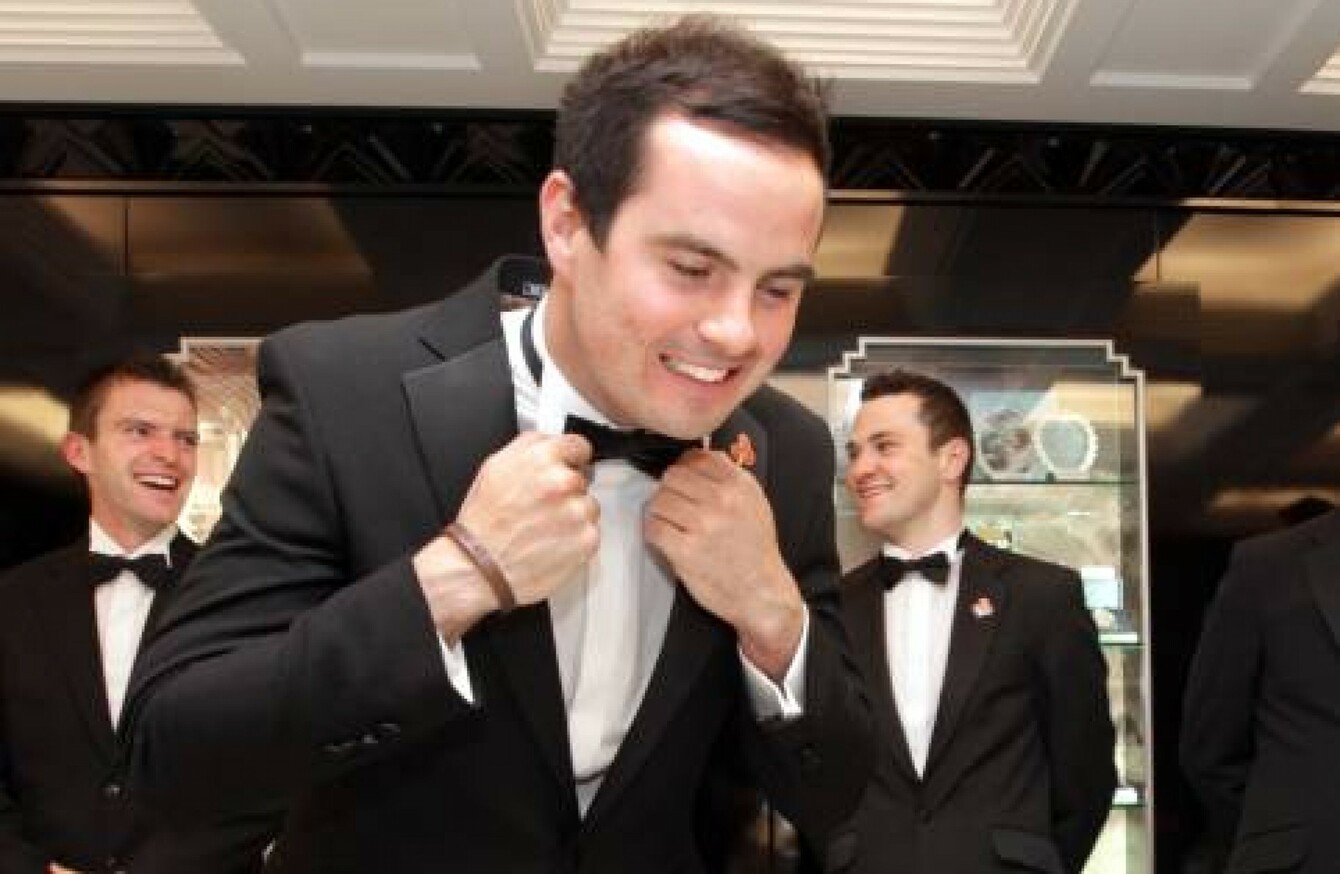 2012 Rose of Tralee Escorts
Image: Mark Stedman/RollingNews.ie
2012 Rose of Tralee Escorts
Image: Mark Stedman/RollingNews.ie
SHANE KENNY, THE Rose of Tralee Escort of the Year 2015, says being an escort is one of the best things he's ever done.
But how do you become an escort? More than 200 men applied to be escorts this year, with only 65 eventually selected.
In terms of technical requirements, escorts have to be 21-30 years old, never married, and raise €1,500 in sponsorship.
Kenny, a Tralee native and architect, talked to The Journal about what was expected of the men.
Have stamina
The final 65 escorts who were chosen to participate in the Rose of Tralee this year faced the annual boot camp in Kerry.
The tasks included cycling over Connor Pass, hiking up Mount Brandon, abseiling, kayaking, surfing, ironing and sewing – all to prove they had what it takes to be a Rose escort.
Kenny says: "It's all about team-building and building a rapport in the group. We hadn't met each other before the boot camp."
It's also to help the lads "cope with the demands of a busy week in Tralee" according to the festival's communication manager, John Drummey.
"The schedule is extremely busy. It's pretty intense," says Kenny. "We'll be attending events throughout the week. Even trying to change clothes during the course of the week is a bit of a challenge.
You have 10 minutes to change from a suit – and shower and shave – into a tux. It requires a lot of organisation and being extremely punctual. You just need to prepare ahead.
Despite the exhausting week, Kenny says it's all worthwhile in the end.
You're tired but it's worth it. It's a once-in-a-lifetime opportunity.
Be there for your Rose
The most important job for an escort is to be there for your Rose or Roses.
"You chaperone your Rose for the week. You have to be courteous, be polite, try to assist the Rose, even if just carrying a handbag," Kenny explains.
We have a 'Rose pack' with things like emergency pins for their hair and sweets for their throat.
"It's about being a positive influence, a touchpoint of information for the family about when events are on. You make the Rose feel comfortable and support them over the course of the week."
Suit up
Kenny says one of the nicest things about being an escort is getting to look dapper.
You're the only man who's walking around getting to wear a suit for a whole week around town, being flashy. People come up to compliment you.
"You aren't the main deal or anything, obviously, the Roses are the whole point, but I suppose it's just nice feeling like you're valued. You're appreciated."
Put yourself forward
Kenny says his friends encouraged him to apply to be an escort last year, and he's glad they did.
"The public perception of the Rose of Tralee can be a negative one, because until you're in it, you don't fully understand the benefit of it. You'd be missing a massive opportunity if you didn't go for it.
Take a punt and go for it, it'll be one of the best things you've ever done.
Kenny had the chance to go to different Rose of Tralee functions since the competition and fundraise for a number of charities. He and a few other escorts visited Chernobyl with Adi Roche's foundation. He also got to be part of the Patrick's Day Parade in New York.
Kenny's most important advice for prospective escorts?
Be yourself. If you try to be someone you're not, you'll get seen out. Just be yourself.
The 2015 Rose of Tralee Roses and escorts are running a mental health awareness campaign, Unmask for Pieta. The official launch is on Sunday 21 August in the Rose Hotel in Kerry, but you can donate here now.