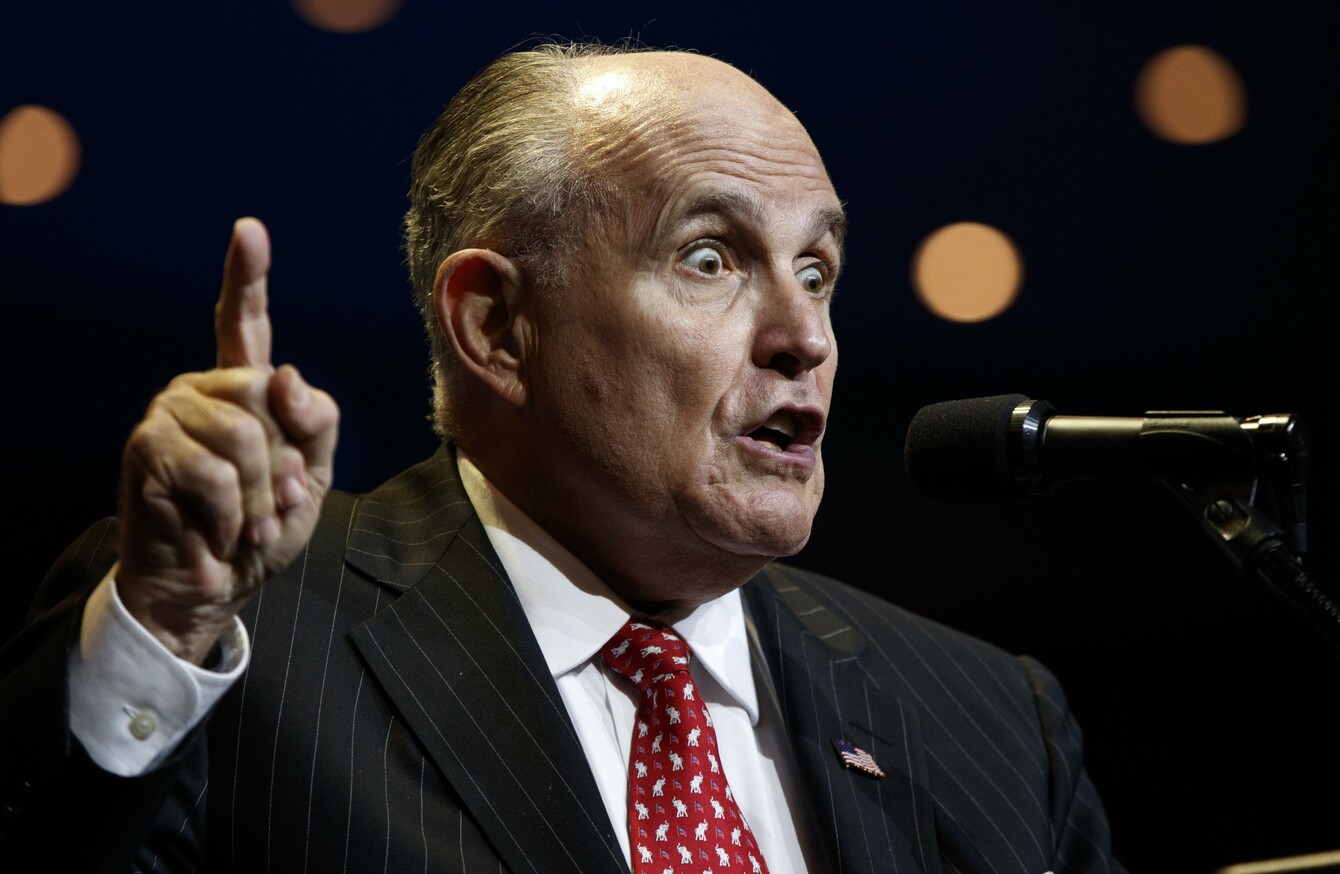 Image: Evan Vucci
Image: Evan Vucci
FORMER NEW YORK Mayor Rudy Giuliani has emerged as the favourite to serve as secretary of state in Donald Trump's incoming administration, a senior Trump official has said — another indication the president-elect is putting a prize on loyalty as he narrows down his Cabinet picks.
The official, who was not authorised to speak on the record and requested anonymity, said there was no real competition for the job and that it was Giuliani's if he wanted it. But a second official cautioned that John Bolton, a former US ambassador to the United Nations, remained in contention for the job.
Giuliani, 72, would be an out-of-box choice to lead the State Department. A former mayor, federal prosecutor and top Trump adviser, he lacks extensive foreign policy experience.
Known for his hard-line law-and-order views and brusque manner, he would set a very different tone than previous holders of the job, including Trump's ex-rival Hillary Clinton, Colin Powell and Condoleezza Rice.
Bolton has years of federal government experience, but he has also raised eyebrows with some of his hawkish stances, including a 2015 op-ed in The New York Times in which he advocated bombing Iran to halt the country's development of nuclear weapons.
A spokeswoman for Giuliani did not immediately respond to a request for comment about his interest in the job. But the former mayor said last night at a gathering of CEOs sponsored by the Wall Street Journal that he "won't be attorney general" in Trump's administration — a job for which he'd long been seen as a top contender.
Asked about the secretary of state speculation, Giuliani said that Bolton "would be a very good choice." But asked if there was anyone better, he replied with a mischievous smile:
Maybe me, I don't know.
Other appointments
Trump is also considering whether to inject new diversity into the GOP by recommending a woman to lead the Republican Party and an openly gay man to represent the United States at the United Nations.
The moves, among dozens under consideration from his transition team, follow an intense and extended backlash from Trump's decision on Sunday to appoint Steve Bannon, a man celebrated by the white nationalist movement, to serve as his chief strategist and senior adviser.
"After winning the presidency but losing the popular vote, President-elect Trump must try to bring Americans together — not continue to fan the flames of division and bigotry," said House Democratic leader Nancy Pelosi.
She called Bannon's appointment "an alarming signal" that Trump "remains committed to the hateful and divisive vision that defined his campaign".
Trump is considering tapping Richard Grenell as US ambassador to the United Nations. He would be the first openly gay person to fill a Cabinet-level foreign policy post.
Grenell, known in part for aggressive criticism of rivals on Twitter, previously served as US spokesman at the UN under President George W Bush.
Trump was also weighing whether to select Michigan GOP chairwoman Ronna Romney McDaniel, a niece of chief Trump critic and 2012 presidential nominee Mitt Romney.
She would be the second woman ever to lead the Republican National Committee — and the first in four decades.