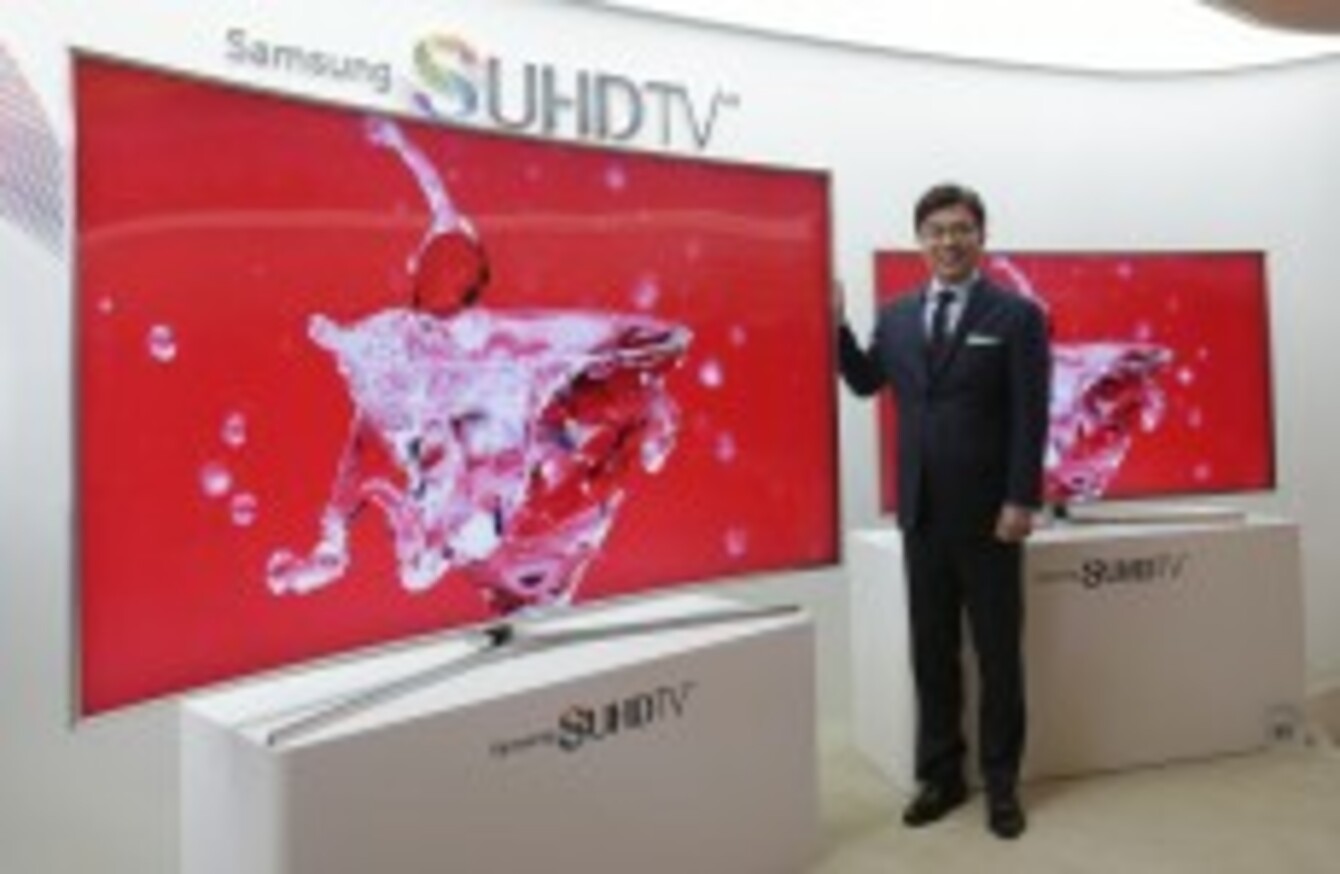 Image: Ahn Young-joon/Press Association Images
Image: Ahn Young-joon/Press Association Images
SAMSUNG HAS BEEN criticised for a privacy policy which suggests its Smart TVs would transmit any personal or private information that's spoken in front of it.
As part of its privacy policy, the company warns users not to say anything personal or private in front of its TVs when using its voice recognition software, otherwise it will capture it.
In addition, Samsung may collect and your device may capture voice commands and associated texts so that we can provide you with Voice Recognition features and evaluate and improve the features. Please be aware that if your spoken words include personal or other sensitive information, that information will be among the data captured and transmitted to a third party through your use of Voice Recognition.
Who the third-party is isn't mentioned specifically, but it's believed that it's referring to Nuance, that a company which provides voice recognition software and services like Dragon.
The policy has been criticised by a number of people who have compared it to George Orwell's novel 1984.
In a statement to The Guardian, Samsung denied the claims saying that it takes consumer privacy seriously and employs industry-standard safeguards and practices like data encryption to protect personal info. It also said that voice recognition could be deactivated by the user if required.
Should consumers enable the voice recognition capability, the voice data consists of TV commands or search sentences, only. Users can easily recognise if the voice recognition feature is activated because a microphone icon appears on the screen.

Samsung does not retain voice data or sell it to third parties. If a consumer consents and users the voice recognition feature, voice data is provided to a third party during a requested voice command search. At that time, the voice data is sent to a server, which searches for the requested content then returns the desired content to the TV.
So what does this mean?
First of all, it's probably worth mentioning that listening doesn't necessarily mean recording. In the case of Google Now, Siri or Xbox One, it listens out for a specific cue or phrase before it activates. To use Google Now as an example, saying "Ok Google" when your phone is unlocked activates the search function.
If a device or service was recording your conversations, it would have to transfer the data which would drive up usage, something you would notice either by checking your phone for data usage or your bill which would probably spike up. In the case of WiFi and modems, it's a little more complicated but it's still possible to track them.
In the case of Samsung, the voice recognition feature is opt-in and there's no real evidence in its privacy policy that it's taking more data than what you would normally associate with voice recognition software. The specific data that's transmitted in this case goes to the third-party (Nuance) as a way of improving the service.
Still, that doesn't mean such concerns are unfounded or that people are wrong to fear it. Such incidents have happened before with LG, which gathered data about a user's viewing habits before issuing an update to turn it off, Xbox One, which raised concerns when it was revealed it would always be listening for you to say 'Xbox On', Siri and its privacy policy, or Path when it scanned your phone for numbers and uploaded them to its database without permission.
In short, there is a long history behind these concerns and this will only grow as more smart devices arrive in our homes.
Most of this boils down to a lack of transparency. The actual wording was buried in the terms and conditions – a section that few people would actually bother reading – and even the wording of it was rather blunt, and probably the only redeeming part of it was the term 'third-party' wasn't plural, but the vague term only adds to the growing distrust.
These issues are only going to grow further thanks to the rise of the Internet of Things (IoT), a term used to describe devices that are connected to the internet to transfer and share data, usually to improve services.
There are 25 billion objects connected already but the number of devices that have security issues – 70% of the most commonly used IoT devices have serious security vulnerabilities according to the US' Federal Trade Commission – doesn't exactly inspire confidence either.
Inevitably, the more devices that support such functionality, the more this issue will emerge and the bigger the questions will become.
There will always be some degree of distrust with a service, that can't be helped, but when data and personal information is the currency, transparency becomes more important than ever. This is something both users and companies need to get to grips with, otherwise things may get messy further down the line.