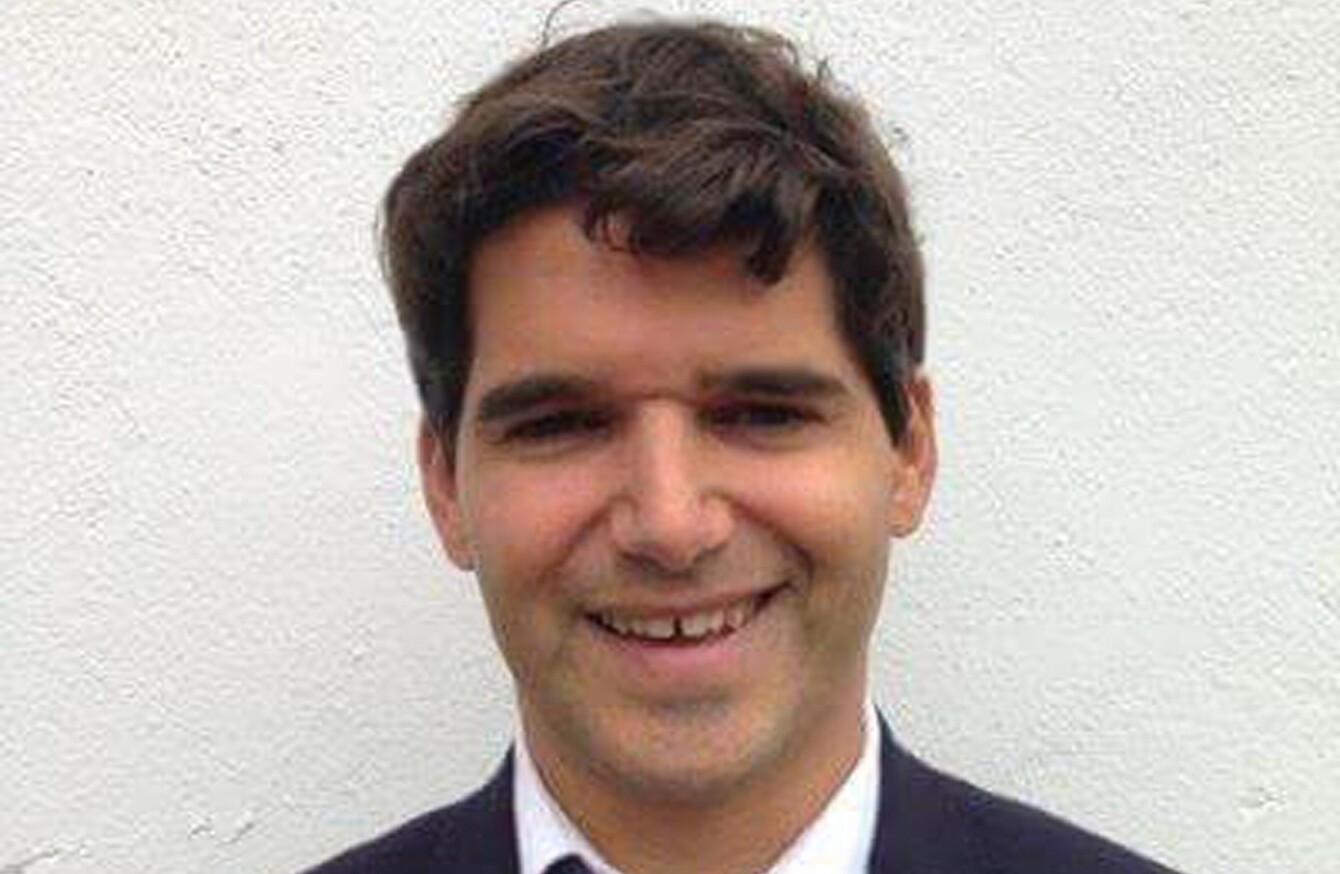 This image of 39-year-old Spanish banker Ignacio Echeverria was released by his sister Isabel Echeverria when her brother was reported missing following the attacks.
Image: AP
This image of 39-year-old Spanish banker Ignacio Echeverria was released by his sister Isabel Echeverria when her brother was reported missing following the attacks.
Image: AP
Updated 7.15pm
A SPANISH MAN hailed as a "skateboard hero" after he died trying to defend a woman from one of the assailants in last weekend's London attack, has been awarded a posthumous medal, Madrid said today.
Ignacio Echeverria, an HSBC expert in fighting money-laundering who lived in London, was one of eight killed in last weekend's attack that saw three men mow down people in a van before going on a stabbing spree in the Borough market area.
The 39-year-old had rushed over to help a woman being assaulted and tried to defend her with a skateboard he had with him, prompting British media to dub him the "skateboard hero".
Spain's government spokesman Inigo Mendez de Vigo said Echeverria had been awarded the Great Cross of the Order of Civil Merit, which recognises "extraordinary services" by Spanish and foreign citizens.
He was a good man, an exemplary citizen who on this tragic evening had the courage to face the terrorists to try and save the life of a young woman who was being attacked.
Echeverria was listed as missing for close to four days after the attack as British authorities identified the body, leading to an excruciating wait for his family members.
Spain was highly critical of the sluggish pace of the identification process.
Foreign Minister Alfonso Dastis even intervened earlier this week when the family was told they would not be able to see Echeverria's body until Friday at the earliest, even after positive identification.
This prompted British authorities to allow them to be with their son and brother earlier.
His body will be repatriated tomorrow, a foreign ministry spokesman told AFP.
The Met police have also confirmed that Xavier Thomas has been identified as one of the eight people who were killed during the incident.
Xavier Thomas, 45, a French national, was visiting the capital from his home in France.
Specially trained family liaison officers are supporting his family. The following is a statement from Noémie Thomas, 24, the daughter of Xavier Thomas on behalf of his family:
The things that were important to Xavier were his children and his work. Xavier would not be content with a quiet life, he needed to always discover more and he would include his children as soon as possible.
"Xavier was not attached to material things, he preferred to discover other cultures and other countries. He was very faithful to people; many professional encounters have often developed into friendships."
#Open journalism No news is bad news Support The Journal

Your contributions will help us continue to deliver the stories that are important to you

Support us now
The partner of Xavier Thomas, Christine Delcros said, "Xavier, my love, my sun, you have marked my heart for ever as no one had been able to before.
I will cherish you intensively in my heart and that way our love will link us forever. You have been a father who did everything for his children and such a caring lover to me, that you could only be loved.
"I wish, during these difficult times, to pay tribute to the exceptional man you were and will still remain for us all. I love you. Your Christine."
Below is a statement from Christine
Delcros's twin sister Nathalie Brohan said he was a "true ray of sunshine" and a beautiful endearing person.
You always said: 'What matters in life is to live every moment of life as intensively as possible, to never have any regrets'.
"Your philosophy of life must remain an example to live for us all because life is a precious jewel."
- © AFP 2017 Additional reporting from Cliodhna Russell.